Nicely shaped eyebrows can really do wonders to one's look.  The thing is, shaping eyebrows is not as easy as it may seem.  Professional help is needed, especially if you want to have your brows far different from its natural arch.  The solution—Browhaus!

I have thick brows. If I fail to maintain it well, I go to a good salon to have my brows re-shaped. I always opt to have it threaded, rather than merely having the strands shaved. It's definitely cleaner and it takes awhile for it to grow back. It is a bit painful though, compared to plucking. Well, I have to say, no pain, no gain! Hahaha!

But seriously, threading is not really that painful. It actually depends on the person threading you. Since I have this service done in reputable salons, I believe the "threaders" are trained well-enough. I have also tried to have it done in one of the popular salon chains in Eastwood, and darn it was painful! I noticed that the pain is not because the hair strands are being pulled all at the same time. It's actually because some of the skin gets stuck in between the threads and so they are being pulled together with the hair! Ouch! After having experienced that, I'd rather pay much more than saving a few hundreds. Experts is what I definitely need! And we are talking about eyebrows here, an essential part that defines the face.

With that being said, this will lead to the question- who are the brow experts?

Well, in other countries, they are just everywhere! When I went to the States, I remember seeing one in Macy's. I was so tempted to try it then, but I was quite hesitant since I saw all the "brow-ticians" have very thin (line-like) brows. When I went to Hong Kong, I saw an advertisement of Shu Uemura at Sogo offering such service. Again, I was tempted to have my brows threaded, but I was scared to do so as they  might not understand what shape I actually like. In fact, when I bought my eye shadows, as seen in my previous post, it took me about half an hour before the SA finally understood me. Hehehe! Well, the wait is actually worth it as I decided to go to Browhaus in Serendra, which was suggested by mommy dear.

How was my experience at Browhaus? Well, I'd say every cent I paid was worth it.

The service was exceptional!

 It's not like after 10 minutes of sitting, you're done. They really put time and effort to make sure your brows are nice, neat, and perfect!

They let me sit down on a reclined chair and the girl threaded me for about half an hour. Well, I'm not so sure how long the process was, but it was definitely longer than having the service done in a salon. They even have this technique of letting me stretch my skin around the eye area by placing one hand a little above the brow to pull my skin upward, while the other hand on my crease, stretching my eye area downward. The more you stretch the lesser the chance your skin get stuck in between the threads. Thus, the lesser the pain.

 After threading, they also plucked the excess hairs that were hard to remove. They really made sure everything that surrounds my eyebrows is clean. That in itself is great service as salons do not do such nitty gritty stuff.

To add to the great service of Browhaus, they also offer a relaxing ambiance. Brow grooming is part of pampering yourself, which explains the nice place. Even their walls are sooo cool.

There are different shapes of eyebrows, which you could also choose from. I love that idea! Hehehe! Take a look at the photo below…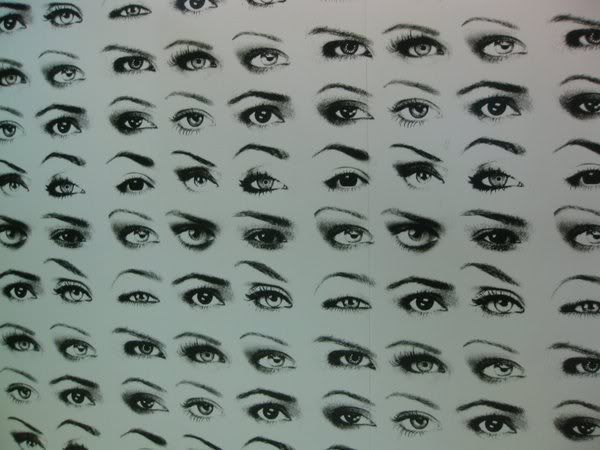 It took me a lot of patience to grow my eyebrows for weeks just to have it shaped at Browhaus. I totally do not regret the wait though, as it is worth it!

I paid for only Php 580 for an eyebrow professional to shape and thread my brows. That may sound a bit expensive, but come to think of it- you spend hundreds too to have your brows thread. Why not add a few more hundreds  to make the twins look perfect eh?!

Now, I'm sure you're curious what my brows look so I'm sharing with you my before and after photos… Hehehe!

BEFORE
AFTER

Well, for those who hate threading and do not have plans to try it, don't ditch Browhaus just yet. They have other services too like modern tweezing, which is also priced at Php 580. They also color brows for Php 900. They also do lash extensions for Php 3,800 and lash curl up for Php 2,200. You definitely have to visit Browhause at Serendra to know what I'm talking about! Hehehe!