Two weeks ago, I visited the Philippine School of Interior Design (PSID) exhibit at Eastwood. I actually went there to support my friends, Misty and Eileen, since they were part of it. It is like their thesis since all PSID students that are about to graduate should be able to display their talents through exhibits. When I got inside, I was so amazed on how the students were able to do such wonderful booths.While I walk around the building, Misty shared some facts about this project. The graduating students are asked to group themselves. Some prefer to do the project alone, while others in pairs, triads or quads. One group = One booth. The exhibit is
divided into 4 parts- Blissful Burbs, Peaceful Peaks, Highrise Haven and Sea Sanctuaries. Each group was asked to draw lots to determine in which theme they will be assigned to. And guess how much each booth costs?! Each group shelled out at least Php 250,000 just to buy the appliances or decorations needed! Geesh! Just imagine how much they need to spend if they do not have sponsors. And by the way, the Php 250,000 is still on top of the rent they paid for the building and their tuition fee! Whew! That's a lot of bags or probably a Hermes. 🙂
Before 2008 comes to an end, let me present to you one of the hottest movie of the year… Burn After Reading. And when I say hottest, I mean it!!! Girls out there, hold onto your horses as Brad Pitt and George Clooney stars the movie. Oh my! That's really hot! And to add to that, the movie has a mix of spy-adventure and comedy, making it more exciting! Oh, and what's even hotter is- this is the first movie premier of Nuffnang Philippines! Yay! 🙂 Congratulations! This event will really be a great chance for me to meet my fellow Nuffnangers for the first time. With all these reasons, I'm really hoping I could get those free premier tickets!!! *wink*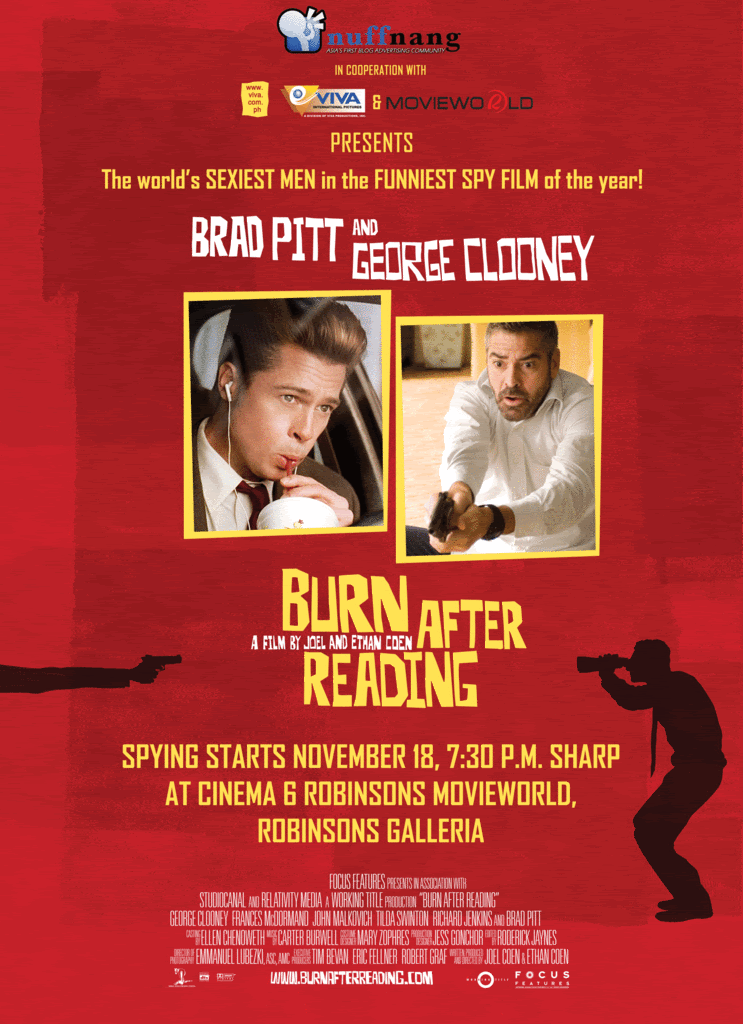 So off they went to Sephora to buy my Bare Escentuals Get Started Kit, as I shared with you in my previous post. And lucky, lucky me since they were able to get a Tarte creaseless eyeshadow duo for free! This is one of the reasons why I love shopping in the States. A whole lot of freebies!!! They got me a bronze shadow which is usually the color I use. It is waterproof and dual ended, with loose and cream eyeshadow. The good news… the cream shadow is smudge free, unlike others! And with the loose eyeshadow on the other end, you can easily glide its roller ball applicator after putting on the cream shadow. This trick helps in locking the color and at the same time adding shine that can last all day. Oh, I sooo love this! I can't wait to try it on! 🙂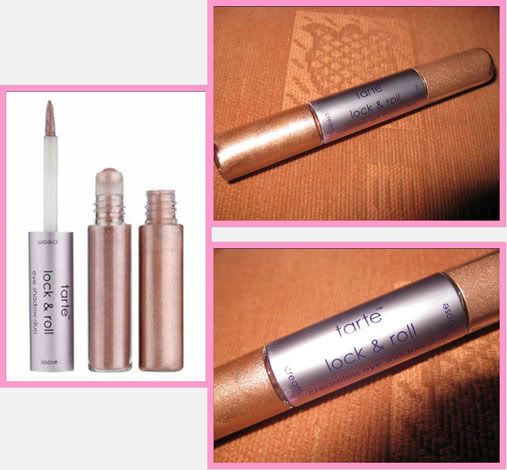 How to apply Lock & Roll: Creaseless Eyeshadow Duo
(Instructions found with the product)
1. Brush a sheer wash of the Vitamin E- enriched cream shadow on lids and wait for about 10 seconds for it to dry.
2. Remove safety seal from roller ball before use. Tap roller ball to actuate product, then roll the matching loose shadow directly on top of the cream shadow.
Arthur is back and I finally got the stuff I asked him to buy! Geesh! With all the stuffs he brought home, it seems like I'm the one who went to the States! Hahaha! I never thought my list was that many. LOL! So expect me to share all these in the days to come.
Another sale alert!!!
Get discounts from the best brands: Naturalizer, Florsheim, Seychelles, JLo, Dezario, Athena Alexander, Callisto, Bossini, and more!
This 3-day sale starts on November 13 until November 15, 2008 and it is open from 9am to 5pm. Mark your calendars now!
Address: 2295 Jannov Bldg. Pasong Tamo Extension, Makati City. Click on the map below.