Birthdays should always be special and it is a must to make it memorable. I always make sure that every time it is my birthday, I celebrate it with a BANG! Hehe! 🙂 So what made my birthday so special this year? Read on and soon you will find out.
Yes, I am officially a year older but who cares I still look a year younger! 🙂 LOL! (Feeling! Well, wishing it is ture.. Haha!) I really didn't prepare for my birthday this year. I actually never thought of what I was going to wear on my special day until the very last minute. Cramming, as always! I even spent time blogging rather than imagining what my birthday outfit would be for my dinner with my family. LOL! 🙂 So what was the outcome of my last minute cramming? Here it is…
Wait a minute! Before I reveal what I was wearing for our dinner, I know all of you are already wondering what was so special with my birthday this year. It was not the outfit I wore, or the restaurant where we ate for dinner, and not even a gift I received that made it special. It is this post that made it so so special. 🙂 Here is my birthday surprise for everyone. Finally, Lush Angel reveals….*drum roll please*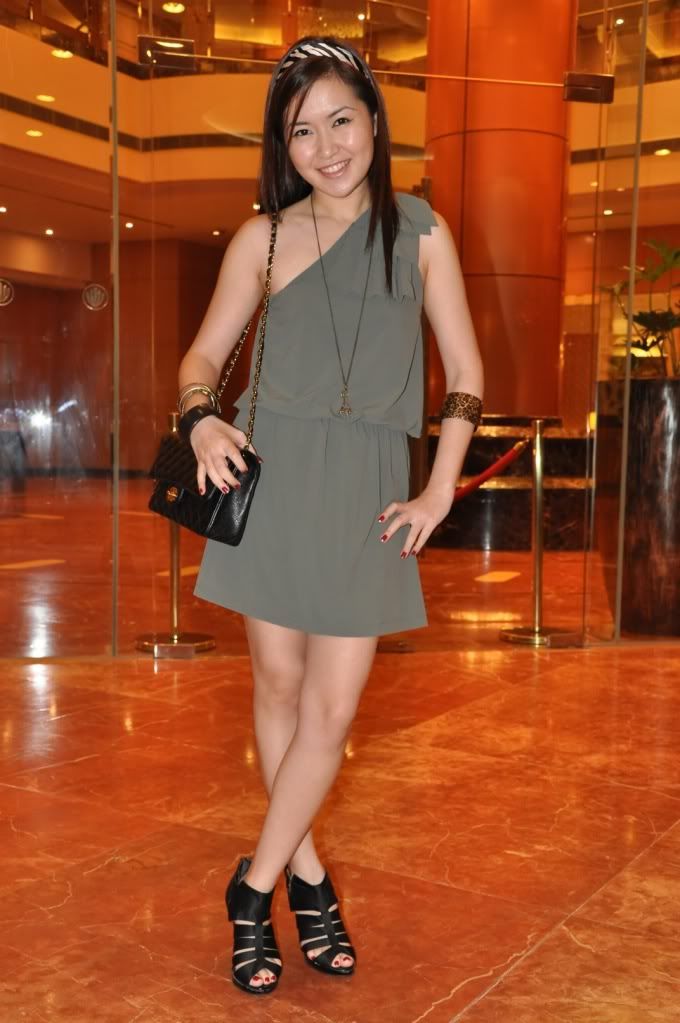 …her face! Eeeek! I'm so shy right now! I'm currently blushing as I type this. LOL! 🙂 No more happy face for this post. I promise. Hehe! On what made me finally decide to reveal my face, don't ask! Hehehe! 🙂 If you are wondering if I'll be showing my face on all my future posts, I am still undecided. Let's see… Hehehe! But do expect a lot of changes to be happening with my blog in the coming weeks. 🙂
Enough of my revelation, here is my birthday outfit.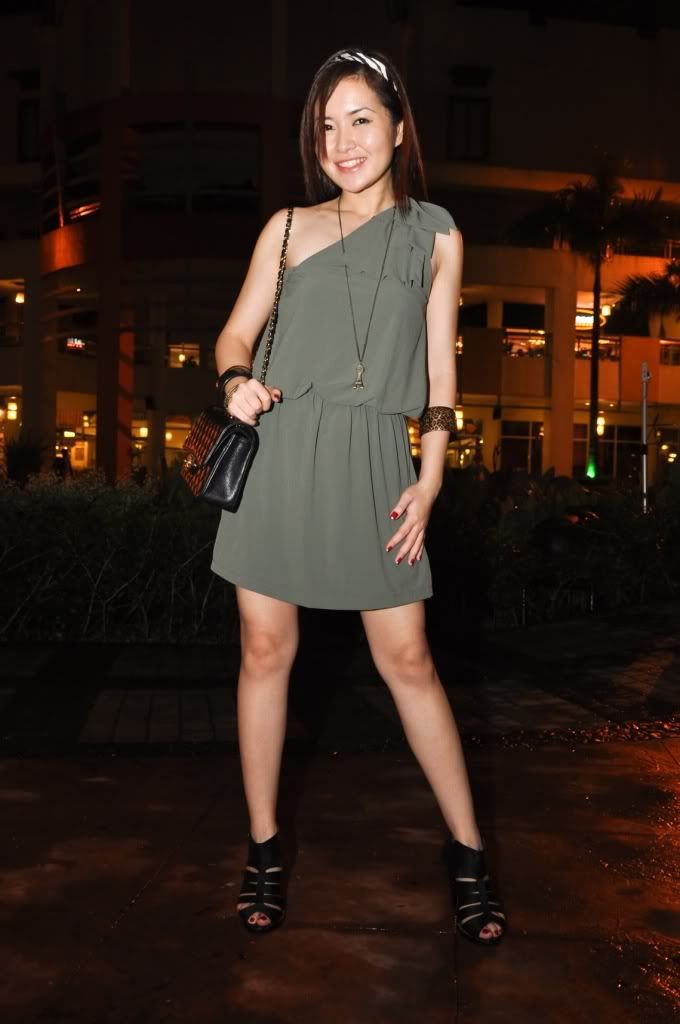 I ended up wearing a simple one-shoulder gray dress from KAT Collection, a clothing line that me and my friends put up several years back.
A closer look on the details…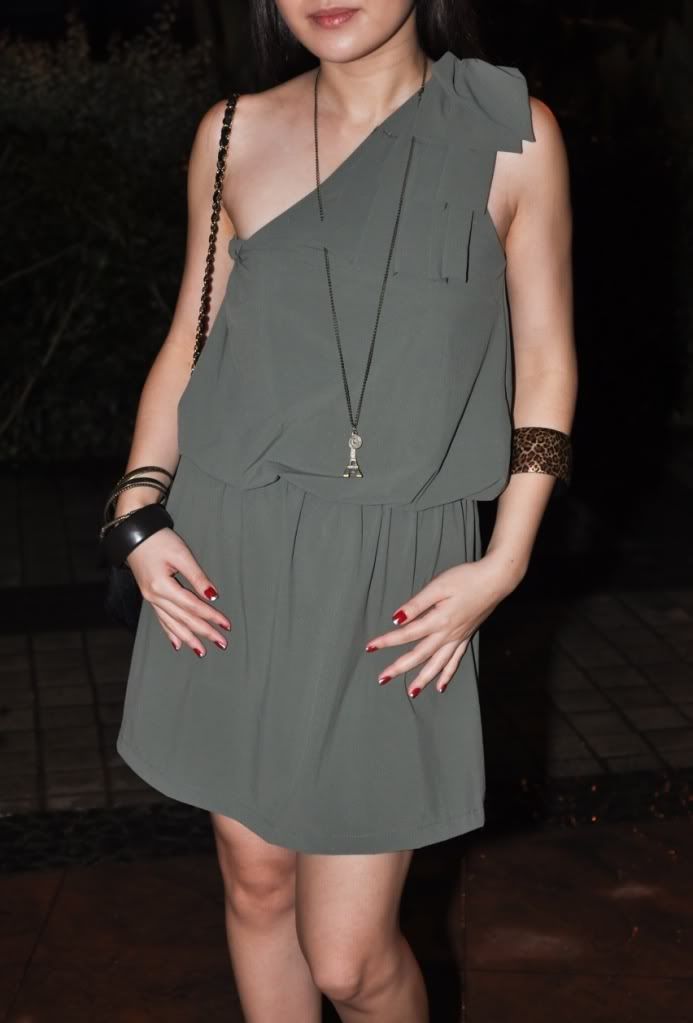 Sorry, I wasn't able to fix the details of the dress properly! My bad.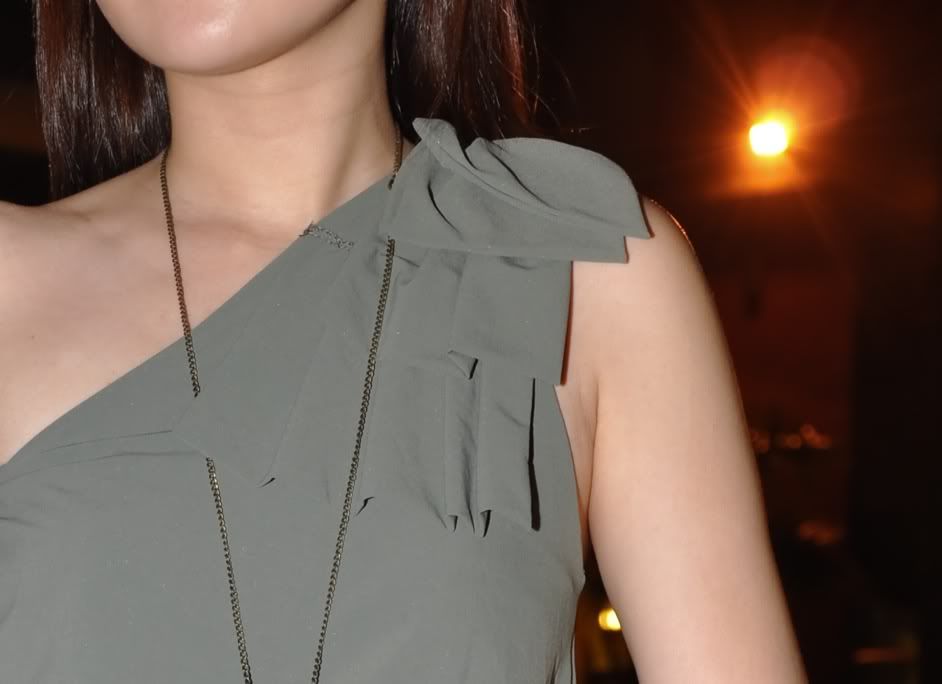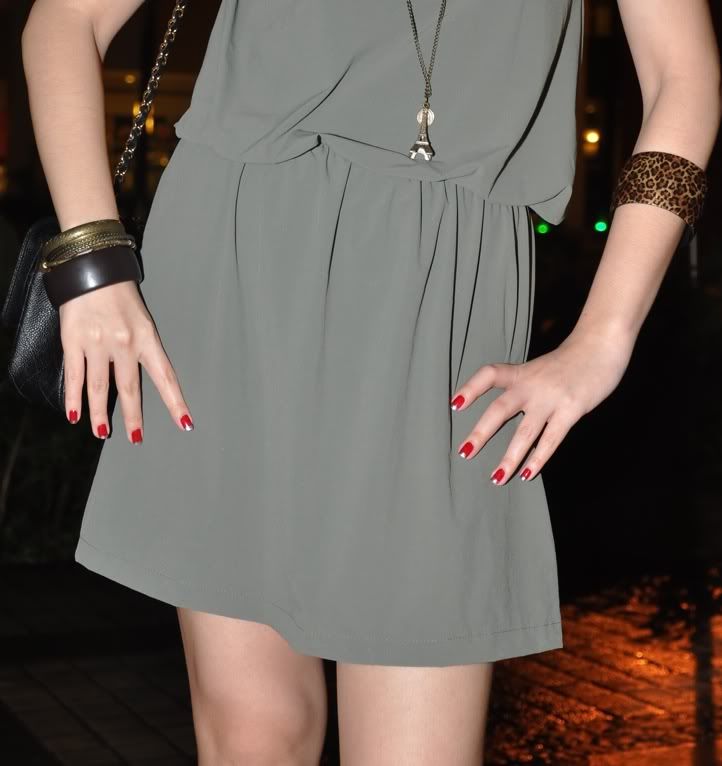 I thought of using my Eiffel Tower necklace again here. It has become my fave these days. 🙂 (But what would make my birthday really special is if someone gives me a roundtrip ticket to Paris and see the Eiffel tower again! LOL! )
I also wore some bronze and wooden bangles from H&M and a leopard print cuff on the other hand just to punch up the over-all look a little more. 🙂
Oh, and I actually forgot to put on my earrings so I ended up wearing my ever reliable black and white tie as a headband since I felt so empty and plain. Well, I think it still blended with my entire outfit anyway since I used my black Chanel purse in gold hardware and my black caged shoes. It's still in my black-gray-bronze/gold theme. 🙂
More pictures of me and my simple birthday outfit… 🙂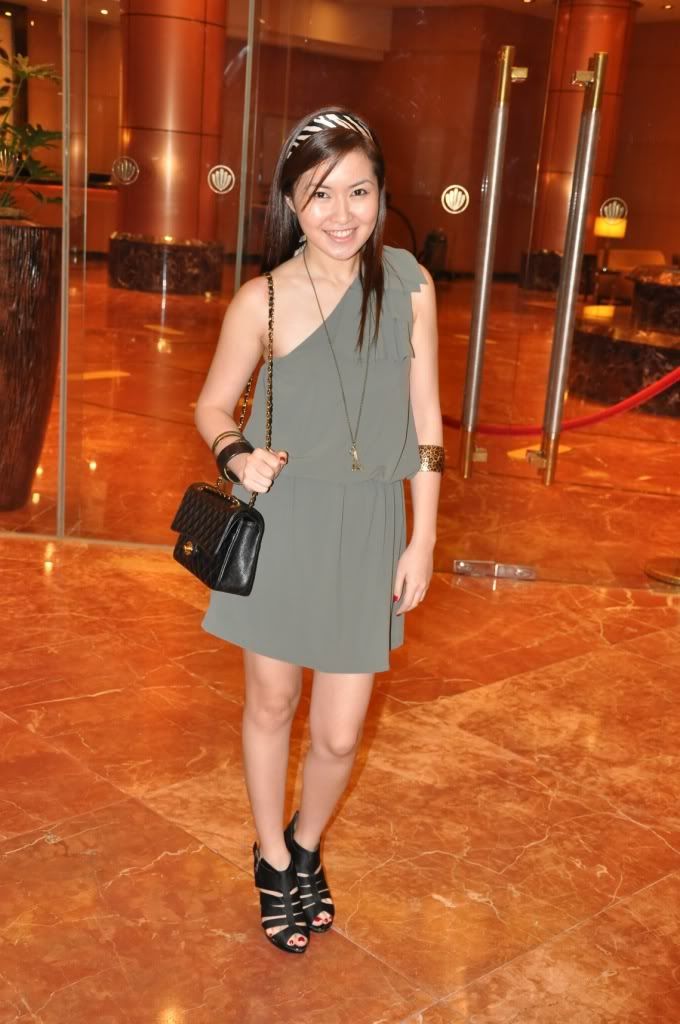 On Lush Angel: KAT Collection asymmetrical dress; random tie (worn as a headband); Eiffel Tower necklace from Bangkok; H&M bronze and wooden bangles; leopard print bangle from Primark London; Chanel 2.55 medium flap bag; New Look caged sandals