Once again, I got the chance to stroll around Greenbelt 5 last Sunday. After seeing Balenciaga last week, it seems I'm getting hook in this "heaven-sent" mall! LOL! Actually, my mom also found a new place to shop for her wardrobe- -Adora. Oh gosh the prices in Adora are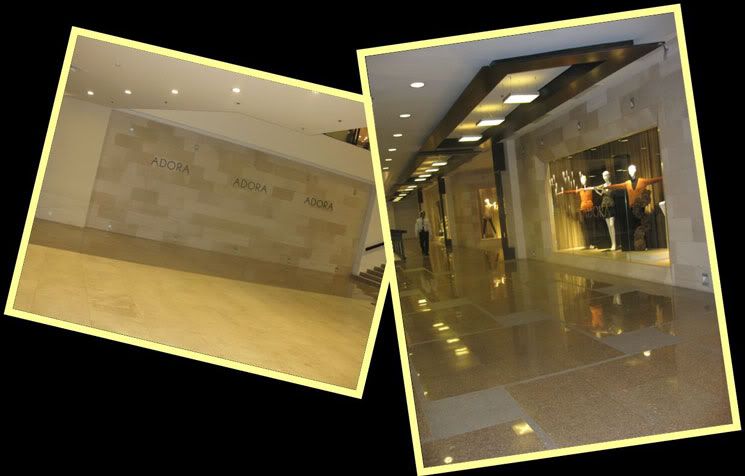 unreasonable. I used to love Tyler, which is one of Adora's concessionaires. Okay, I will be honest. I still buy in Tyler once in a while. It's just irresistible. But after I, together with my best friends Therinne and Karylle, started our garment business, I now, more or less, know how much each of those dresses cost. This led us to price our dresses way lower than our competitors even if we have the same quality as other well-known brands. Anyway, I will just tell you more of what I do in my later posts.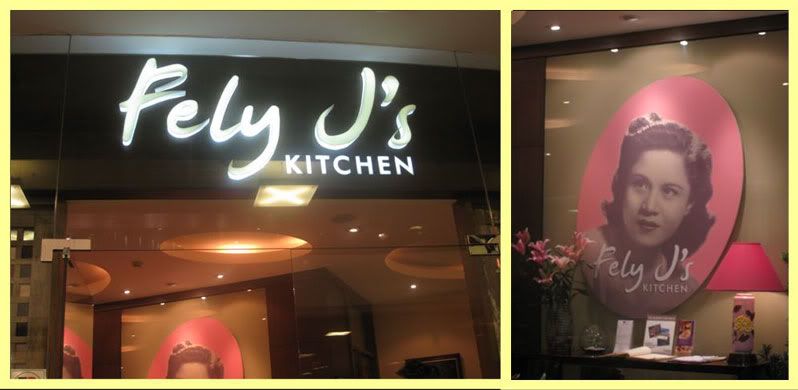 Going back, after my mom's stress reliever, we had dinner at Fely J's. It is our first time there since my mom is not fond of Filipino food. But after learning about the famous personalities, like Imelda Marcos and Mar Roxas, gracing the restaurant in its opening and the long line of people waiting to be seated, she finally got intrigued. Anyway, she had other choices since they also serve other Asian dishes. So while we were waiting outside the restaurant, I got the chance to take a picture of the stores around.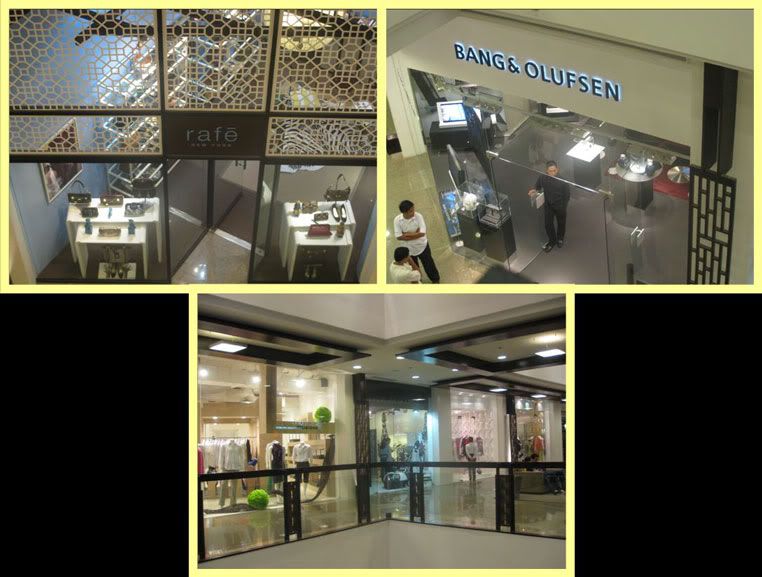 From upper left clockwise: Rafe New York (Oh, Rafe Totengco's handbags and shoes are just so gorgeous!), Bang & Olufsen (a really high end store selling audio and video products), and shops of famous Filipino designers just across Fely J's (Religioso, Lila Almario and Kate Torralba)
Anyway, since it was around 8:00pm already, we were lucky enough to get a table in just about 15 minutes. Well, of course my mom popped her usual question to the server: "What are your specialties?" The next thing she does is observe other tables on what they order. Then, starts pointing and tells the server, "I like this, this and that". So probably you get the picture that most of the time everything comes to a surprise when the food is served on our table. After a while, our food started to arrive. Yes, their service is so good and food is served fast! Great for our starving stomachs! But when all is set already on our table, we were so overwhelmed! We never thought that they have that huge serving. We thought servings would be the same size as Abe, another Filipino restaurant in Serendra. Well, for those who do not know, Abe and Fely J. are husband and wife. One of their children is Larry, who owns the Larry's Café and Bar also located at Serendra. All these restos are part of LJC group. Other restaurants owned by this group are Café Havana, Café Adriatico, Bollywood, etc. Successful company huh?! Anyway, just take a look at what we ordered. Take note, only 4 people would be eating!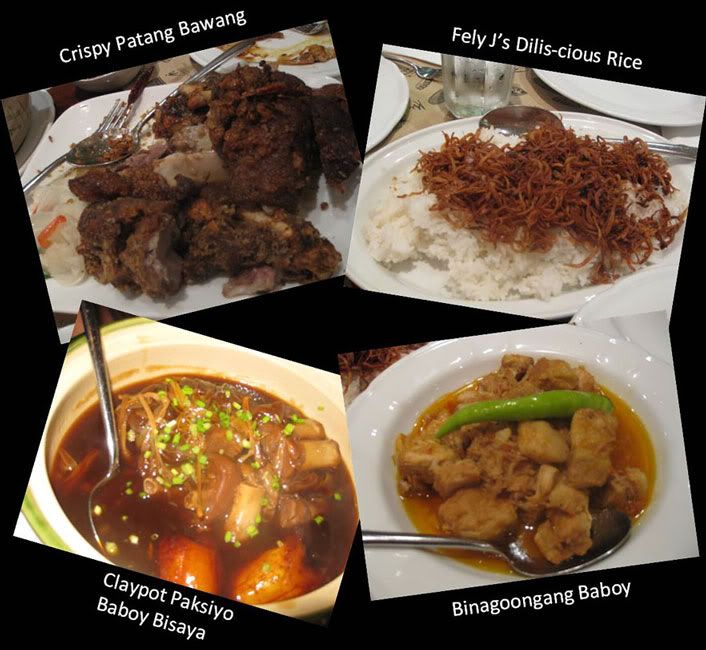 Crispy Pata Bawang is a deep fried pork leg with special seasoning. This is one of their best sellers!
Fely J's Dilis-cious rice is one of their specialties. It looks like adobo flakes in the picture but it is actually deep fried dilis with taosi on top of the steamed rice. Very unique!
Claypot Paksiyo Baboy Bisaya is a pork shank simmered in soy sauce with banana. The taste is very close to Pata Tim. 
Lastly, my favorite Binagoongang Baboy. It is pork meat with garlic and sautéed small shrimps. Honestly, I was not so happy with this dish. I always eat Binagoongang Baboy because I love shrimp paste. But I am not sure if I tasted any…  It is somehow blunt for me. 
Now, have you noticed anything in our order??? Everything is PORK!!! Well, except for the Dilis rice of course. So just imagine how many pounds we gained after eating everything. Oh yes, we were only four but we were able to finish everything!!! So isn't it obvious what my verdict is? Even if I was disappointed in their Binagoongang Baboy, I definitely recommend this restaurant especially for big groups, I will surely go back there to taste their other foods. Besides, it looks like we have a new favorite mall in town. 🙂