Thunderbird Resorts Poro Point have two restaurants- Olives (which is located near the lobby) and Vegas Cafe (which is beside the Casino). They also have a different menu for the Pool Bar, which I was able to try before taking a dip in the pool. The Santorini Bar & Lounge is where you can relax, while sipping your favorite alcohol drink.
Vegas Cafe
I was able to try Vegas Cafe once for lunch. There were only a few people when we got there as it was a Sunday around 11am. I can imagine this place packed with hungry casino players at night since Fiesta Casino is right beside this restaurant. Vegas Cafe is open 24 hours and offers international cuisine for breakfast, lunch and dinner.
*You can click on all the photos below to make them bigger*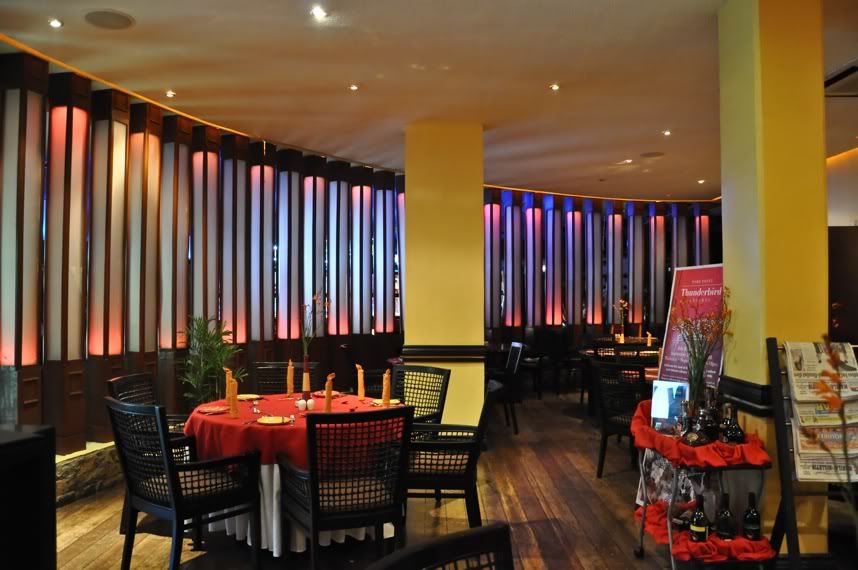 While waiting for our order, we were given complimentary bread rolls. It was really tasty and best of all, it was served hot and soft- just the way I like it. 🙂
Looking at the menu of Vegas Cafe, most of their dishes are for sharing. And my order…
Sinigang na Baboy (PHP 350)- Since I was really craving for soup that day, I ordered Sinigang na baboy. It's pork belly and mixed local vegetables boiled in tamarind broth soup. Errr… I know it's a dish that can be ordered just about anywhere, but that's what I've been craving for that day! LOL! I still didn't regret having this instead of ordering their steak, which is their specialty. It's one of my fave Filipino dishes! The pork sliced into small pieces were really tender. The veggies that came with the Sinigang were fresh, I can say, since they were crisp. The soup was sour, just the way it should be. But since I like my Sinigang soup really really sour, it would have been better if more tamarind flavour was added. It was served in a clay pot to keep the soup warm and yummy! 🙂 This dish serves 2 to 3 persons.
Pool Bar
After having our afternoon siesta on their "Thunderbed", we went to the pool for a dip. Well, it served as my exercise in preparation for an adventurous surfing the next day. Hehehe! But before doing so, I had to satisfy my growling stomach. I had a hard time choosing from their menu since I wanted to order and try a lot!
I ended up ordering the Santorini Club…
Santorini Club (PHP 260)- It's a toasted whole wheat bread with layers of chicken breast, avocado, lettuce and egg, topped with crispy bacon. Well, I love anything with bacon! I don't consider it as a breakfast food. (Probably because I rarely eat breakfast! LOL!) The Santorini Club served to me was packed with meat and veggies, making it hard for me to bite the sandwich. Not that I'm complaining! In fact, it's a two thumbs up for me! 🙂 Well, that's why utensils were made. LOL! 🙂 I also found the Club juicy despite the layers of chicken breast, which is usually dry. The Santorini Club was also served with corn chips, which was not the usual paper-thin chips (which I prefer). This dish serves 2.
And to keep me alive for the rest of the day, I ordered a bottomless freshly brewed coffee for only PHP 100. Hehehe! I think I had 4 refills of coffee! Bad, I know!!!
And of course, what's a vacation without sipping an ice cold shake while sunbathing?! 🙂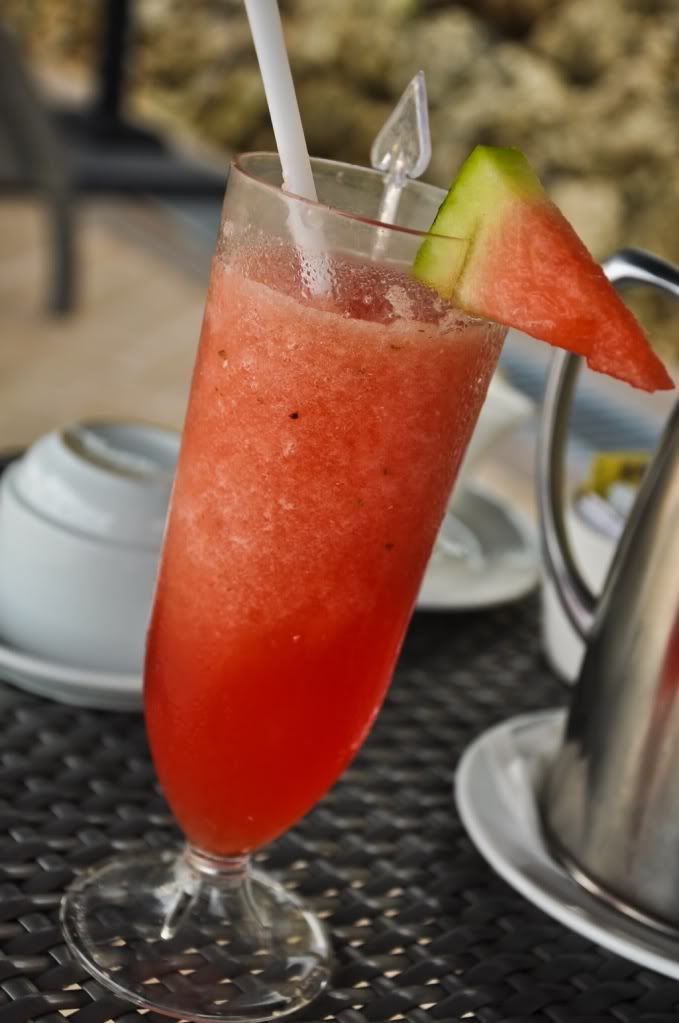 Watermelon Shake (PHP 150 – 160)- Sorry, I couldn't remember the exact price but it's around that range. Watermelon Shake is one of my fave drinks, especially when I'm out in the sun. It's a very refreshing drink, which is just so perfect to beat the heat. 🙂 There's really not much that can be done to give a Watermelon Shake a twist. I'm just glad that they served me a sweet one to satisfy my sweet tooth, at the same time, giving me a refreshing feeling. 🙂
Olives Restaurant
Olives Restaurant is located in the same building of Thunderbird's main hotel, near the lobby. Olives offers Mediterranean cuisine for lunch and dinner, and a buffet for breakfast. I would say, one of their specialties is their pizzas. It's freshly cooked from their wood-fired stone oven (as seen in the photos below), making their thin crust pizzas crispy.
Since I wanted to try different kinds of pizzas, I decided to split the flavours of one whole pizza- meaning 4 slices with the same flavour and the other 4 slices in another flavour (as seen in the photo below). As to how much they charged us with this kind of request? The price was just like ordering two half pizzas of our choice! 🙂 Oh, they even accommodate special requests, like if you want to take out some ingredients and add something in replacement. That's what you call excellent service! They really want to make sure all their customers are satisfied. 🙂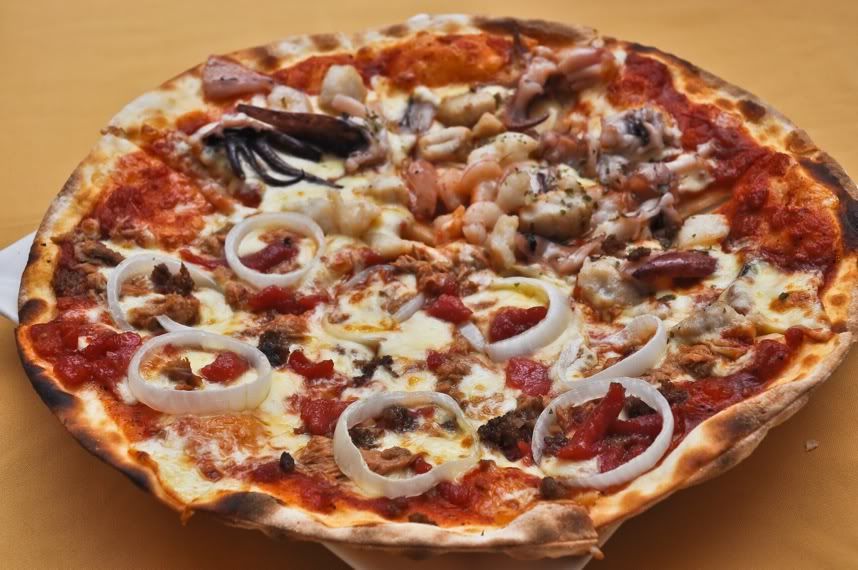 Anyway, I ended up ordering the following:
Pizza Ilokano (PHP 400)- It consisted of Tomato Concasse, Mozzarella, Cheddar Cheese, Vigan Longganisa, Tocino, Tuna and Onion. To be honest, I ordered this pizza just because of the Vigan Longganisa. I'm not fond of eating longganisa, except for Vigan Longganisa. The problem? Tuna has such a strong flavour that I barely tasted the Vigan Longganisa. There was a hint of sweetness because of the Tocino, but the taste of the tuna was still very dominant.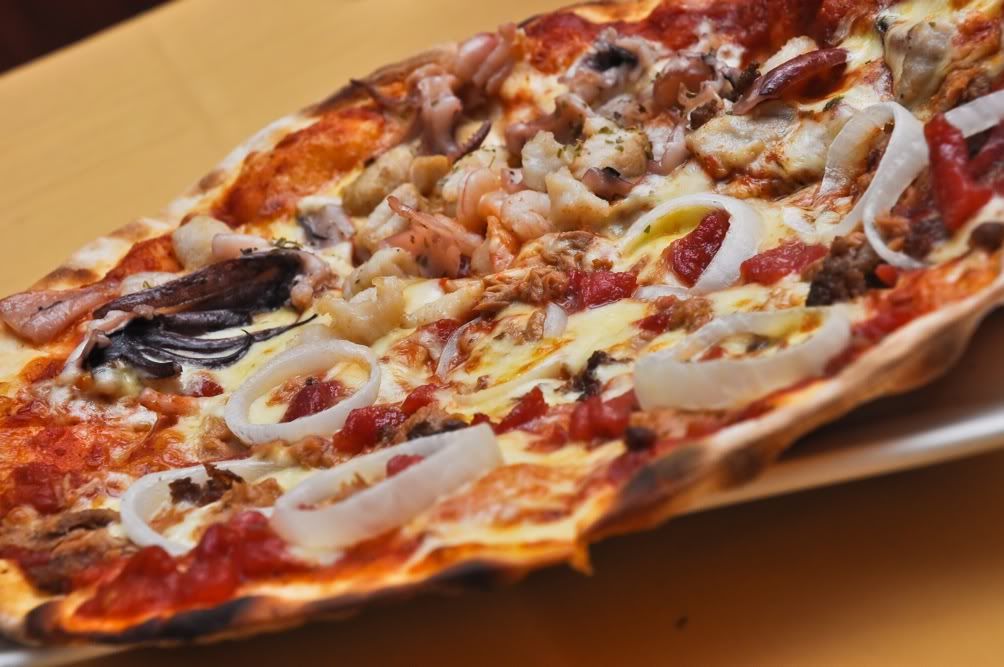 Pizza Frutti Di Mare (PHP 460)- This had Tomato Concasse, Mozzarella, Squid, Shrimps, Fish and Scallops. I looove seafoods! I love squid. I love shrimp. I love scallops. So obviously, I loved Frutti Di Mare Pizza. 🙂 The seafoods used were all fresh. The serving of the toppings was generous, which made it so perfect! 🙂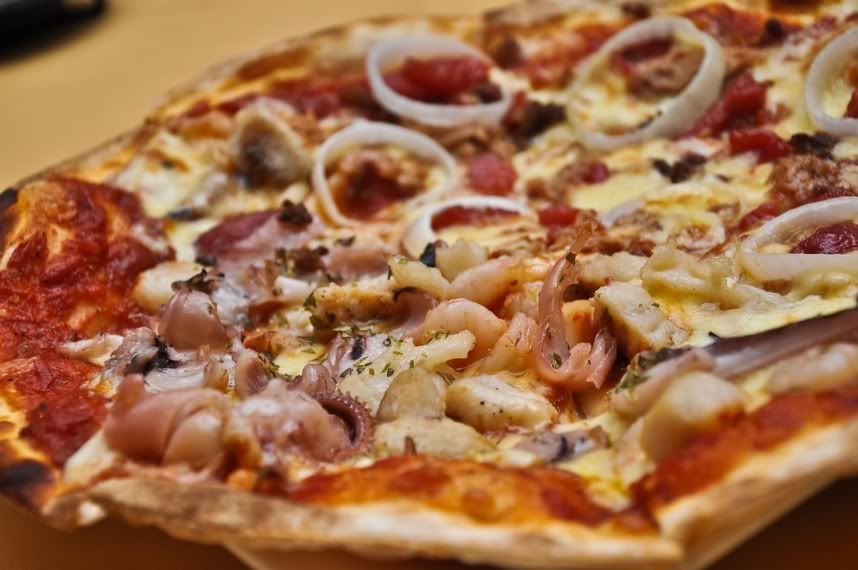 Pizza "Quattro Stagioni" (PHP 470)- This had Kalamata Olives, Artichoke Hearts, Parma Ham, Fresh Mushrooms and Mozzarella. Pizza Quattro Stagioni is one of their best sellers. It had a lot of toppings as well and it was really good! 🙂
Four Cheese Pizza (PHP 720)- consisted of four kinds of cheese- Goat, Parmesan, Feta and Mozzarella. This one is the bomb! 🙂 Well, looking at the price, it really has to be good. I actually find the price quite steep for a pizza. When I had a taste of it though, it did not disappoint. 🙂
Sorry for the photo below. We ate two slices of Four Cheese Pizza already before I was able to take a picture of it. LOL! This is also half and half pizza. Pizza Quattro Stagioni and Four Cheese, which is the one on top with two slices left. 🙂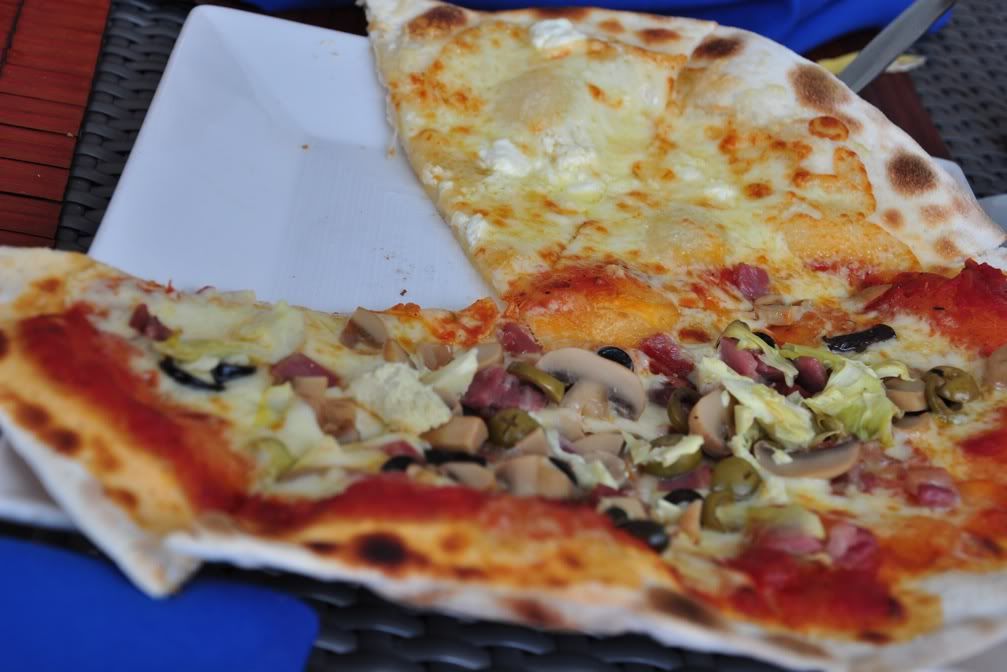 While waiting for our orders, we were also given soft and hot bread slices and rolls. It came with butter, my fave oil and balsamic vinegar dip, and some olives. 🙂
And of course, we had to order wine to perfectly match our pizzas. Well, who wouldn't want to order wine if you are seated right in front of this…
Lovely, eh?! Hmmm… Now I'm thinking of having a wine cellar in my future home. LOL! 🙂 That would definitely help me doze off to sleep early! Haha! Anyway this is what we had…
Cabernet Shiraz 2007, Laughing Lizard (PHP 170 per glass/ PHP 800 per bottle)- a vibrant deep purple colour, overflowing with ripe berry fruit flavours with just a hint of soft spice. I'm not really a wine drinker. I just join wine tasting tours because it's part of the itinerary whenever we go out of the country. Well, I do enjoy them. In fact, one of my most memorable wine tasting tour was in Ontario, Canada. It was the first time I had a sip of that expensive Ice Wine. We ended up bringing home several bottles of it for my family and I to drink before going to bed. Hehehe! After tasting that delicious Ice Wine, my love for dessert wines started and my search for Ice Wine here in Manila has not ended! Yes, I haven't seen any Ice Wine here yet. 🙁 Anyway, sorry for my long introduction on my love story with wines. LOL! Actually, it was only recently when I learned to appreciate red wine. I've been drinking red and white wine, but I never really craved for them. Now, I just love them. It goes well with steak or pizza. And of course, a glass can help me have a sound sleep. LOL! 🙂
We also availed for Breakfast Buffet, which was included in Thunderbird's room package (more on the room rates and packages in this post), here at Olives Restaurant. Well, I don't usually eat breakfast because either I'm always in a hurry or I wake up late. It's only when I'm on vacation that I get to wake up early and eat breakfast. And my favorite breakfast food? Crispy bacon!!! 🙂 And guess what?! They had it in the buffet! That just made my day! It's been a long time since I ate breakfast! LOL! 🙂 Anyway, other than the bacon, the breakfast buffet of Thunderbird Resorts has a variety of choices, enough to cater to the different preferences of the guests. Here's what they had in the buffet table:
salad bar and various tropical fruits
a variety of  cheese, cereals and bread
omelette station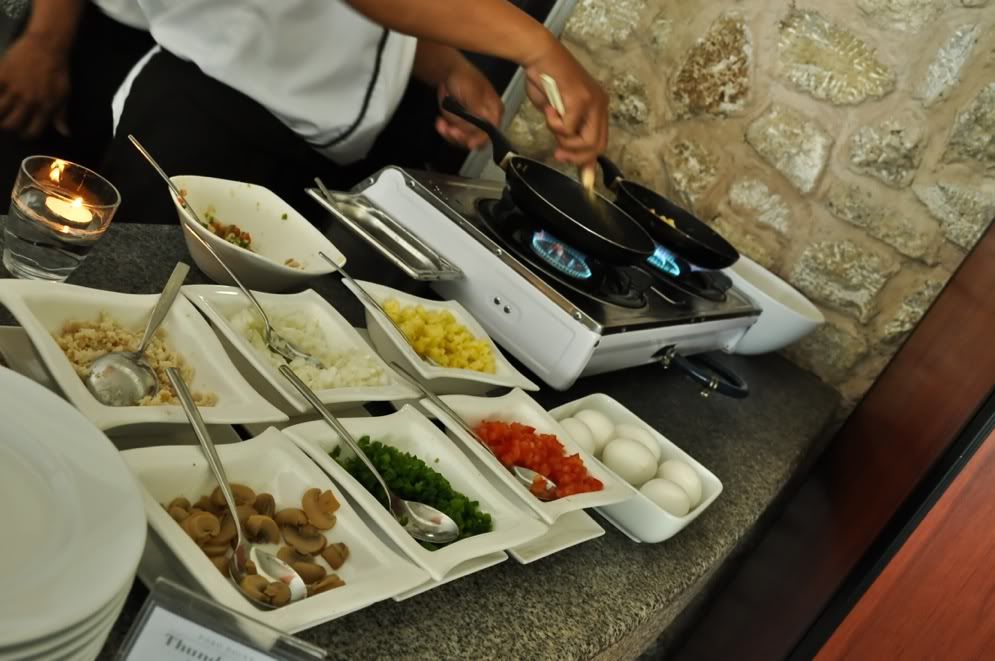 from L – R: Beef Tapa, Daing na Bangus (Fried Fish), Sauteed Chicken Strips, and Bacon
The drinks included in their buffet were fruit juices, soy milk, cold chocolate drink and brewed coffee.
I ended up finishing all these…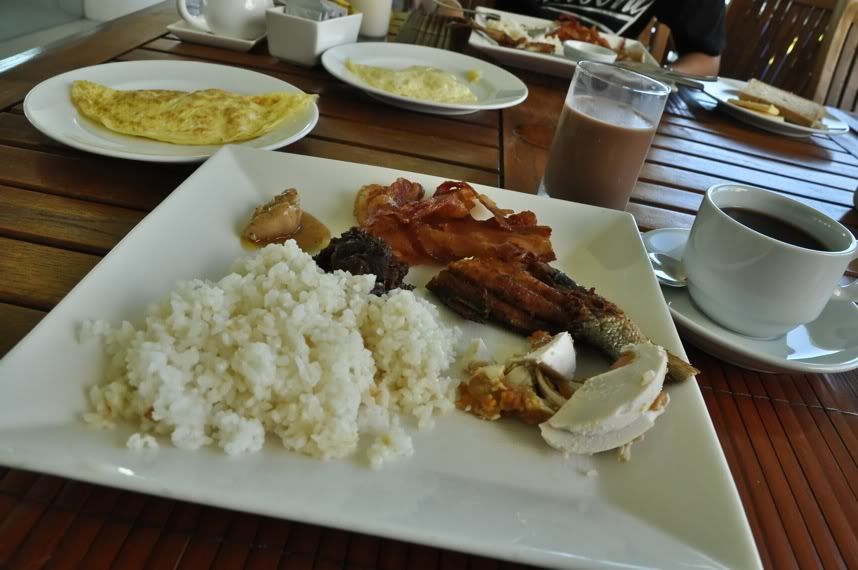 Burp! 🙂
Santorini Bar & Lounge
Santorini Bar & Lounge is where you can satisfy your thirst for alcohol! 🙂 It's near the lobby and Olives restaurant. It has a very relaxing ambiance, with the view of the South China Sea, making it a perfect place to sip a little bit of alcohol anytime of the day! Hehehe! Oh, and they have a variety of alcohol mixes and happy hour as well! 🙂 Well, I was a good girl during my stay in Thunderbird Resorts for two straight weekends. No alcohol for me! 🙂 Well, we did lounge here at Santorini bar since the pool area was packed with people. But we ordered shakes and coffee, as usual. 🙂 (Coffee has been my bestfriend for several weeks now! Geeesh! Need to stop it!)
Anyway, here are some photos of Santorini Bar & Lounge: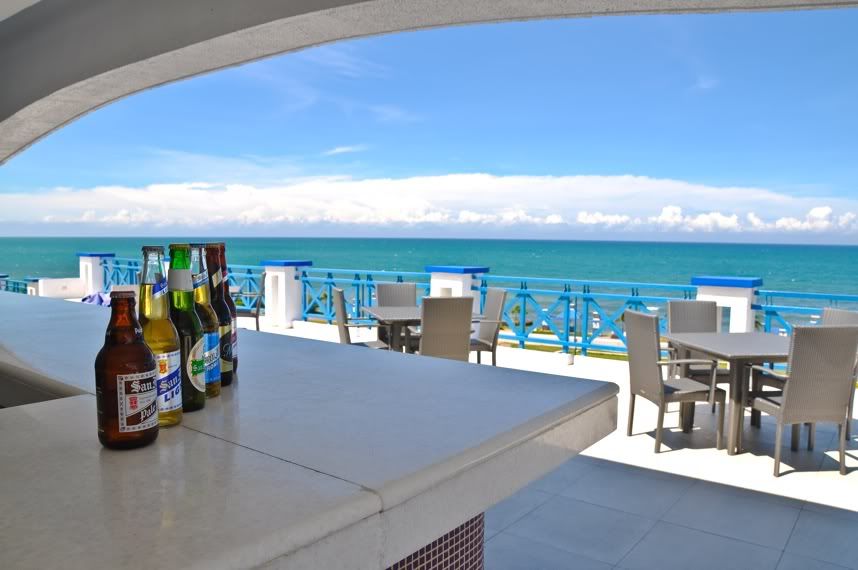 Imagine yourself sipping your fave cocktail, wine or fruit juice, while listening to their relaxing music and enjoying this kind of view… Whew! That's what you call- Living Lush-ciously! 🙂
the mini stage for live performances every Friday and Saturday night…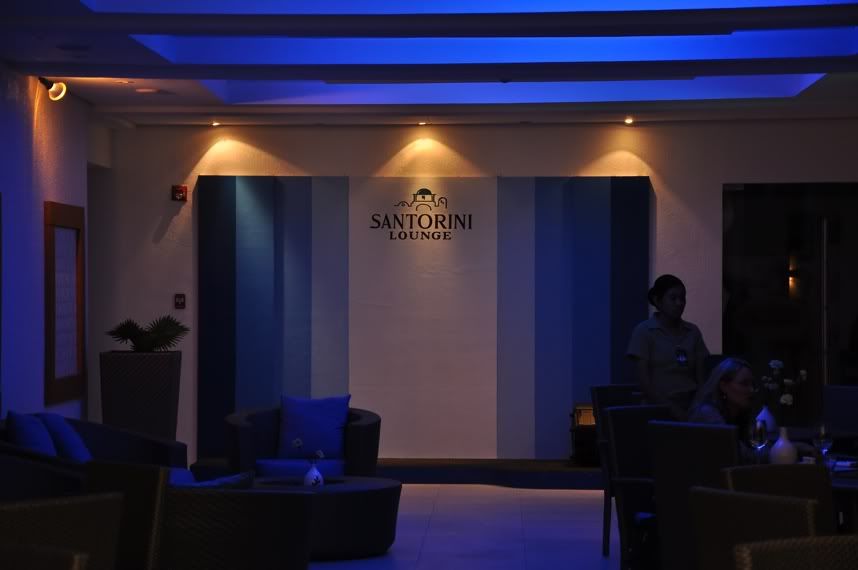 I was able to try their Mango Shake, about PHP 120 – 150 I think (Sorry, I couldn't remember the exact price again!). Similar to the Watermelon Shake I ordered while I was in the pool, there's nothing much that can be done to make this shake special. I'm just satisfied that it was sweet, even if Mangoes are already out of season during this time of the year. 🙂
We also ordered Milk Shakes (about PHP 200 – 220). I tried the Chocolate Milk Shake, which wasn't really as thick and pure as it should be. I liked it still as it wasn't too sweet. You won't easily get tired of drinking it. 🙂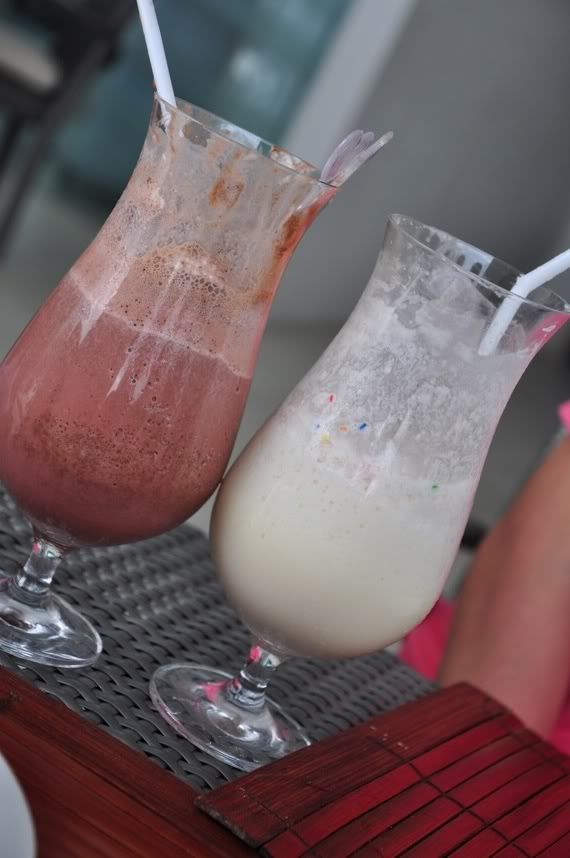 OMG! Sorry, this post has become too long!!! Ummm… Can I just say, I don't usually eat this much! When I'm on vacation, it just feels so good to go on a food trip. And with this kind of place, you just want to relax and enjoy Thunderbird Resorts Poro Point with a happy tummy! 🙂 LOL! 🙂
* Note that prices indicated here are subject to change without prior notice *