Alpargatas USA and U.S. Consumer Product Safety Commission announced the recall of approximately 210,000 Havaianas children's flip flops. The recall is due to the probable danger in the flip flops' sole with decorative paint, which is said to have lead content that is higher than the federal standard. Lead is toxic and it can cause health effects when ingested.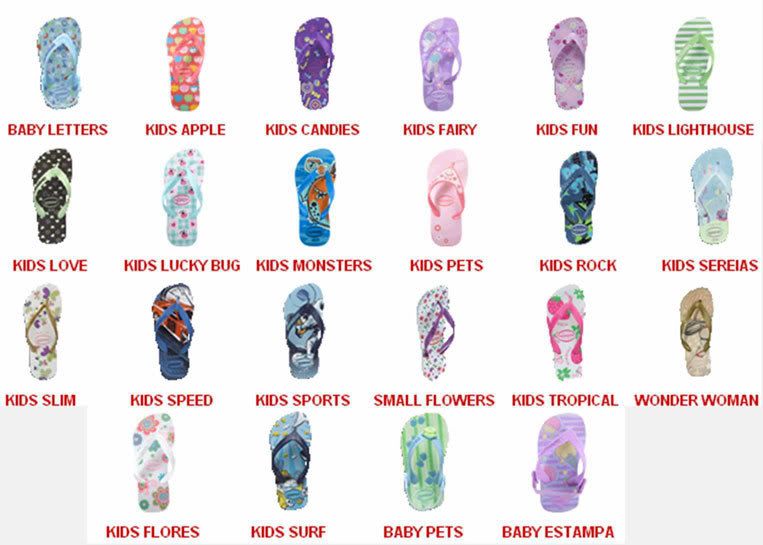 Photo from havaianasus.com
Models of Havaianas flip flops being recalled are the following (as seen in the photo above):  Baby Letters, Kids Apple, Kids Candies, Kids Fairy, Kids Fun, Kids Lighthouse, Kids Love, Kids Lucky Bug, Kids Monsters, Kids Pets, Kids Rock, Kids Sereias, Kids Slim, Kids Speed, Kids Sports, Small Flowers, Kids Tropical, Wonder Woman, Kids Flores, Kids Surf, Baby Pets, and Baby Estampa. These children's flip flops were manufactured in Brazil and were sold from November 2006 to February 2009 at department stores and specialty stores nationwide. Take note that those Havaianas flip flops without decorative paint are not part of the recall.
There are no reported injuries or incidents as of now, but it is highly advisable to stop using these children's flip flops and return them to Alpargatas U.S.A. for replacement.
For more information, visit Havaianas website.