So here's another event I'll be missing out during my vacation… Argh! Anyways, I just wanna share this good news to my fellow shopaholics and fashionistas here in Manila… 🙂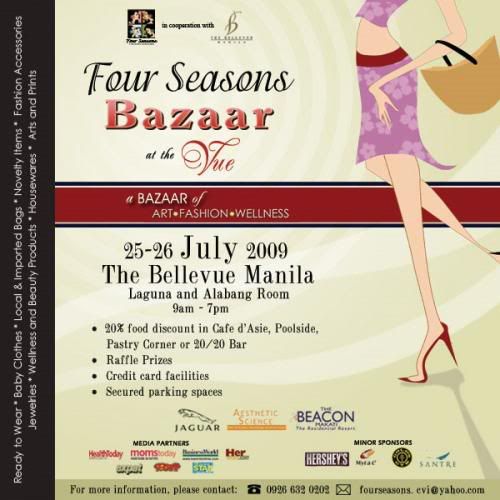 Reinvent Your Bazaar Shopping Experience!
FOUR SEASONS BAZAAR AT THE VUE
The Bellevue Hotel
July 25 & 26, 2009
FOUR SEASONS CREATIVE VENTURES, INC., in cooperation with THE BELLEVUE HOTEL, MANILA will be producing an installment to its 2009 series of bazaar…The Four Seasons Bazaar at the Vue on July 25 and 26, 2009 at the Alabang and Laguna Ballrooms of the Bellevue Hotel, the only 5-star hotel in the South side of the Metropolis.
This event follows in the successful footsteps of the FIRST EVER upscale bazaar south of the Metropolis, the "MIDYEAR FAIR at the Vue…AN ART-FASHION-WELLNESS BAZAAR" held last June 21, 2008, "The Grand Christmas Bazaar" held last November 22, 2008 and "THE FOUR SEASONS SUMMER 09 BAZAAR AT THE VUE" on March 28 and 29, 2009.
This Upscale Bazaar, a new kind of shopping experience South of Metro Manila, offers shoppers another 2 days of exciting experience with a healthiest mix of over 70 choice vendors covering a unique variety of Food, Fashion, Arts, Crafts, Wellness and Decor shopping all under one comfortable and convenient 5-star venue.
As in any Four Seasons' event, so many raffle prizes and freebies will be given away. Prizes include Gift Certificates and Gift packs from vendors, participating sponsors and much more. For shoppers convenience, Credit Card services and ample parking space will be available plus a 20% discount from all Bellevue Food Outlets valid for July 25 & 26, 2009.
This event is brought to you in cooperation with Major Sponsors: Jaguar Philippines, GeoEstate's The Beacon Makati, Aesthetic Science; Minor Sponsors: Hershey's, Myra E, Gold's Gym and Institut Santre; Media Partners: Moms Today & Health Today, Business World & HerWord.com, Expat, and 99.5 RT.
So mark the date: July 25 & 26, 2009 – Saturday and Sunday, 9 AM to 7 PM
Come, Shop, Enjoy and Reinvent Your Shopping Experience!
Lots of Raffle Prizes and freebies to be given away!
Enjoy 20% food discount at all Bellevue outlets.
Credit Card services ready and available.
TICKET PRICE: PHP 50.00