Oh geesh, summer is undeniably here! It's the time of the year again when I can't get out of an airconditioned room because it's sizzling hot here in Manila! In fact last Sunday, Apri 11, was the highest temperature recorded by PAGASA for the year- 36.3 degress Celsius, to be exact! Whow! You can really feel Global Warming!! I now hate the heat of the sun! I feel my skin is getting burned whenever I go out! Ummm… Well, except when I'm at the beach. Hehehe! And I can't wait for the weekend as I'm going back to Boracay! Yay! 🙂
Anyways… since summer is here, anything nautical is back. I love the blue-white nautical combination. It looks so refreshing- something we definitely need during this hotta hotta season!
I'm usually a "weekend warrior". When everyone else looks forward to the weekend to find some respite from the chaotic week, I take this opportunity to do everything a girl like me MUST do! Pamper myself, Shop, shop and shop some more! LOL! 🙂
One fine Saturday afternoon, I decided to go nautical. Ummm… my Saturdays are  usually packed with appointments since it's the only time I get a chance to go to the derma, dentist, nail salon, hair salon and spa. When everything's done, it's the time for my retail therapy. Hehehe! See, there's really no time for me to just lounge on my bed and watch television. It's not really my thing. I just need to go out wherever. I find going out to look at the latest trends and finding hidden gems in stores more relaxing than just sitting on your butt all day. Since this is what my typical weekend is like and because it's freakin' hot outside, I need to go for comfy clothes. Besides, if you aren't comfy with what you are wearing, it would definitely show. Hehe!
Here is one of my nautical weekend look…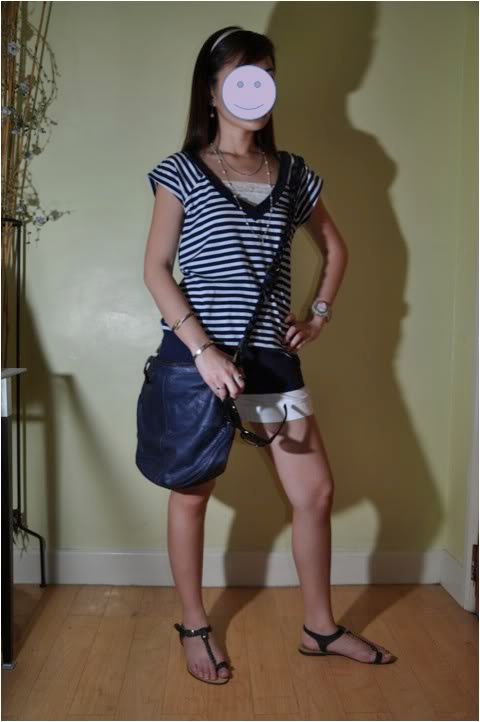 *Yikes! My legs look big here because of the shadow! LOL!*
I know, this is nothing special. It's just a shirt and shorts. I still love the look though since it's sooo nautical! Hehehe! Plus, it's very comfy making it perfect for my weekend pampering. 🙂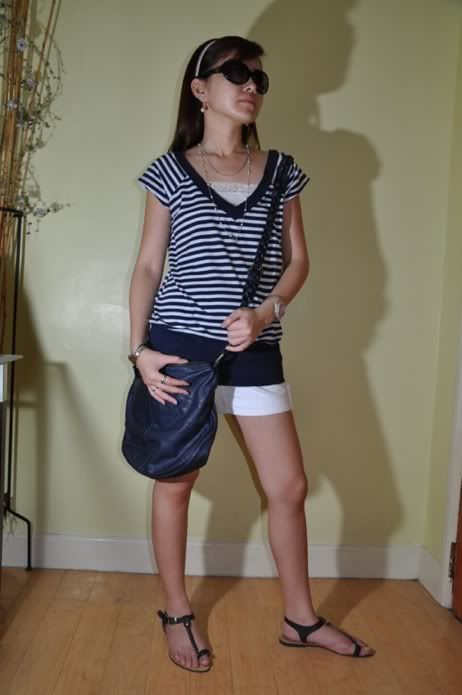 On Lush Angel: blue and white striped v-neck shirt from Details; white lace tank top and shorts from tiangge; black braided sandals from Bangkok; white headband; H&M body bag; white mother of pearl face Technomarine watch; Philippe Charriol and diamond rings; pearl and silver necklaces; Cartier and Philippe Charriol bracelets; Chanel earrings; Prada shades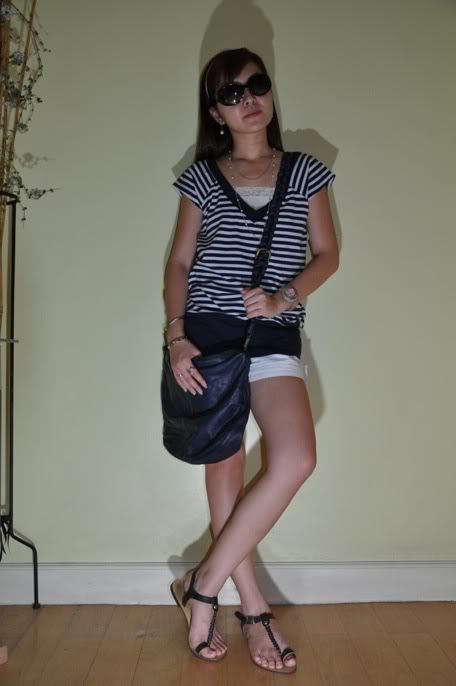 Hmmm… On second thought, I think aviators would be a lot better to complete my nautical look. And since I can't find my Ray-Ban, I'm currently in search for an aviator sunglasses. 🙂 Hehehe! Right now, I'm really lusting over Mila Kunis' sunnies, which she wore in The Book of Eli. I love! I love! I love!!!! 🙂 She's wearing a Mosley Tribes Raynes sunglasses, which is about $250. Check out Mila's lush-cious aviators below. 🙂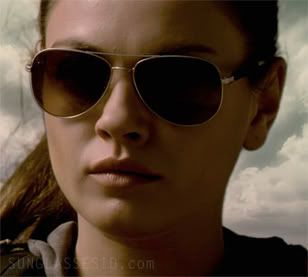 photo from sunglassesid