WARNING: Some photos and stories below can be disgusting!!!
I know this is a bit late, but I really find my halloween experience in Boracay worth documenting. 🙂 It was my first time to celebrate Halloween outside Manila and it was surely one of the best experiences for me. 🙂
Last October 31, kids and some adults were walking around the beach wearing their halloween costumes as early as 9am! And hey, they weren't ordinary costumes like simple masks or hats. As I said, people there really prepare! 🙂 Various establishments and hotels gave out loot bags for those who went for trick or treat. Some even had contests for the best costume, with cold cash as their prizes. Check out the line outside a supermarket in D'Mall just to join their costume contest…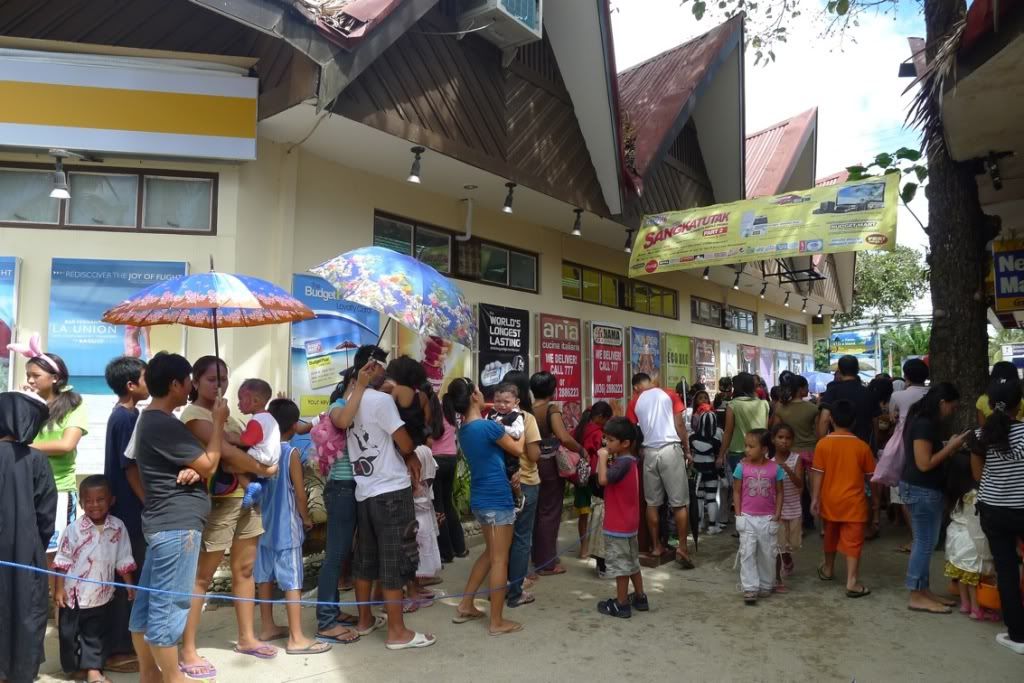 Yeah, it's that long! And take note, I saw this at around 10am!
Take a look at some of the cool costumes of the kids.. 😀
This is one of my favorites- looks like she's holding her own head! Haha! 😀 If I see this at night, I might be screaming and running back to my room! LOL! 😀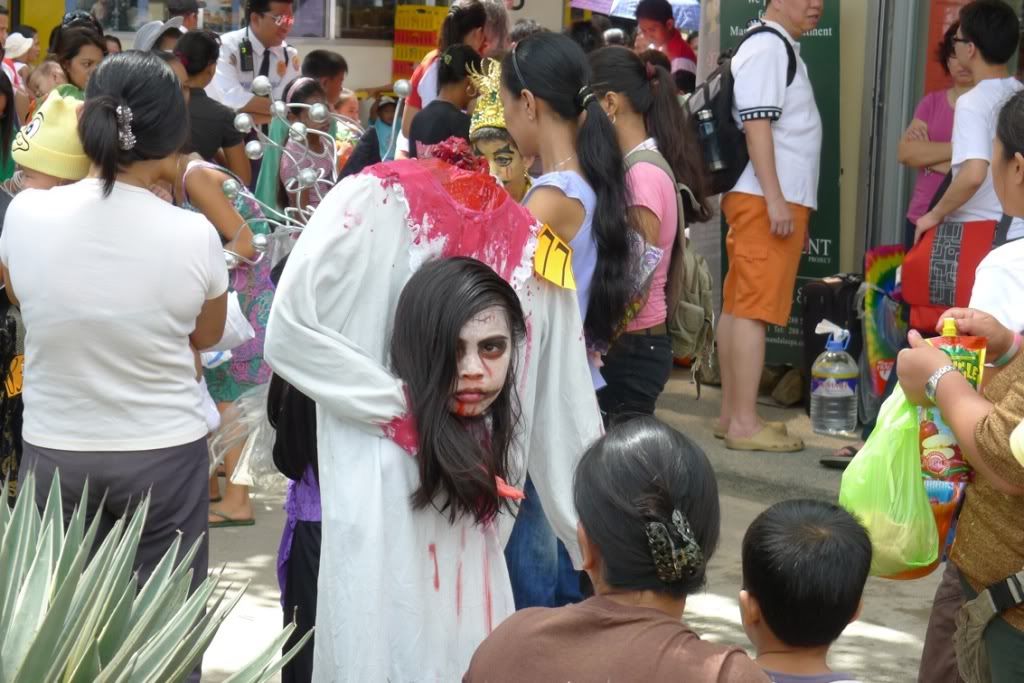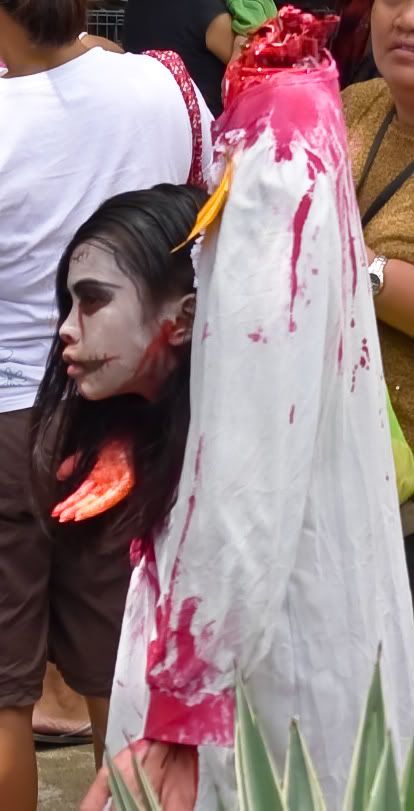 The boy in front won the best costume in the contest held by the local grocery store… Scary and gross indeed!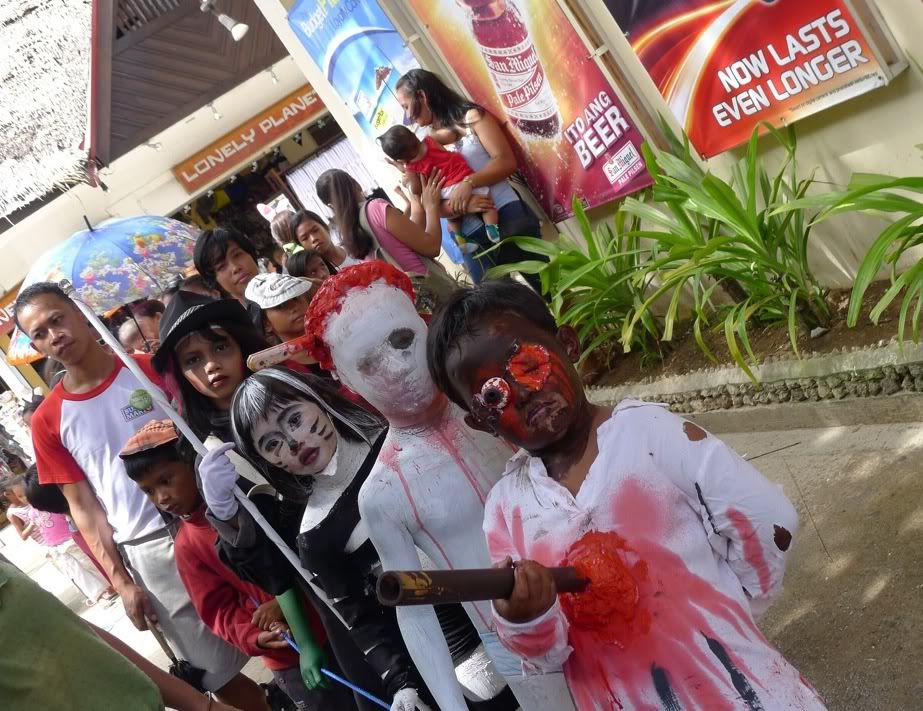 Fast forward to my Halloween experience at Discovery Shores. We were supposed to go there at around 3pm since they had a lot of activities for the kids. My nephews went with us so they would surely enjoy all the games and booths at Discovery Shores. We were about to leave our hotel when the rain started pouring. 🙁 We then decided to just go to Discovery at around 6pm since my friend working there said they still had some activities at night. Little did we know that it wasn't really for kids. Oooh….
When we arrived, we were ushered to the Horror House. It was divided into 5 rooms, each with different themes. Take note, each room was fully decorated, plus with a number of "actors". It was insanely scary inside! I tell you, there was never a dull moment! It felt like it was taking us forever to get out of that place. Haha! 😀 We were shouting the whole time, but it was really an experience! It's really amazing how they prepared for it. The employees of Discovery Shores were really good actors! Haha! 😀
First room- Torture Chamber
After one of my nephews peeped through the first room, no wonder he went back to his grandma running and crying!!! He was telling us he didn't wanna go inside since they were torturing people!!! LOL! Poor little boy! 🙁 But, they were really good huh! Seriously, their acting looked real! After seeing that, I just expected those gross/ disgusting sights in the next rooms. Duh! How I wish!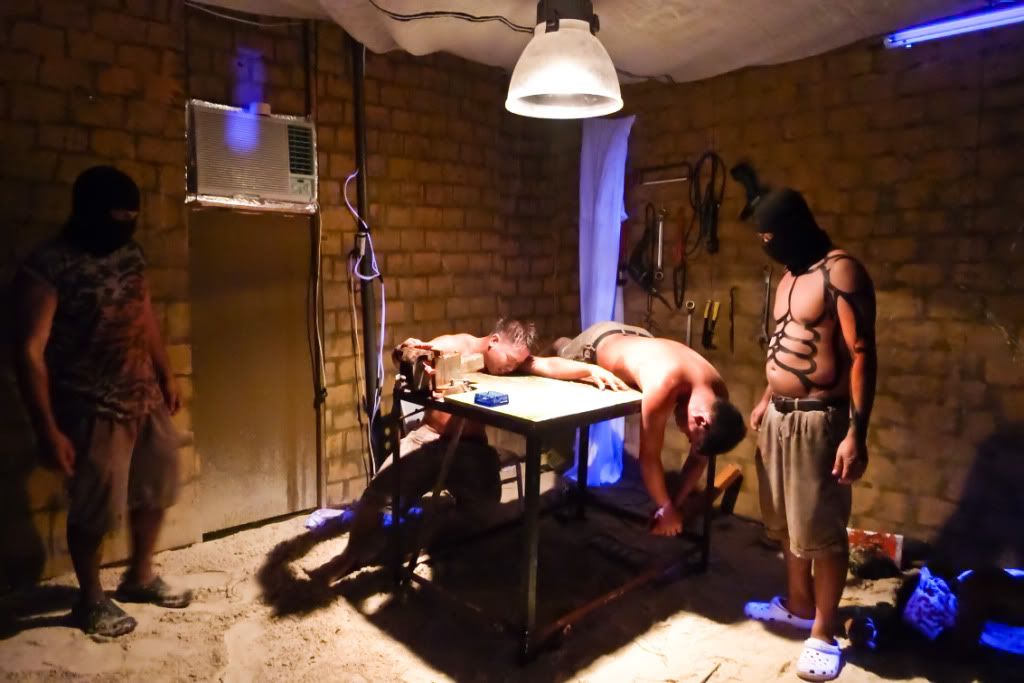 Second room- Gambling Room
How I wish it was just a real gambling room! The moment we entered the second room, someone tried to hold us from our sides and backs! Waaah! People inside the room were screaming, which added to the scary feel! LOL! There was very minimal light in that room. People were coming out from nowhere! Some were hiding under the tables, then scared us to death by holding our feet! That room was tiring! We were screaming here and there! 😀 LOL! 😀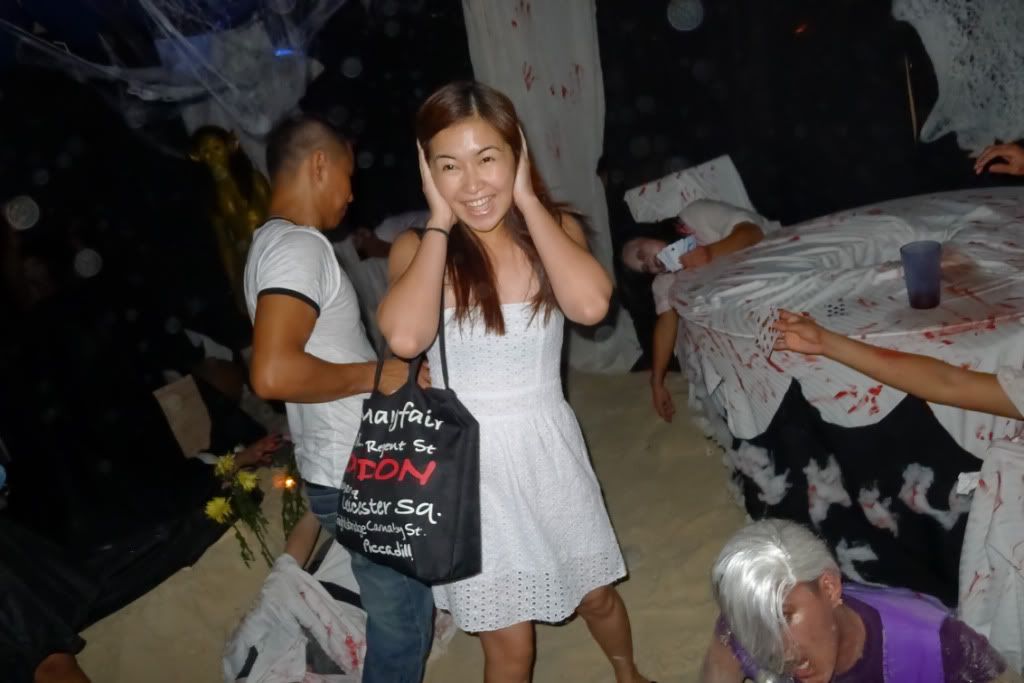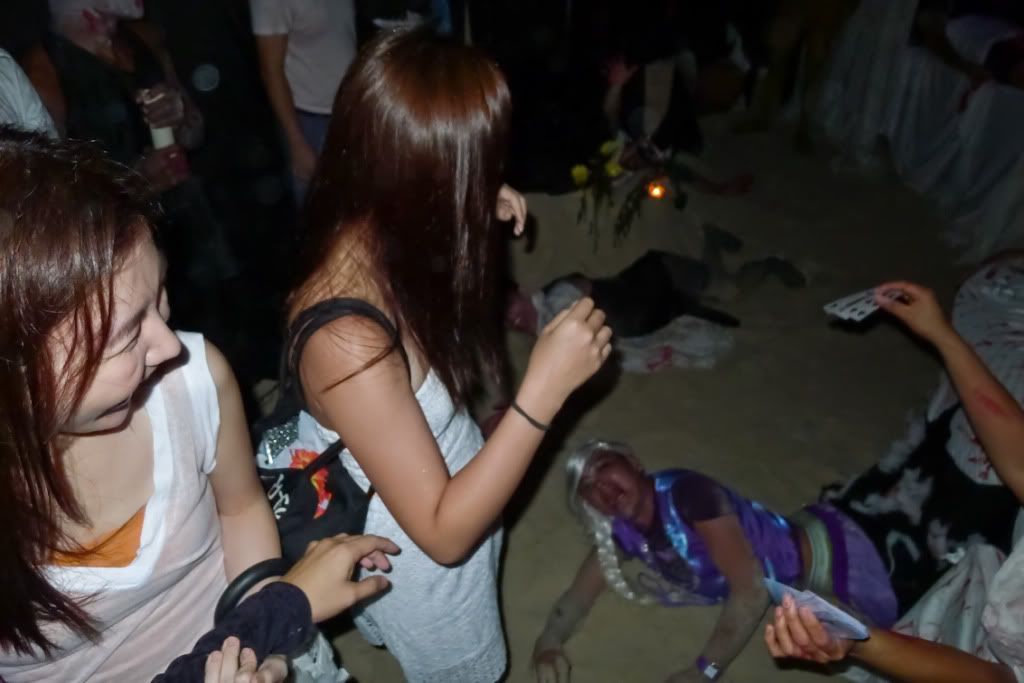 Third room- another Torture Chamber (of monsters)
The next room was like another torture room, but for monster-like creatures. The moment we got inside, there was a man that seemed like he popped out of the sand, trying to reach our feet (as seen on the left picture)! Waaaah! Don't like! There was also a lady lying on a bed, with one of her legs chopped! "Blood" was all over her and geesh, she had a deadly stare! Too bad, there was no photo of her!!! Argh! 🙁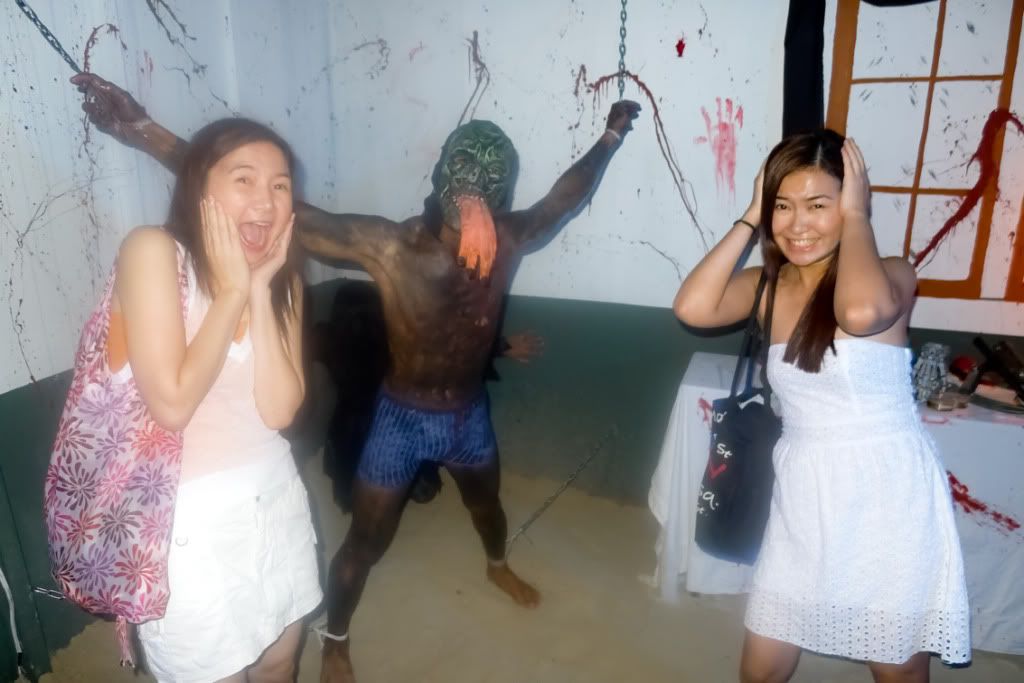 Fourth room- Classroom
We weren't able to take any photos inside the "classroom" since it was intense in there! We just wanted to get out as fast as we could! LOL! 😀 When we got inside the room, a student was screaming, while holding her "eyeballs" on her hands! Eeeew! We all know those were just pingpong balls, but still! With the acting and all that, it was gross! Hahaha! There was also a "teacher" wearing a nun costume. While she was writing on the blackboard, a hand suddenly popped out of the board trying to strangle her! Oh, geesh! And how about the other students? All of them were staring at us- deadly and scary stares! On the way out was a struggle since there were a lot of surprises. Haha! 😀 You could imagine our screams! 😀
Fifth room- Cemetery
The moment we entered the room, a guy hiding on the side of the curtain tried to scare us once again! By now, you can imagine how tired my heart was already! Oh dear, this is what I get from drinking too much coffee!!! Even though we knew that there were people who would pop out of those tombs, we still shrieked non-stop! Some even went out of the sand when we passed by! Oh, and even the trees moved (as seen on the right photo). Hehe! 😀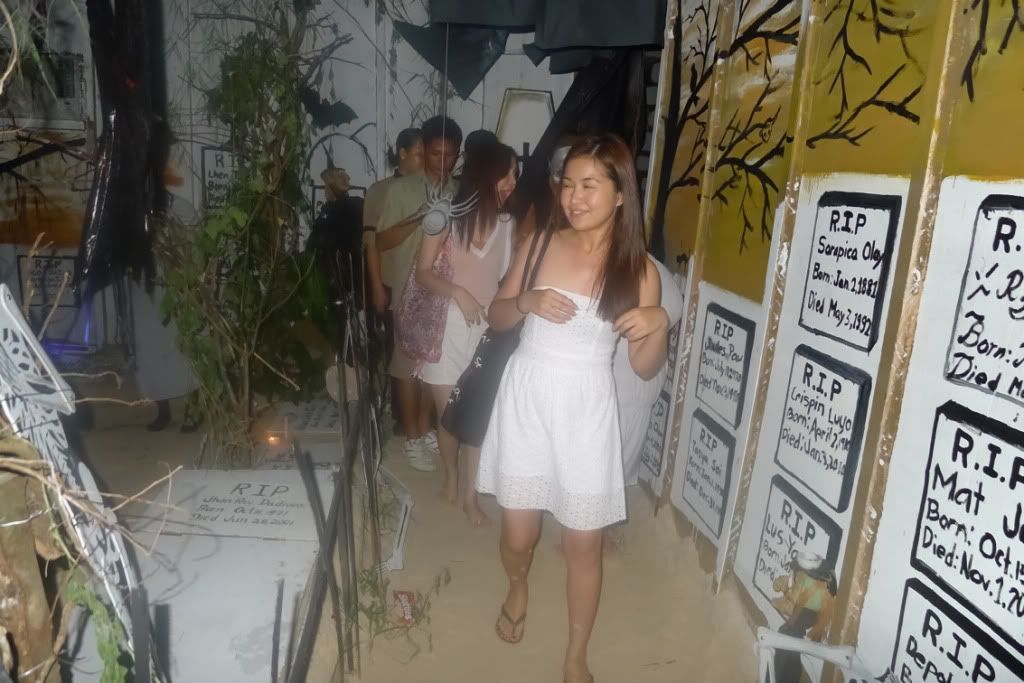 At the end of it, we felt so tired and hungry! It was a fun experience though. Looking back, we seriously looked stupid. Don't you think?! We kept on screaming, running and holding each other's hands knowing all those ain't real! I mean, all of those people were paid to scare us! We were insane! LOL! 😀 But damn, if you were walking around inside those rooms, you would really scream and run! LOL! It can be exhausting, which is why we ended up eating at Discovery Shores. We ordered the following:
Cheese Pizza (PHP 395)– This is on the Kids Menu. My nephew super liked it that he ate half of it! Take note, he's just 7 years old! I tried it and it's just the plain and simple cheese pizza. It's on the sweet side, just like what most kids prefer. 🙂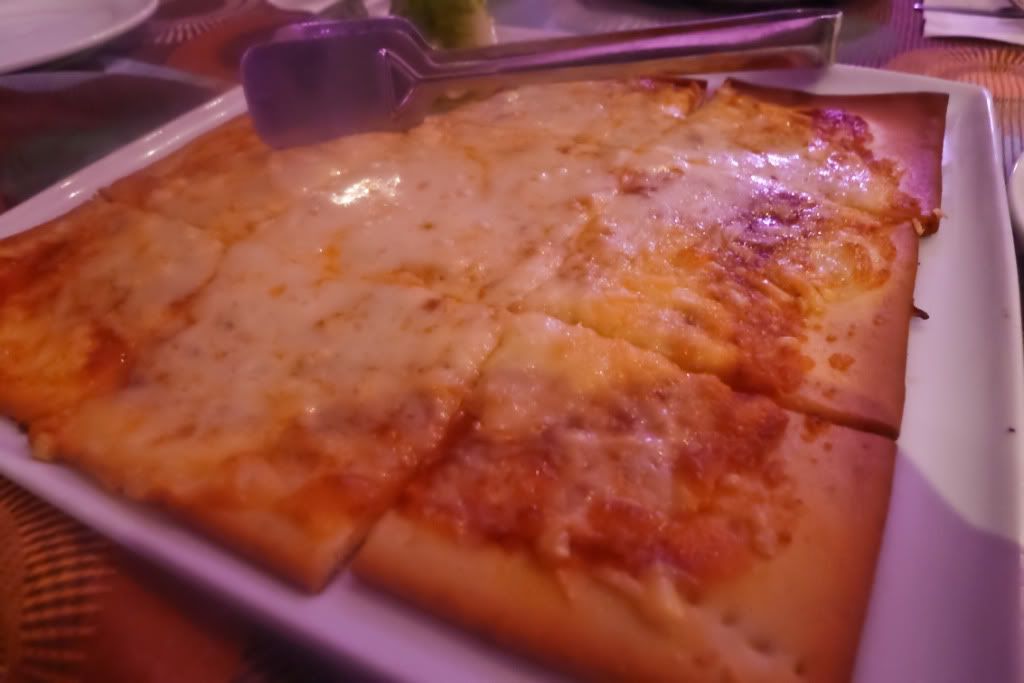 Fiesta Crispy Pata (PHP 750)– Tender braised pig's trotter, fried to a crunchy crisp and served with dipping sauces and homemade papaya pickle. Good for 3 to 4 people. It's one of the safest dish to order since Crispy Pata doesn't really vary much in taste.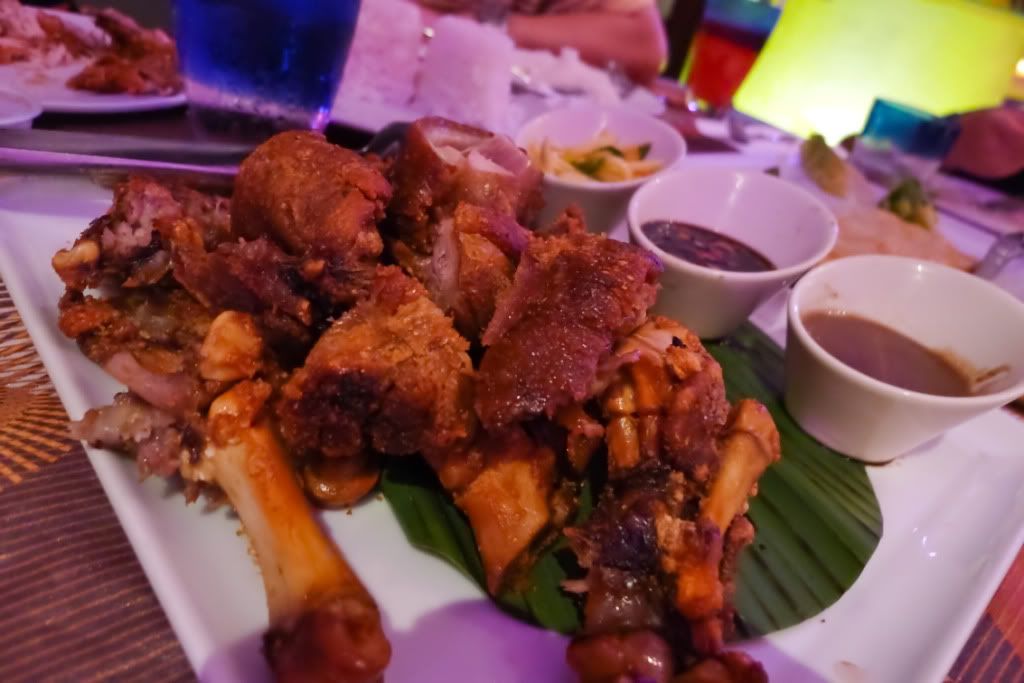 Pork Binagoongan (PHP 410) – Tender pork belly simmered with fresh bagoong, green mango and coconut cream. I love pork binagoongan, but since I don't eat coconut, I wasn't really able to enjoy this dish. I had to take out the sauce so I could eat it. Those who love coconut would probably like this since the taste of the coconut was quite strong. The dish serves 2, but it can be good enough to share up to 3 if you are ordering other main dishes as well.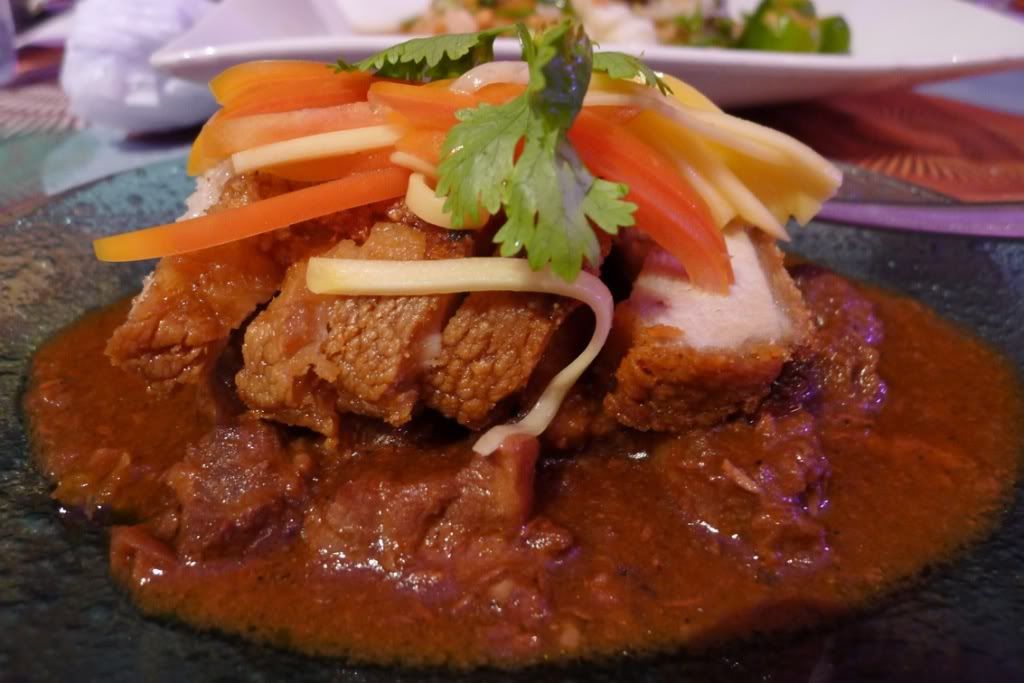 Pancit Canton (PHP 450) – Stir-fried noodles, chicken, vegetables. It didn't really taste like the regular Pancit Canton we are all used to. It's Pancit Canton with a twist. It was saucy and there were a lot of veggies mixed into it. It serves 3, but it can be good enough to share up to 4 if you are ordering other main dishes.
Haaay… Now I'm missing the island. I wish to be back soon. Oh and of course, I wish to stay at Discovery Shores. It's just too expensive! 🙁 It's the best hotel for me though, more than Shangri-la and Asya. I get some quiet time in that side of the island, at the same time, not too far from the night life. I tried booking rooms two months before we went there, but they were already fully booked! 🙁 How sad! 🙁 Who can resist Discovery Shores…???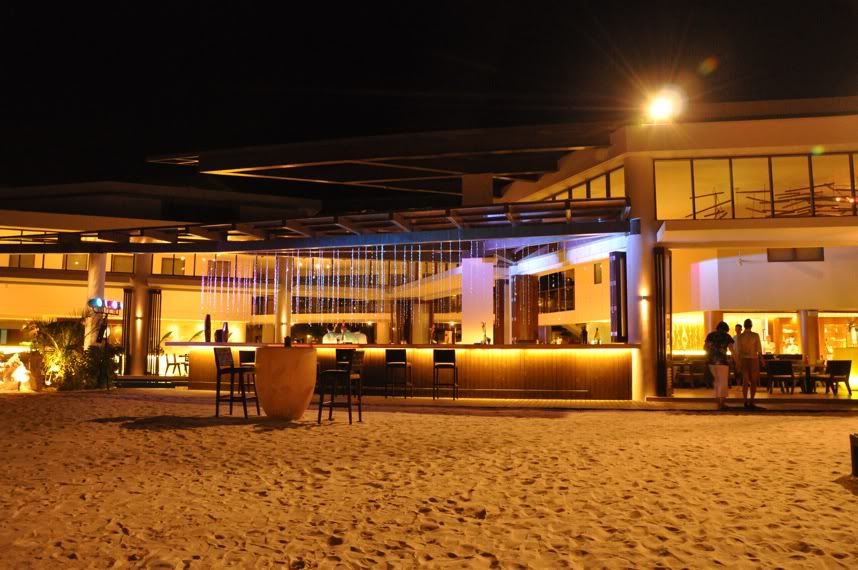 the room…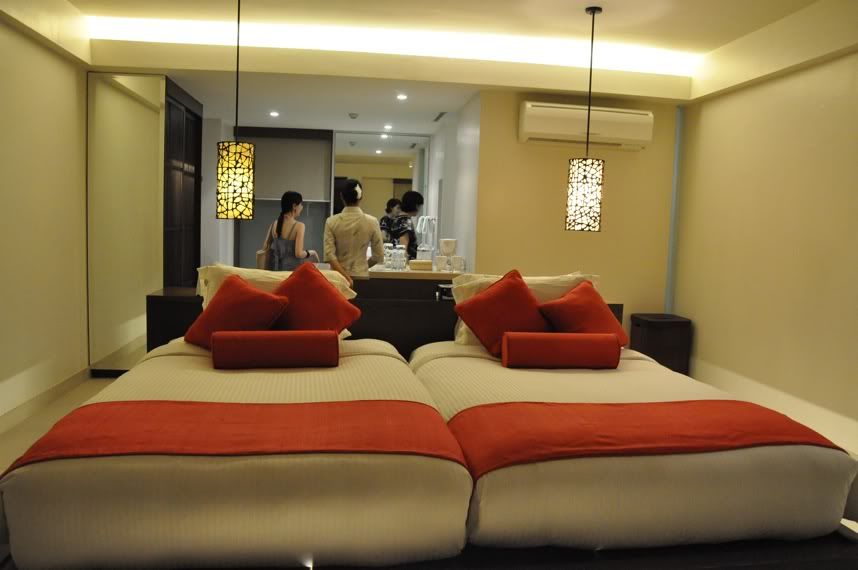 Oh and before I end this post, wondering what I wore for Halloween??? 😀
An angel in disguise, eh?! Hehe!
with a dark angel…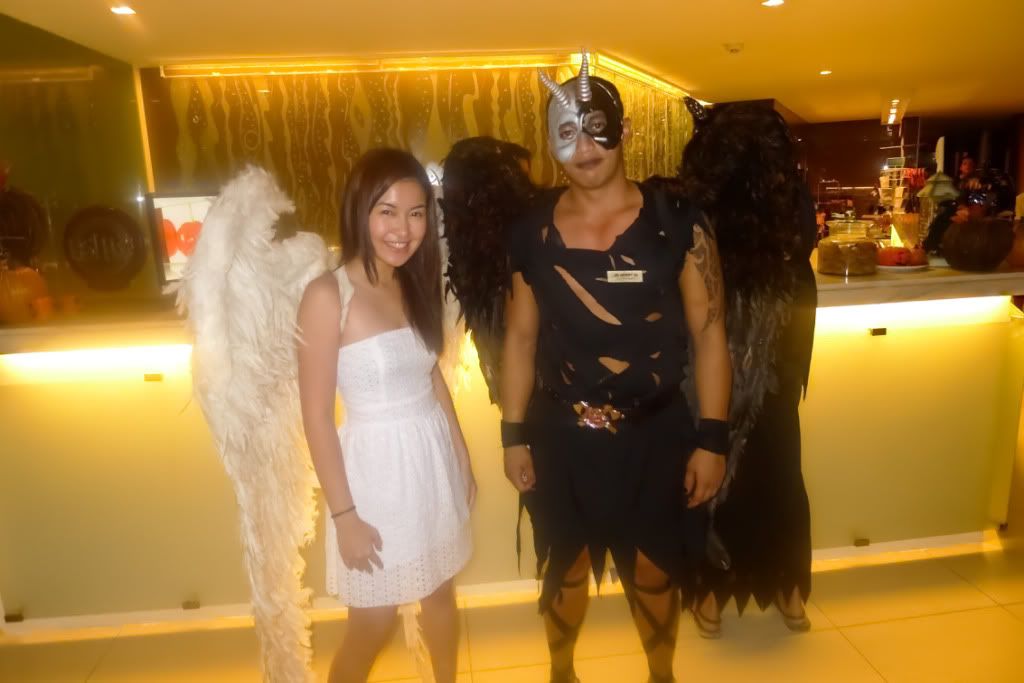 How I wish I was an angel that night! Well, I was- just without the halo and the wings! LOL! 😀 Kidding! 😀 I couldn't bring those big wings inside the plane! My mom would kill me! All of our luggages were almost overweight going back to Manila since my mom and aunt just shopped over there. Yes, can you imagine that?! Shopping in Boracay?! Beat that! The sisters can't live without shopping! It's in their blood! (Hmmm… So does that mean it's in mine too?!?! Now, I've got an excuse! LOL!) They even brought home Christmas Trees from Shangri-la Boracay! Whew!
Anyhoo, my real costume???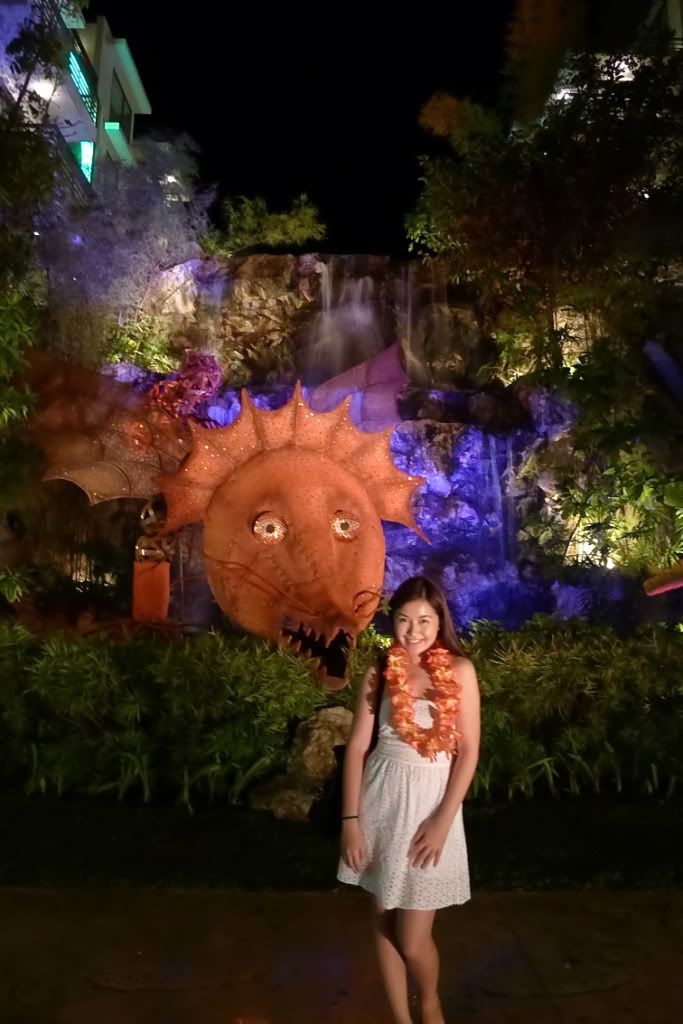 I was just a simple Hawaiian girl. 🙂 Too simple, I know. I wasn't able to prepare. Sorry 'bout that! 🙁 Oh, but I also had that flower (which came all the way from Hawaii) behind my ear. It's not too obvious in the photo. I didn't know that placing the flower on the left or the right has meaning to it! LOL! From my research, flower behind the left ear means taken or married, while flower behind the right ear means "single and ready to mingle"! LOL! I wore it on my right! Uh-oh! Sorry dear, didn't know about that! Oooops! Hehe! 😀