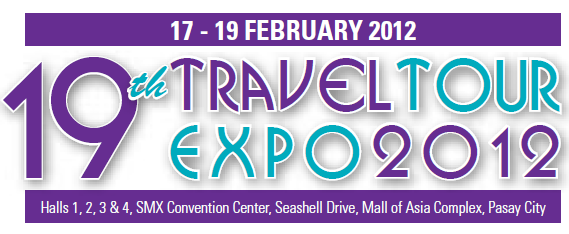 It's Travel Tour Expo here in the Philippines once again. For those who are not aware, Travel Tour Expo is the biggest annual event for the travel and tourism industry. It's where you can get real travel deals! A lot of the exhibitors offer huge discounts on travel packages especially for this event. Expect 477 booths to showcase their products/ services on this 19th Travel Tour Expo. Exciting right?! 😀
I never fail to go to Travel Tour Expo every February. Even if I don't have definite travel plans (since my family loves last minute decisions… LOL!), I just "need" to go. This is where I get my travel ideas. Hey, it's not bad to dream! I love reading those itineraries as I walk around the expo hall. LOL! Too bad though, I think I'll be missing the event this time. 🙁 I might need to fly to somewhere over the weekend for a something. See, I told you I'm always last minute! Hehe! Anyway, go for travel shopping for me, please? Details of the event below.
Date:
17 to 19 February 2012
Venue:
SMX Convention Center Halls 1, 2, 3 & 4,
Seashell Drive, Mall of Asia Complex, Pasay City
Opening Hours:
17 February – Friday
10 AM – 9 PM
18 February – Saturday
10 AM – 9 PM
19 February – Sunday
10 AM – 7 PM
Entrance Fee:
General Admission- PHP 50/ day
Senior Citizen- PHP 20/ day
Ticket booths close 30 minutes before end of show hours.
Oh and here are some tips if you're going to the Travel Tour Expo 2012! Make sure to come prepared for the event. If possible, have your travel plans ready so you'll know what to check during the expo. It's also a way to stay within your budget. Trust me, you'll go crazy inside the hall. Looking at the insanely cheap travel packages of the exhibitors will make you want to travel all year round. LOL! It's also advisable to come early on the first day. Why? Because flights and travel packages can sell like pancakes. If you want to get really good deals, be there early. Good luck and happy shopping! 😀