I always like my frozen yogurt plain- original flavor without any toppings. I want the real thing and I want my dessert to be as healthy as possible. But putting lemon in it? Hmmm… Why not?! Lemon is known to be a good health agent. It can help relieve many digestion problems including nausea, heartburn, bloating and belching. It is also a natural antiseptic and can help cure skin-related problems. As a vitamin-C rich fruit, it rejuvenates the skin from the inside out and brings a glow to your face. With that being said, of course I'd like my frozen yogurt with lemon! LOL! Now, Red Mango has a new flavor- Yuzu Lemon.
First and foremost, what is Yuzu?
"Yuzu is actually a Japanese citrus fruit that tastes like a milder more delicate version of the regular Meyer lemon," explains Red Mango president, Sherika Tanmantiong.
And for the health conscious, guess what?! There's only 157 calories for every 100g serving of Yuzu Lemon frozen yogurt! Well, I don't really count my intake of calories, but at least now I know it's somehow a guilt-free indulgence. 😀
Oh, and Red Mango also introduces a new topping that goes well with Yuzu Lemon. They now have lemon bits, which are candied chewy lemon peels that add extra kick of sour and sweet to the mix.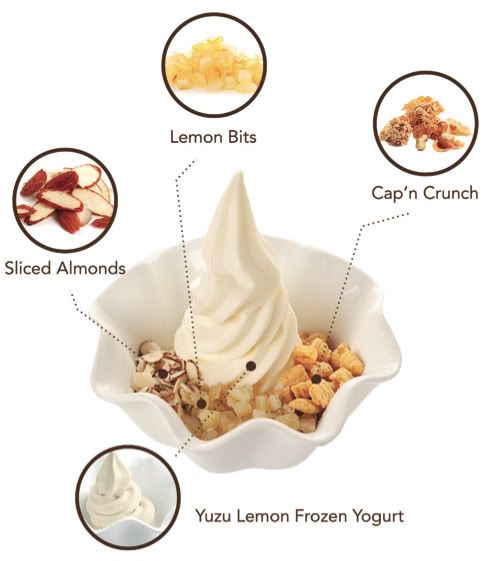 Ahhh… With this hot weather, I think I want a Red Mango Yuzu Lemon NOW!!!
Red Mango is available at Trinoma (Levels 1 and 3), Greenbelt 3, SM Megamall, Eastwood Mall, Regis Center Katipunan, Ayala Center Cebu, Robinson's Place Manila, and their latest store- Forbeswood Parklane Fort (along Rizal Drive near Burgos Circle). For announcements and special offers, visit Red Mango Facebook page.