Are you ready to walk down the aisle soon? Marriott Manila is organizing its first and upscale wedding fair event of the country, Marry Me at Marriott: A Grand Wedding Fair. Happening on August 25 to 26 at the Grand Ballroom, this two-day event is also made possible by Jaguar, Bobbi Brown, Rustan's the Beauty Source, Rustan's Weddings and Beyond, Lab Series, and Megaworld.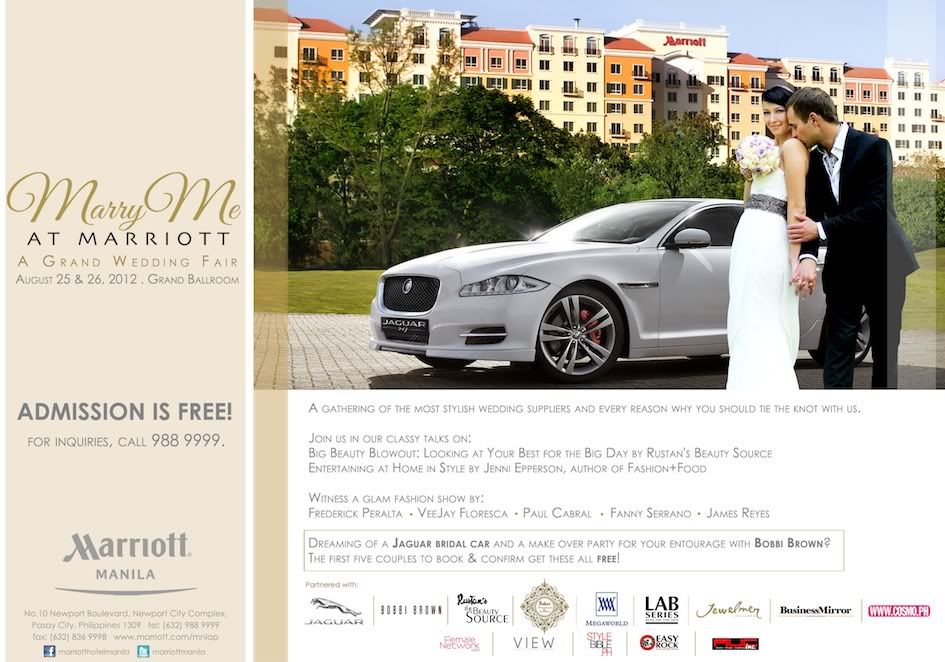 "For this very first bridal fair, Marriott Manila aims to assist our valued soon-to-wed clients through this one stop shop event for all their wedding needs, relieving them from the heavy load of wedding planning. Another service specialty of the Marriott brand, weddings and celebrations is one of the most exciting events that we always want to be part in the lives of our clients. Our aim is to simply make this event personal and a moment that any couple can call their own", says Marriott Manila sales and marketing director Cristy Carreon.
Must-visit booths include Rustan's the Beauty Source, Bobbi Brown, Lab Series, Jaguar, Megaworld, Smart Shot, Golden Hills Jewelry, 2171 Floral Creation, Sugarbox, Sun Jewel, Imagine Nation, For You Are Mine Wedding Films, Viajero, Write Impression, DB Phos Graphics, CB Worx, Jorge's Portrait, Splendid Specialties, and Wally Gonzales Photography.
There will be fashion show, educational talks on beauty, fashion, and lifestyle, etc. Check out the rest of the program below.