Since I've been getting a lot of inquiries about my Philippine Passport renewal recently, let me just share my entire experience here.
To be honest, I have nowhere to go nor do I have the courage to ride a plane for an international flight. But my passport is expiring in 4 months, therefore, it's already considered invalid for an international flight s a general rule, passport should have at least 6 months validity when traveling internationally. Again, I'm not going anywhere. LOL!
It took me days or weeks of thinking if it's worth the risk of going to Department of Foreign Affairs (DFA) for my passport renewal. I guess what pushed me to do it was the stress I experienced the last time I had to renew my passport. I had a flight to catch in a month when I saw that my passport was already invalid. I was super lucky to get an appointment in a week (it's usually a month's wait) but come renewal day, I was literally in DFA Macapagal from opening until closing! OMG! My appointment was around 8:00am or 8:30am and the entire process ended at 5:00pm! It was the worst passport renewal experience ever! Anyway, so I thought I'll just have my passport renewed to avoid cramming in the future, if in case I'll need my passport.
Last September 27, 2020, I booked my appointment at DFA SM Megamall and the earliest slot that I could get was October 29, 2020. So if you need your passport ASAP, take note of this. Getting a slot can be quite hard since they can accommodate limited number of people per day. There's a good side of this though, which you'll see later on.
On the day of my appointment, October 29, 2020, I arrived pretty early. My appointment was at 4:00pm and I was already at the SM Megamall parking by 3:00pm. (By the way, if you're bringing a car, I suggest to park at SM Megamall Carpark C 6th floor. DFA is right there.) Since from experience they don't entertain or let you in if you arrived too early from your scheduled appointment, I waited for a bit in the car. I went to the DFA door at exactly 3:17pm and to my surprise, the guard just asked if I have scheduled appointment and let me in right away (I guess because there's not much people inside.) Of course, he took my temperature first, then asked me to sit to fill out the Health Checklist form (which reminds me to bring your own pen!) There were 4 of us at that time but we were seated alternately in the waiting area.
While we were filling out the form, the security guard approached each of us to put all our documents inside the UV box he was carrying. It was a good added step but based on what I've read and what I've gathered from friends in the medical field, it can only sanitize the items that are actually exposed in the box– that is, the top and the sides. And since all of our documents were inside a folder or envelope, I guess the papers inside were not "sanitized." Well, I honestly cannot think of other ways to sanitize each document too so the added UV box step is good enough.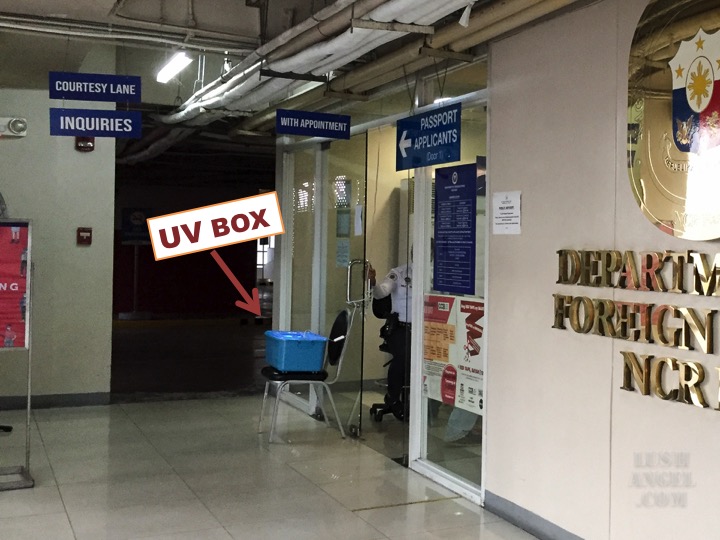 After giving back to us our documents from the UV box, we were asked to go to the first step, which is the verification counter. There's only one counter for this but there was no line and I was the first one for our batch (as said earlier, we were just 4 at that time.) The verification process was quick, about a minute. The lady just ran through my documents and gave me a number for the next step. I gave her my Health Checklist, by the way, since the guard didn't ask for it at the entrance but she gave it back to me. I thought, maybe I'll give it in the next counter.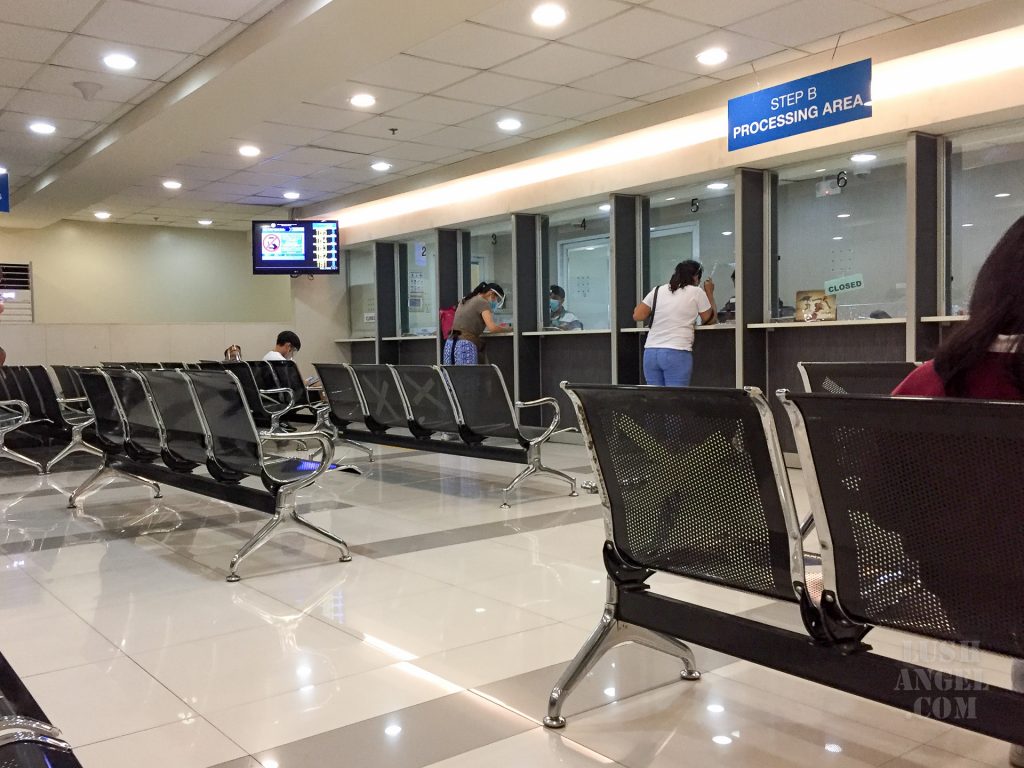 Next step is the processing area. While waiting for my number, I sat down and social distancing was definitely practiced because there's only a few people, as seen below.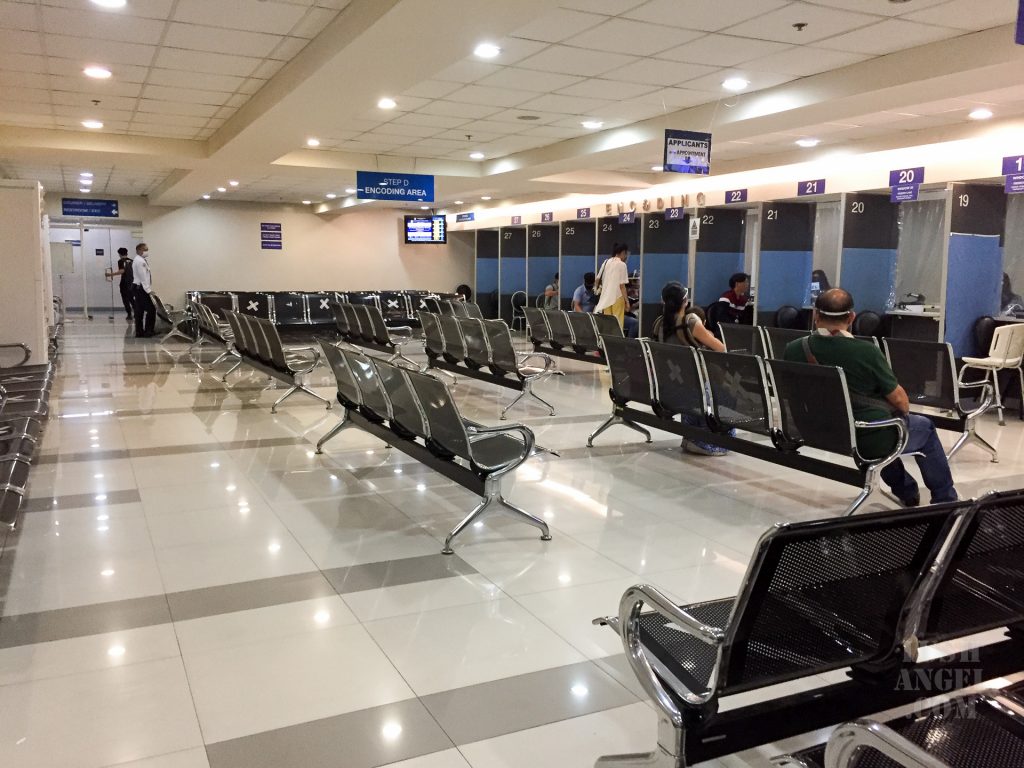 A lot of rows were empty. Unbelievable, right? And what's even more unbelievable is that I just waited for less than 3 minutes before my number was called. The processing took less than 3 minutes also and I was asked to go to the next step– the photo and biometrics.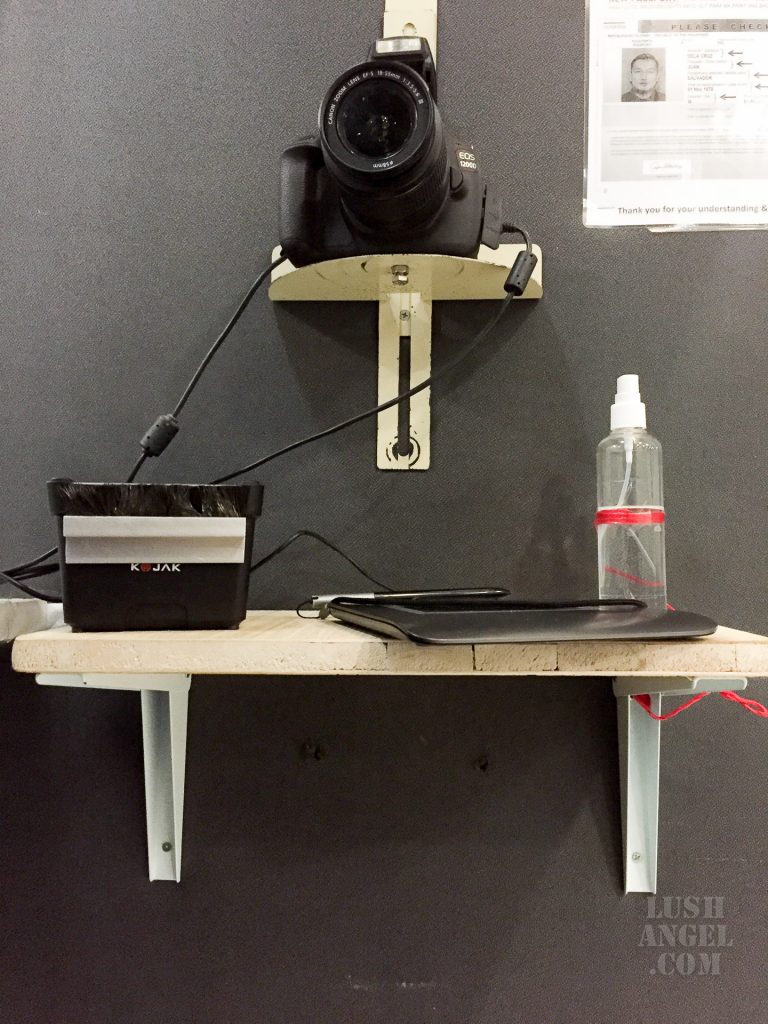 When I got to the photo and biometrics area, it was already my turn– I didn't even have to wait for my turn. This is the only step that took a while because I always have a hard time with biometrics. I barely have fingerprints. I think it took them 5-10 minutes just to get my fingerprint. Haha! But also, this step might worry most of you because you need to put your fingers on the same scanner as everybody else and use the same pen for electronic signature. Again, bring your sanitizer and apply on your hands before and after touching these things.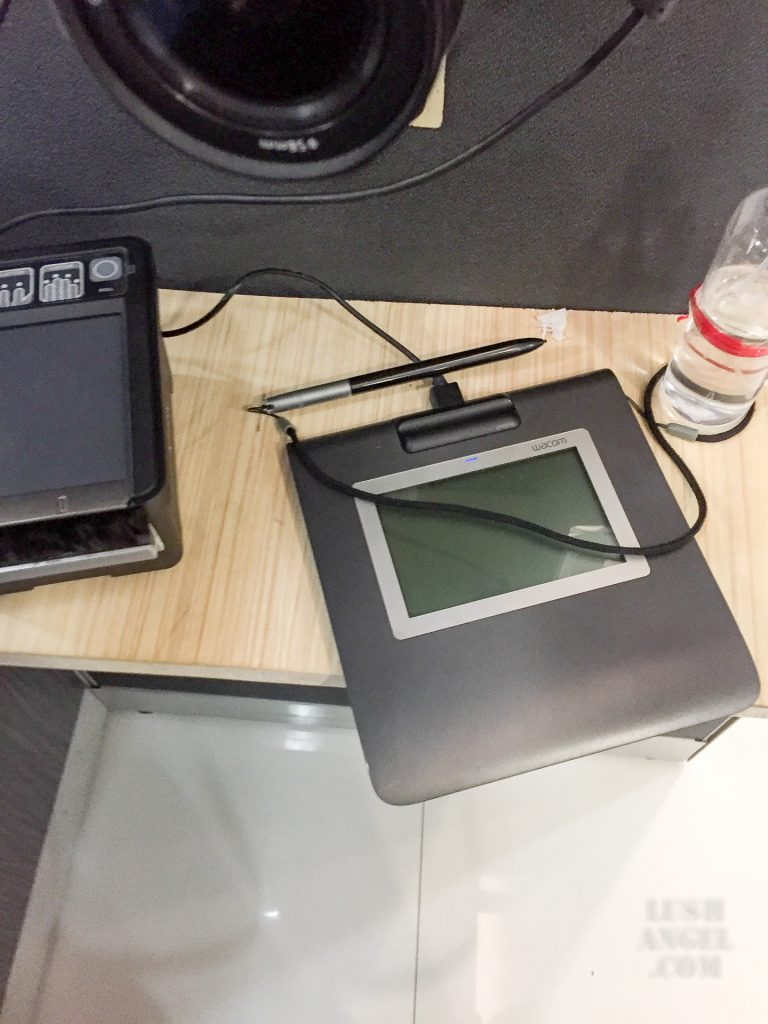 Oh, I tried to give my Health Checklist again but the person gave it back. Maybe, at the last counter then.
After, I headed to the payment of the courier. When I got there, there was only one person before me and I probably just waited for a minute before my turn. They just got my details, paid for the delivery, and that's it!
I was literally out of the DFA building by 3:48pm! The entire process was just 31 minutes! AMAZING! If I have fingerprints, I'd probably be done in 21 minutes! It's the fastest Philippine passport renewal in my life and it was during a pandemic! I honestly didn't expect it and I'm so happy! Kudos to DFA!
So, just to recap my reminders.
If you arrive early, try your luck and go to the entrance right away. You might be able to get in earlier than your schedule.
Next, aside from all your needed documents and old passport, do not forget to bring your own pen and sanitizer! Make sure they are easily accessible so you won't have to keep looking for them inside your bag. Trust me, you'll need it every now and then.
P.S. I went home with my Health Checklist form. Haha! So, I honestly do not know where I was supposed to leave it since I tried giving it several times but they kept on giving it back to me.
Oh, and to answer the question– is it safe? I guess, there will always be a risk wherever we go. We just have to look after ourselves. From my observation, there may be errors or some protocols were probably missed, but at least they were able to limit the number of people inside the office. In the end, it's really up to us how to protect ourselves. Never ever let your guard down.
For instant beauty, fashion, travel, fitness, or random updates from me, LIKE lushangelblog on FACEBOOK, FOLLOW lush_angel on TWITTER and lush_angel on INSTAGRAM.