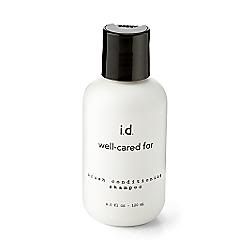 We already know that using the appropriate make-up brushes is the best way to apply make-up but we should never ever forget to clean them! We wouldn't want to use brushes on our face with  those dirt and nasty germs. One of the things I got from the U.S. is this Well-Cared For Brush Conditioning Shampoo of Bare Escentuals. I only got it for $14. Really a great buy to help prolong the life of my brushes through its nourishing ingredients, and at the same time gently cleanses the hair and fibers leaving them soft. Make-up brushes are not cheap so it is always best to take good care of them.
Here is some tips & techniques on using this Conditioning Shampoo from Bare Escentuals:
Mix a small amount of water with Well-Cared For Brush Conditioning Shampoo and massage the mixture into the hairs of the brush making sure to include the base of the brush as well as the brush hair tips.
Rinse well and gently squeeze out the excess water.
Reshape brush hairs and lay flat to dry.