Don't you just feel you look weird when the color of your hair and eyebrows don't match? Well, I do! I usually have my hair dyed with a shade of brown, but with my really dark and somehow thick brows, the difference in color of my hair and my eyebrows is quite obvious. Plus, having dark brows make facial features look strong.
What I normally do is I have my brows bleached or dyed.  I just find it a hassle as brows grow quickly that I would have to go to the salon at least once a month to have them lightened. Plus, I need to pay Php 400 every time I have them bleached!
Thanks to MAC for coming up with a product that would give our brows a new color in an instant, without the hassle of going to the salon: The M.A.C. Brow Set! 🙂 It is just like applying mascara. You simply have to brush it over your brows and… WHALA, a new set of brows! 🙂 Oh, just a warning- Don't overdo it! A thin layer of M.A.C. Brow Set is enough, or else, your eyebrows might look stiff and super light.
Oh, before I forget, M.A.C. Brow Set is not just for changing eyebrow color. Well, that is the primary use for me, but for those who don't feel the need to do this, M.A.C. Brow Set is still a must to make those eyebrows manageable. We don't want strands of our unruly brows sticking out here and there! Plus, don't be deceive by the name of the product as this is not only for eyebrows, but it can also be used in any facial hair like sideburns, chops, and lashes. M.A.C. Brow Set is available in different shades, which are named Girl Boy, Beguile, Show-off, or Clear for a natural look.
M.A.C. Brow Set is sold at US $13.50 in the M.A.C. website. I got mine at Rustans for Php 800, way cheaper than paying Php 400 a month in a salon since I can probably use this product for more than 4 months! 🙂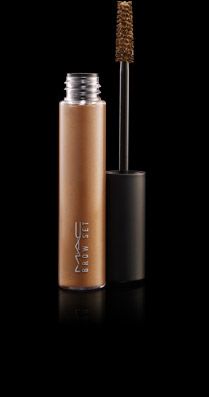 "Slick! Strokes on. Adds shine, style, grooming, overall wow! to the brows. A brush-on gel that grooms and slicks brows into shape without flaking or stiffening the brows. Available in several tinted shades or clear, it can be used on its own, or for a nice natural look stroke over Eye Brows. May also be used on lashes, sideburns, and chops – any facial hair."
*Photo and description from M.A.C. website