We've been seeing a lot of puffy sleeves lately and personally, it's one of the trends I have always loved. It's not something new to me as my mom has a thing with puffy sleeves too so in short, I grew up with it! Hehehe! 😉 For some reason, puffy sleeves (and ruffles too) always remind me of the Victorian era. I don't know if it's just me but whenever I see those details in clothes, I always tend to say- "That's so Victorian!" Hehehe! Then, I end up buying them, especially if I'm with my mom. She would really insist! This is why I have a number of dresses and tops with puffy sleeves. Hehehe! And I'm loving them… 🙂
Puffy sleeves can make a simple clothing attractive and even eye catching. It's a detail that exudes confidence. But, but, but the truth is- puffy sleeves are not always attractive! This detail can be a bit tricky. As fashion evolves through time, so are these puffy sleeves. If you have noticed, there are puffy sleeves that look soft and bouncy and there are also those that look angular. Well, for me, there's no straightforward choice as to what kind of puffy sleeves is the best. It always depends on the style, texture and fabric of the dress or top. Rule of thumb: Avoid those puffy sleeves that would make you look like you're going to fly or would make you resemble like a robot.
Check out some celebrities who has been seen to don this trend.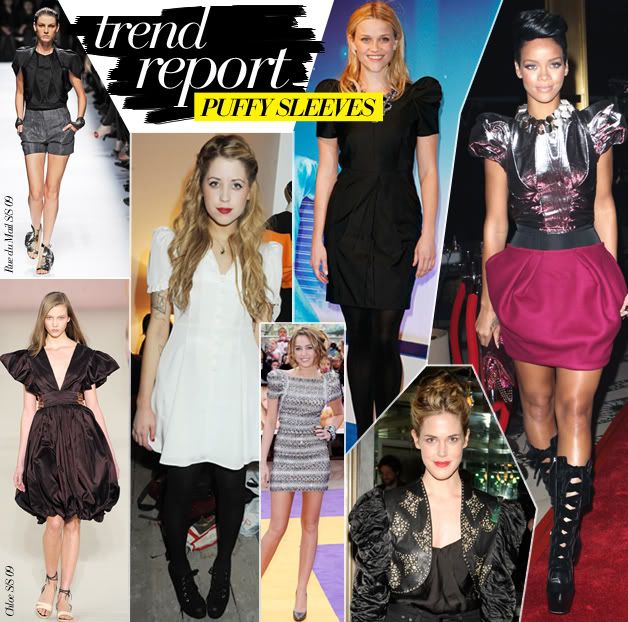 *Photo ain't mine. It's from Who What Wear. 🙂
As always, Reese Witherspoon look gorgeous on her Prada dress. Miley Cyrus also look cute and playful with her bandage dress from Hervé Léger. So as a puffy sleeve  lover, what can't or wouldn't I wear? Let me give you an example of sleeves that would make you seem you're going to fly- the black dress from Chloe (lower left portion). Well, I can probably carry this look but I have  seen some blouses with even bigger sleeves and even more angular. If you let me wear something like that, I would probably shout "Darna!" (A Filipino comic character that shouts her name and flies) LOL! 🙂  Now, an example of a robot-looking dress is the one worn by Rihanna. No offense to her. I love her dearly, but I just can't wear that even if it is Louis Vuitton. She may be considered a risk-taker for wearing this, but this outfit is simply a no-no for me. One last, I think I couldn't wear the vintage bolero worn by Byrdie Bell. I find that kind of puffy sleeves quite exaggerated. Something that reminds me of the '80's. Hehehe! See, I may be a puffy sleeves lover but I am also choosy on the kind of "puff" I really like. 🙂
So how about you, are you digging this trend like me? 🙂