Let's take a break first with the make-up stuff I've been posting. Let's go fashion-related since I have a number of outfit posts already that have been sitting on my laptop for quite some time now. And since we will be releasing our next collection soon, I'm quite sure my outfit posts would pile up. Hehe! I'm so excited to wear them and share them here. 🙂
If you've been reading my blog, I never fail to mention how much I love boyfriend tops. 🙂 For me, it is a versatile clothing that you can wear anytime of the day. Whether I'm running errands, attending a children's birthday party, shopping, or just watching a movie, I love wearing boyfiend tops. 🙂 I wear it as a dress or as a top, which I usually partner with shorts or jeans. I consider boyfriend tops as one of my most relaxed outfits. It's like an effortless way to look glam and sexy at the same time. 🙂 Anyway, I guess the pictures below can say how much I love them. Hehehe!
For the first two pictures, I wore my boyfriend top as a dress and just loosely fastened a think black belt around my waist to give my body a little bit shape.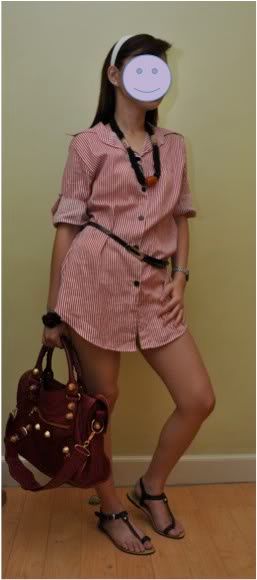 On Lush Angel: boyfriend top from one of the Rockwell Urban Bazaars last December 2009; belt and white headband from Landmark; Bvlgari earrings; necklace from my mom; knot bracelet from Girl Shoppe; Formula 1 Tag Heuer watch; Balenciaga Giant City in gold hardware; black braided sandals from Bangkok
For the next two pictures, I used the same accessories except for the belt. I also used my boyfriend top as a normal longsleeves top, which I partnered with my white fringed shorts.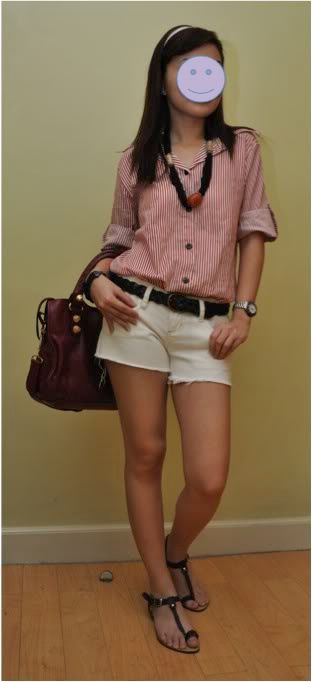 On Lush Angel: same as the above; white fringed shorts from Marshalls; black braided belt (which my sister had since I was in grade school… I guess it's Giordano! LOL!)
In the photo below, I just changed my belt to something more nautical. It is actually dark blue with gold buckle. It was given to me by my aunt. She used to wear this when she was still single so it is definitely something vintage! 🙂 See, it pays to keep old stuff or ransack your mom's/ aunt's closets. 🙂 Remember, trends just keep on coming back! You just have to update it so you won't look like too much blast from the past. 🙂