The moment I learned that I'm bound to go to Shanghai, I immediately thought of the 2010 World Expo. I've heard a lot of good things about it and I've been wanting to visit it for months now. I just couldn't book a schedule for a trip to China since I've got tickets going to here and there. The only month I'm free is December but sadly, the World Expo will be finished by the end of October. The project I did in Shanghai was really a blessing! 🙂 Thank you Lord! 🙂
The theme of this year's World Expo is "Better City, Better Life". It is participated by 192 countries and 50 international organizations. This is the biggest so far, which is why it's called the "world" expo! 🙂 The next one will be held in Korea on 2012, but it would only be an international expo, making this Shanghai World Expo a one of a kind experience. 🙂
A friend of mine visited the World Expo a week before I did. When she got back, she was telling me how great her experience was. Her exact description was, it's as big as Quezon City with over 200 pavillions of different countries and organizations. I thought it was an exaggeration. I thought Disney World is way bigger than this! You need several days to go around Disney World and I never thought you'd also need a few days to go around World Expo. And when my friend was talking about "pavillions", I never imagined them to be really big pavillions. Hello, we are talking about 192 countries and 50 international organizations here! I didn't know that it would mean over 200 individual buildings for each countries and organizations! Okay, I'm that clueless! LOL! 🙂
When I arrived at the expo grounds, I was really at awe. It is really like a big city! There were buses that you can ride for free to drop you off to the different continents. It's like your plane ride from Asia to Europe or Americas. Hehe! You just have to be aware of their routes. Oooh, I never really imagined the World Expo to be that way! 🙂 Each country has their own uniquely designed building. Inside the pavillions, most of them showcased what their country has to offer (more on tourism) and their views on how to have a better city, ergo better life. It was really amazing!!! 😀 I can't stop wondering what would China do to all those buildings after the expo, eh?! Well, my friend working at the Philippine Pavillion told me that the entire place might just be a tourist spot. The pavillions will stay as is but no one can get inside them anymore. Ooooh, what a waste indeed! Oh, I forgot to mention how long the lines were to get inside the pavillions, especially for the big and famous countries like USA, UAE, Germany, Spain, Russia, etc. It takes 3-5 hours to get inside their pavillions!!! So now you can imagine how many people go to the expo everyday! My friend said, visitors range from 300,000 to 500,000 every single day!!! Whoa! A very big special thanks to my friend, Ica, who brought us inside the pavillions without having to line up. 🙂 Expo employees can pavillion hop and bring a friend with them inside by just presenting their IDs. Cool! So as a tip, if you're going to the expo and you have a friend working there, contact them before you go! They can also reserve time slots for you for each pavillion (which is what they do when there are VIPs) so you won't need to go through those extremely long lines! 🙂 Anyway, I won't keep you any longer. Here are some pictures I took at the World Expo. Warning!!! Photo fest below! LOL! 🙂 I had a hard time choosing what to post 'coz I really have tons and tons of pictures! These are only some of the pavillions. 🙂 You can click on the photos to make them bigger. 🙂
the Expo Subway… Yes, there is a subway going to the expo grounds, just like the Disney train in Hong Kong, and it's free! Actually, it's already part of the expo ticket. 😉
Australia Pavillion. Oh, they sell burgers here and damn, you should try it! It's really, really delicious! 🙂 I wasn't able to take a picture of it because I was so hungry! LOL! Some say the burger in the USA Pavillion is even better, I wasn't able to try it though.
Angola Pavillion
Argentina Pavillion
Austria Pavillion. Awww, I remember Kohlmarkt St. in Vienna, my shopping haven! 🙂
Brasil Pavillion. My next target! LOL! 🙂 Me likey to go to South America!!! 🙂
Cambodia Pavillion. I have to go here some time soon. I heard there's a need to hike  in one of the tourist spots there so I definitely can't bring my parents. Hehe! Ummm, shout out to friends out there! Let's go? 🙂 Next year??? 🙂
Egypt Pavillion
France Pavillion. I find the structure of their pavillion too simple compared to the others. I probably expected more from them.
Germany Pavillion. The line going inside is like a bus terminal!!!
Indonesia Pavillion
Malaysia Pavillion
Netherlands Pavillion. They made their pavillion look like a carnival. Hehe! 🙂 Looks fun, eh?! 🙂
New Zealand Pavillion is all about nature. You can see the landscape on the background. 🙂
Peru Pavillion
Poland Pavillion
Portugal Pavillion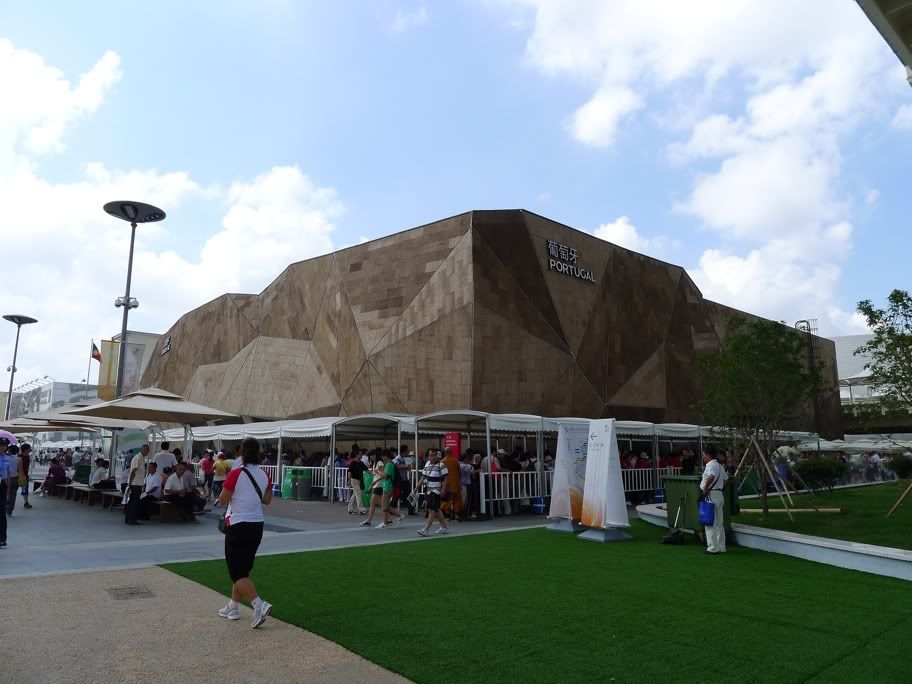 Romania Pavillion
Russia Pavillion. The architecture is so Russia! Love it! 🙂
Singapore Pavillion
South Africa Pavillion
Spain Pavillion. This is one of my fave, not just because I heart Spain, but also I find the structure really amazing! I'm not sure what it's made of but it somehow resembles to our local Pinya (textile made from Pineapple leaves) from a far. Brilliant! 🙂
Switzerland Pavillion. They have a cable car in their pavillion!!! It's as if you're going up to the Swiss Alps. LOL! 🙂
Thailand Pavillion. Another pavillion with uber long line because of their 4D show. The picture on the right was taken inside. That humongous statue moves and talks, which is very much like the show in Caesars Palace, Las Vegas. 🙂
UK Pavillion. Another personal fave, again not just because I wanna live there, but also because of its unique porcupine-like structure. Hehe! 🙂
USA Pavillion. Its structure is very much USA- modern and simple. I expected much more from USA, but hey, look at that line outside!!! Geesh!
Taiwan Pavillion. Since too much people wants to go inside Taiwan and China Pavillions, they give out separate tickets aside from the Expo ticket. It's not for sale though. It's more for their control. Getting the tickets have a looong line as well. Those tickets indicate the time slot when you can go inside the pavillion, although that doesn't mean you don't have to line up during your given time slot. Expect another line!!! Eeeek!
China Pavillion. The tallest of all the pavillions!
And of course, last but not the least, the Philippines Pavillion. I've heard a lot of negative feedbacks about our very own pavillion, but when I saw it, it wasn't as bad as I thought. It actually looks nice, especially at night when the lights are on (see picture on the right).
And what's inside? At the center is a stage for the live performances, such as singing and dancing. At night, our pavillion turns into a party place! Yup, there is DJ playing house and RnB! 🙂
On the left photo is one of the live performances I was able to watch. On the right is Travel Cafe. Yes, Travel Cafe is there serving Filipino dishes, of course. 🙂 I even saw some foreigners ordering San Miguel Beer. LOL! 😀
And the best of all, the Philippine Pavillion offers a free 15-minute massage. The masseuses are all the way from Chi Spa at the Shangri-la Boracay! 🙂 Mhen, they were good!!! I almost fell asleep!!! How I wish I could ask for an extension, even if it means paying for the massage! Too bad it was strictly 15 minutes and they didn't offer rates for those who wanted to relax more. 🙁 There were actually a lot of Chinese people lining up for the massage. Hehe! 🙂 Oh, the right photo is the hilot room. 🙂
World Expo ticket price is RMB 160 per day, but if you get inside the expo after 5:00pm, ticket price is down to RMB 90 (expo closes at 10:00pm)! 🙂 The prices are really reasonable. TIP: Though it should already be the start of fall, Shanghai right now is extremely hot! The heat of the sun was like pricking my skin! If weather is hot, I suggest getting the RMB 90 ticket because you won't really be able to walk and go around while the sun is still up. I swear, you won't enjoy! The sun, the heat, and the line will all together annoy you and give you a bad headache! Plus, you have to see the lights of the pavillions at night. They are amazing!!! 🙂 The World Expo in Shanghai is indeed a once in a lifetime experience! I'm so thankful that I got the chance to see it in person! 🙂 For those of you who haven't seen it, you still have time! World Expo is open until the end of October. 😉