As mentioned in my previous posts and in my Facebook page, I attended the makeup workshop of Suesh two weeks ago. I actually have 3 main reasons for attending it.
One, I was really planning to buy a set of makeup brushes. When I decided to go for Suesh makeup brushes, I thought of grabbing their workshop deal. They are offering workshop packages, which includes their brush sets. Prices vary depending on the makeup brush set included. In my case, I paid PHP 3,500, which includes the 16-pc brush set. I just have to add PHP 1,000, so why not grab it, right? 🙂 Makeup lessons almost always cost a lot!
Two, I wanted to learn more about eye makeup application. I sort of know the basics through some tutoring given to me by my friends who are makeup artists. I just thought I need to learn more about eye makeup because I believe it's the hardest to apply. For me, it's where I can really use my creativity. I'm not sure if it's just me, but eye makeup is usually the first thing I notice when a person is fully madeup. Well, aside from the evenness of the foundation, I tend to gauge the makeup artist's skills through the eye makeup. This makes me eager to learn more and more about eye makeup. 🙂
Three, I'm thinking of becoming a professional makeup artist. Well, I believe I've mentioned this several times here in my blog. I've been thinking of doing it professionally, but the investment needed keeps on stopping me. Spending more than PHP 200,000 is not a joke. I always have that "what-if"- What if after studying, I suddenly realize that being a makeup artist is not really what I wanna do? What if it's just something I wanna learn for personal use? Studying in a good makeup school and spending that amount of money just for personal use is definitely too much! I'd rather buy a bag (or bags)! LOL! 😀 This is why I thought that the Suesh makeup workshop would be of great help to let me guage if makeup is really something I wanna do professionally.
And so there I was at the Suesh makeup workshop one Saturday afternoon…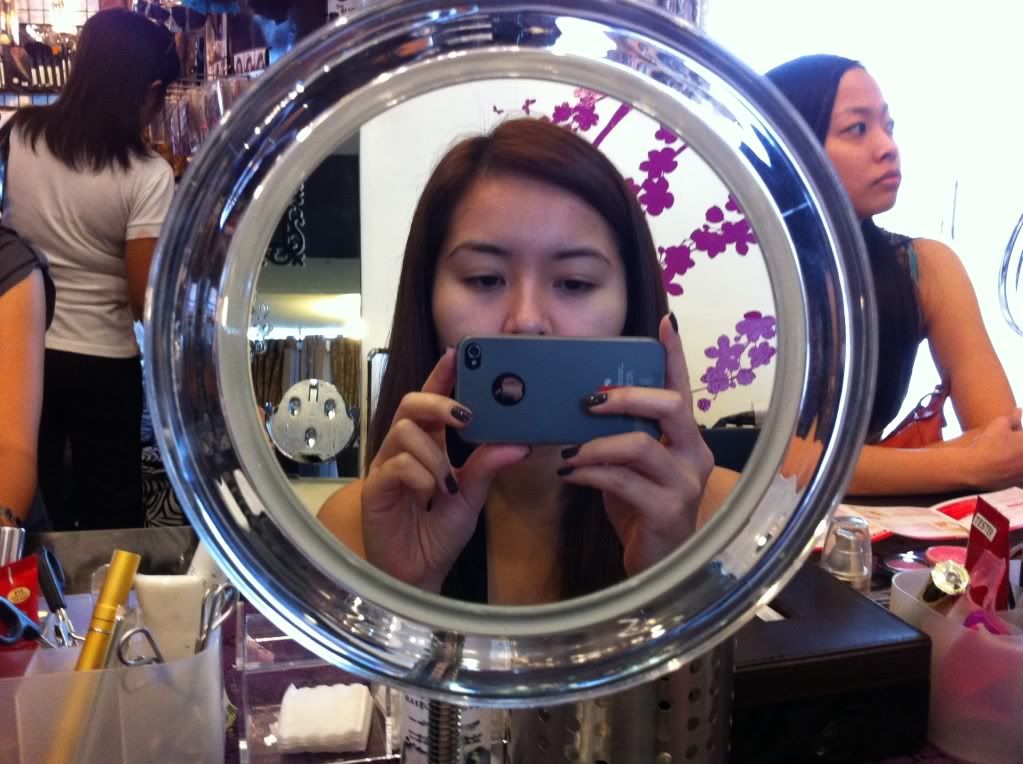 The instructor is Suzzane Tan, with the following credentials (as seen in their website):
Suzzane holds Certificates on Chief Trainer's Training in Skin Care and Cosmetology from 2007-2009 in Tokyo, Japan, as well as a certificate of Cosmetology in the Center of Aesthetics Studies (CAS) in 2006. She is the current Chief Makeup Artist and Marketing Manager for one of the top 3 Japan makeup brands. She regularly holds training for Corporate Image enhancements and you can see her work on print magazines like Cosmopolitan, Metro, Mega, Lifestyle Asia, etc.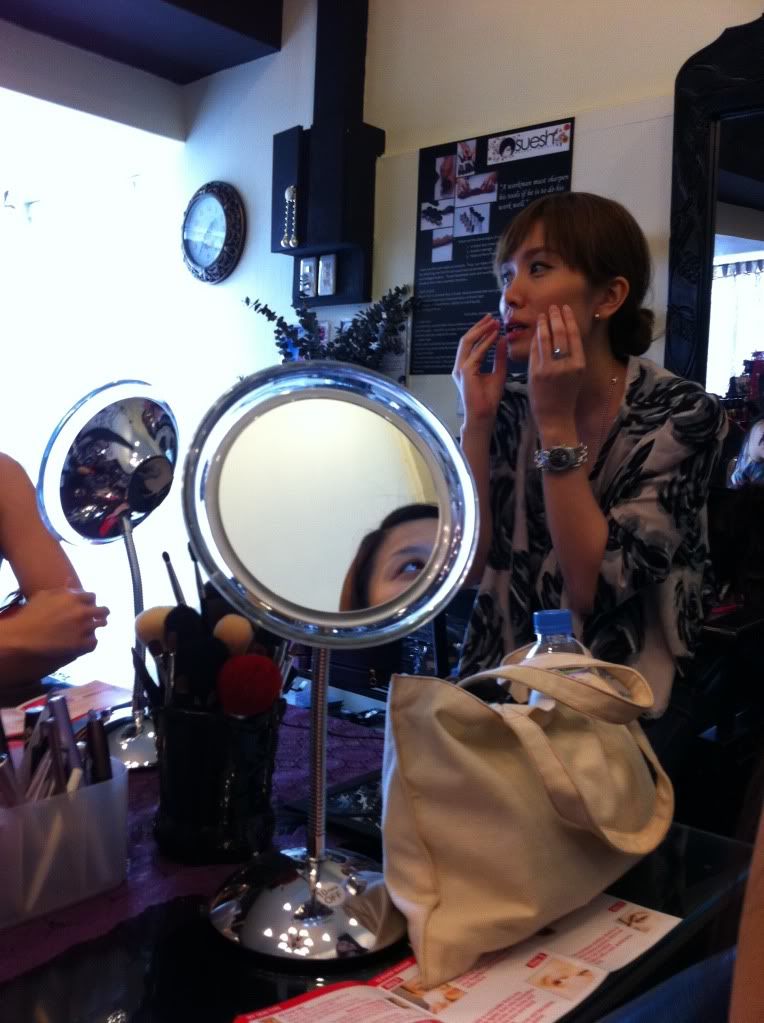 We were only 7 students at that time, which was good since Suzzane was able to closely supervise and attend to each of us. It was almost a one-on-one tutorial that's why slots of their workshops are very limited.
The workshop started with Suzzane explaining the proper skincare. Then, she did the demo for the basic day makeup to one of the students. After the demo, we were asked to do the day makeup on ourselves. It's really best to bring your own makeup so you would know the right way of applying them. The second part of the workshop is the night makeup, specifically the smokey eyes. The same teaching style was done- Suzzane did the demo, then asked us to do the eye makeup on ourselves. The entire workshop lasted for 3 hours only. Now, the big question is- Is it worth the money and time?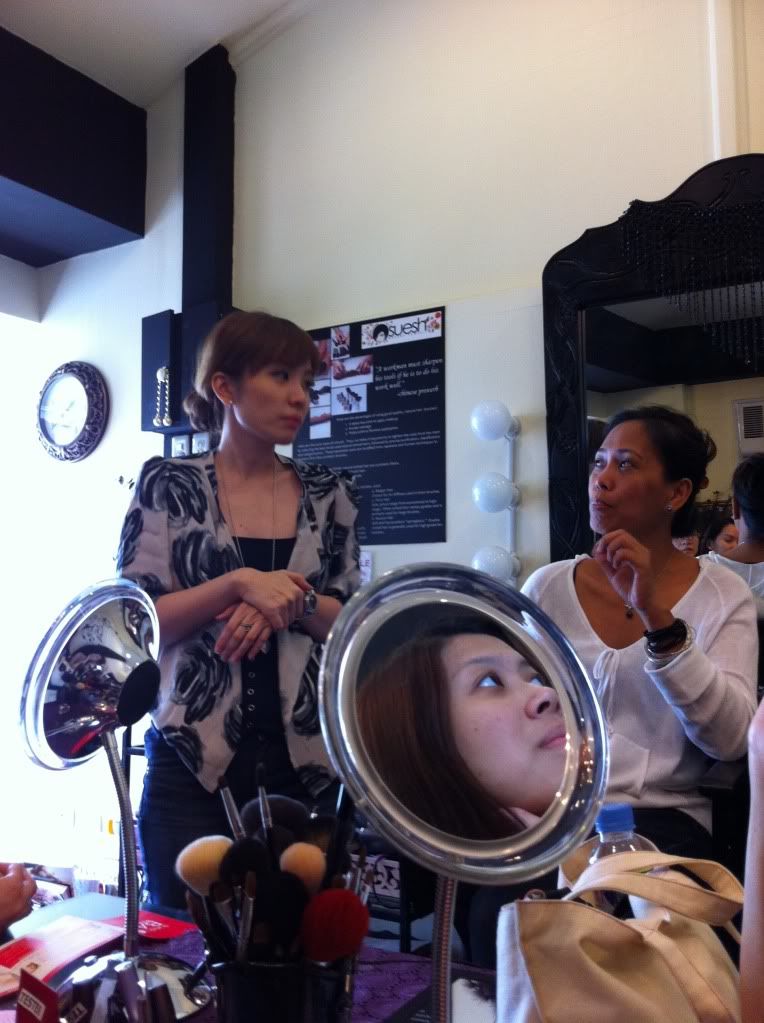 To be honest, the basic makeup workshop was not really a big, big help to me simply because I somehow know the basics, as mentioned earlier. I wouldn't say though that I did not learn anything at all. I still learned several makeup techniques, especially when it comes to the eyes. I have to say that Suesh Basic Makeup Workshop would be of great help to those who doesn't have makeup background at all. When they say "basic", it really is basic. 😀 They still have other classes, like advanced and air brush, for those who feel knowledgeable enough with the basic makeup application.
One thing that I would like to suggest to be included in the basic workshop program is the introduction of ALL the makeup brushes, not just the basic ones. They are known for their good quality makeup brushes and almost everyone in the class (if not all) availed for their packages which includes a set of brushes, so why not familiarize the students with all the makeup brushes of their complete set? It's good to know the use of all those brushes. I just believe it must be part of the basics. 😉
Over-all, the Suesh Basic Makeup Workshop is definitely a good experience, especially for those who haven't had formal makeup lessons. It's always good to know and learn the basics so you can apply makeup with ease and confidence. Who knows, for the years that you've been putting on your makeup, you might be doing something wrong or unacceptable! Instead of enhancing your beauty, your makeup actually makes you look hidious! Oh no! This is why we all have to go back and learn the basics. 🙂 And with the price of Suesh's workshop packages, they aren't bad at all, especially if you're going to buy a brush set anyway. 🙂
If you're interested to attend the workshops of Suesh, better book soon! Slots are very limited and they run out really, really fast!
Suesh Makeup Toolkit
34 Wilson Street, Greenhills, San Juan, M.M.
Contact number: +63 (2) 782 37 97
Mobile: +63 (917) 894 26 25