March has officially ended and I haven't gotten to the beach just yet! Ugh! I don't even have plans for summer yet, would you believe?! BUT one thing's for sure, I won't let summer pass without feeling the sand on my feet and the heat of the sun on my skin. I'm getting too white already from staying indoors. I need to get that sun-kissed skin soon! 😀
But of course, getting that lovely tan doesn't mean we just welcome the sun with open arms right away! Remember the first thing you have to do before getting out of the door??? Apply sunblock! No matter how much we want to get that tanned skin, application of sunblock is very important! I know some of you are guilty of not applying sunblock because you want to get dark right away or because you simply forgot. Hey, I won't be a hypocrite. I went to the beach once and forgot my sunblock. Nevertheless, I swam from 12nn to 1pm! Brave, eh?! Guess what happened?! After an hour under the noon time sun, my body was like a red tomato! Seriously! For weeks, I couldn't wear any garment that clings to my skin. I even had to ask help when putting on a shirt. My sunburn was that painful. After that incident, I surely learned my lesson! Never ever to go out under the sun without sunblock. And hey, putting on sunblock doesn't just protect you from sunburn. The sun's rays can be very harmful, especially now that the ozone layer is getting thinner. Too much sun exposure can lead to skin cancer eventually. By applying sunblock, we try to minimize that risk and at the same time, avoid prematuring skin aging. 🙂 But I must admit, no matter how much sunblock I put on, I somehow fear to stay under the sun for a long time. Well, not anymore! Beach Hut has introduced me to their new product. 🙂 Thank you Beach Hut! 🙂
I was confused at first when our lobby guard handed over me this…
I was thinking, did I order a box of pizza?! Oh, maybe my sister did! When I got the box, it says "Beach Hut"! I got ultimately excited 'coz I was pretty sure there's something inside that would make me look forward to hit the beach soon! Haha!
True enough, they got me these…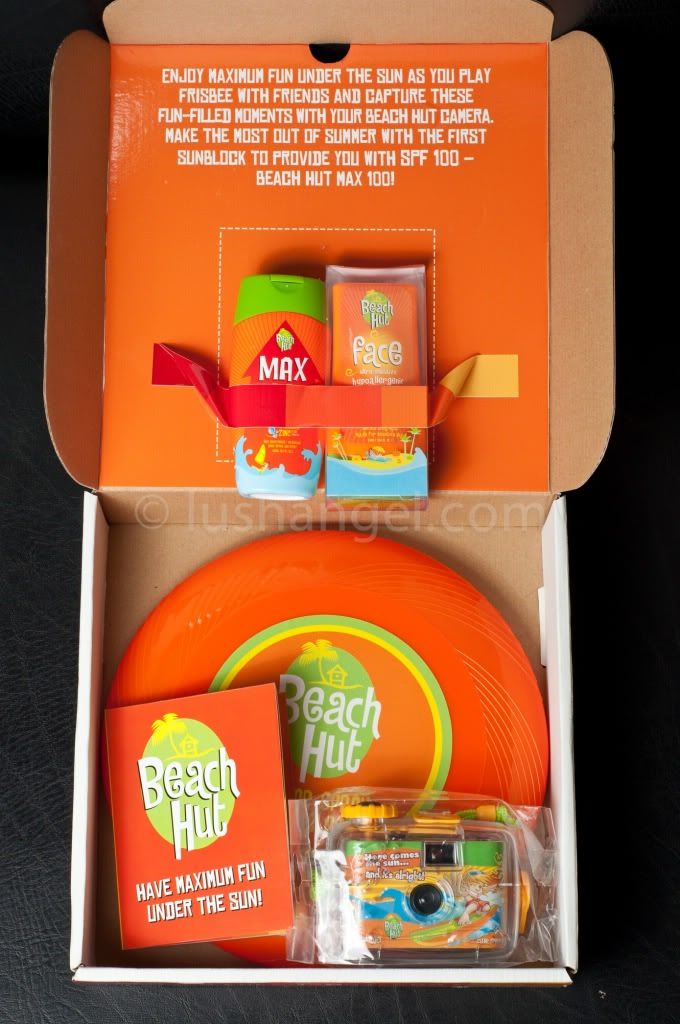 A freesbie, underwater camera and most importantly, sunblocks! Yay!!! 😀
I don't normally use the same sunblock on my face and on my body. For some reason, I get breakouts when I use sunblock that isn't specifically made for the face. Thankfully, Beach Hut has something for those who have sensitive skin, like me. 🙂 A sunblock specifically for the face, with SPF 65… 🙂
And their newest product in the market that made me even more excited…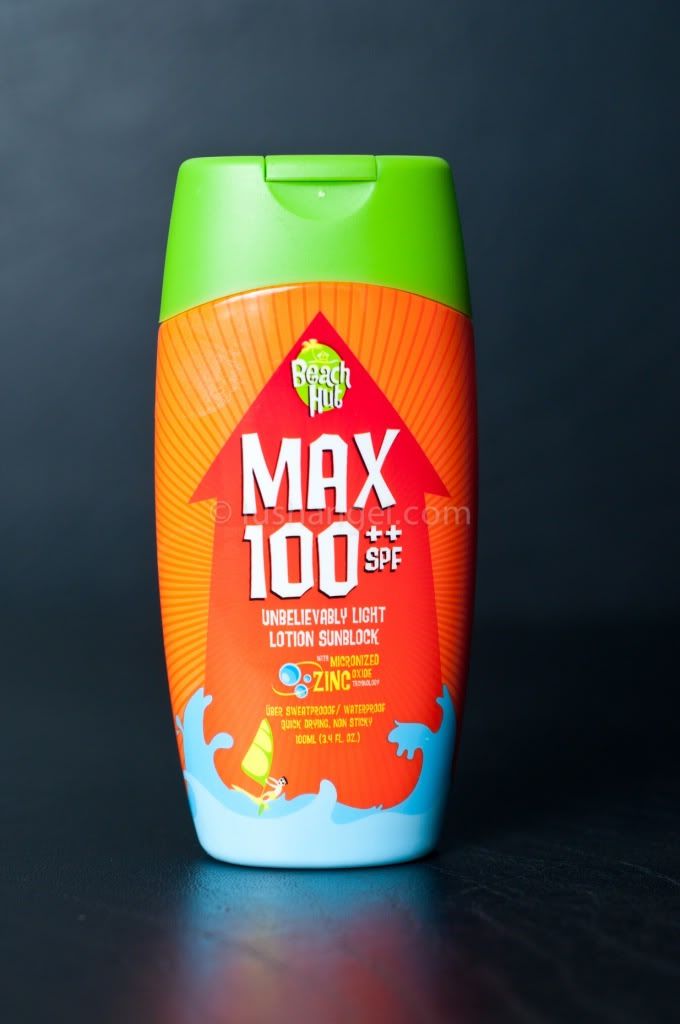 A sunblock with SPF 100++! It's the first sun block in the country with 100 SPF protection. It says that it's non sticky, sweatproof, waterproof and provides up to 99% UVA/ UVB protection! Now, that's good news! 😀
Some of you might be raising eyebrows thinking, do we really need that much SPF?! Is it the higher, the better?! I once read an article from Oprah's website that the answer really depends on how much sunblock you apply.
If you slather on the same amount used to establish SPF values (about half a teaspoon on your face alone), 97 percent of skin-reddening UVB rays are blocked by an SPF 30, 99 percent by an SPF 100. But here's the rub: "Most people apply 25 to 50 percent of the amount of sunscreen used to determine SPF," says James M. Spencer, MD, associate clinical professor of dermatology at Mount Sinai School of Medicine. Half the necessary dosage will yield only about one-third of the listed SPF. So a higher number is a nice insurance policy: Go easy on an SPF 100, and you're still left with an SPF of about 30.
So now, with Beach Hut's sunblock SPF 100, I can have maximum fun under the sun, less the worries! 😀 Beach Hut MAX SPF 100 has got me covered. Now, I can't wait for my next surf trip! Thanks Beach Hut! You truly delivered the good news fresh, hot and fast! 😀