You read that right… The hip trend in the 70's is now making a comeback. Wide-legged trousers is one of the hottest trends this spring and I'm rejoicing for its return! 😀 I love how wide-legged pants magically make me look taller. Here's what I came up with for StyleBible's Blogger Challenge. 😀 I'm one of the fashion bloggers featured for the wide-legged trousers blogger challenge, as seen in this link! 😀 Wee! Thank you StyleBible! 😀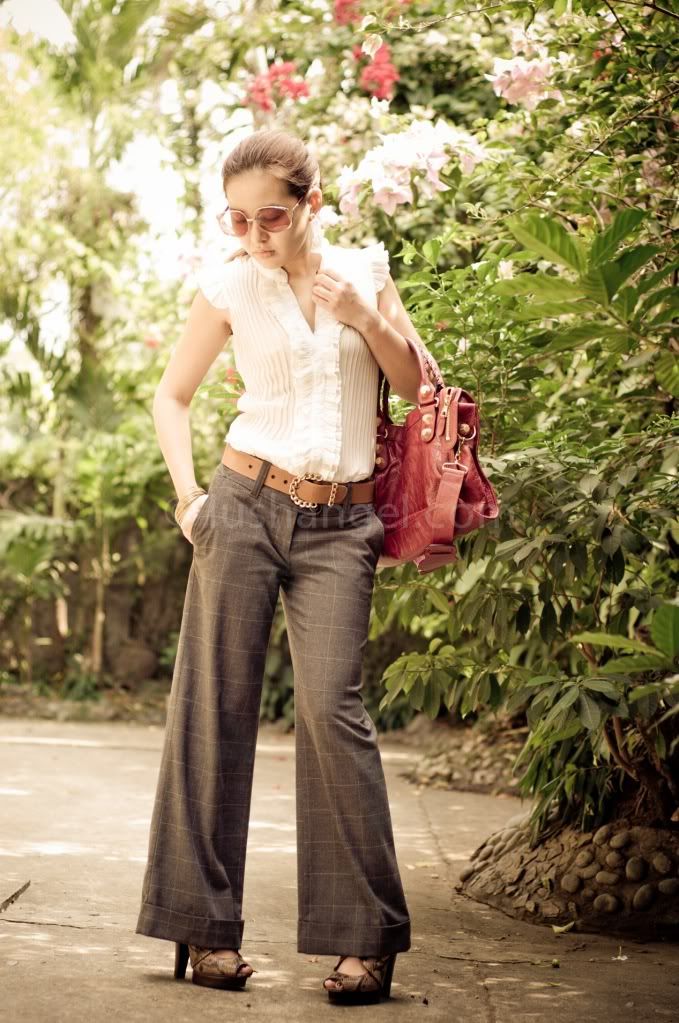 I thought of going for a prim and proper look so I paired my plaid trousers with a pleated ruffled blouse. I've actually worn this top in my Déjà vu post, featuring a vintage skirt from my mom.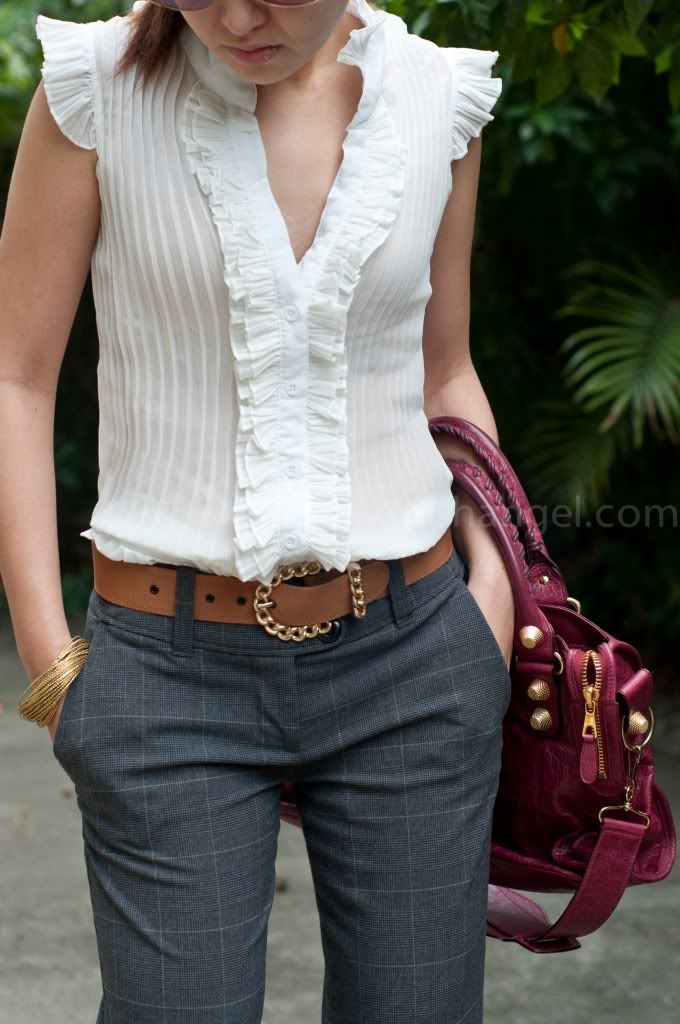 The trick with voluminous pants is to pair it with a waist-defining top. You can tuck in your blouse, just the way I did it, or wear a fitted or cropped shirt, if you prefer it untucked.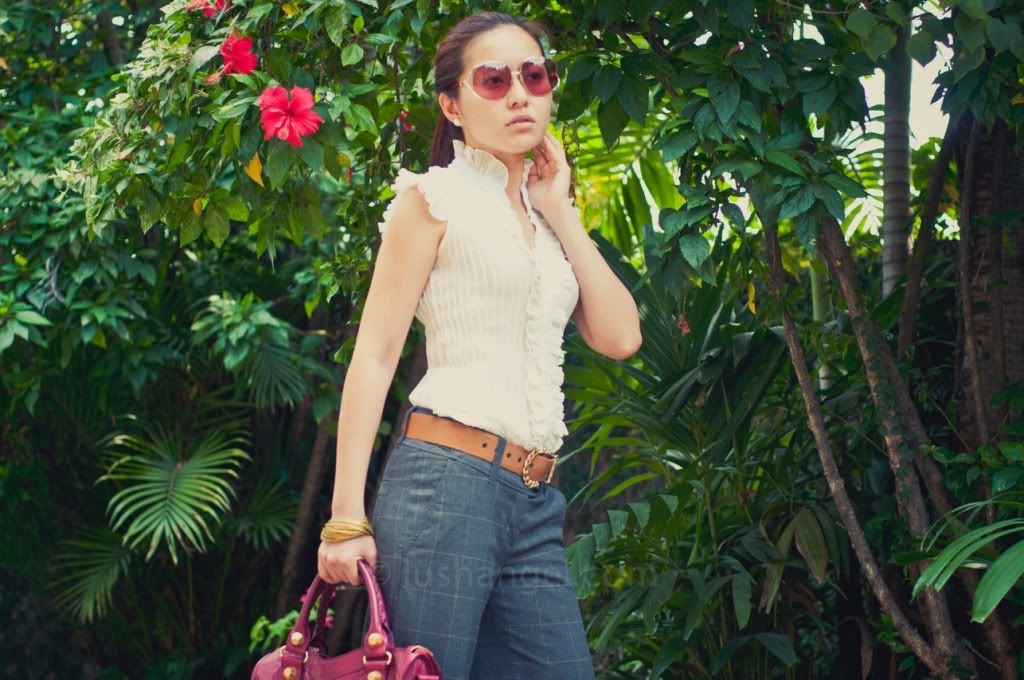 I tried to minimize my accessories by just wearing a pair of pearl earrings and gold bangles since my top has a lot of details already.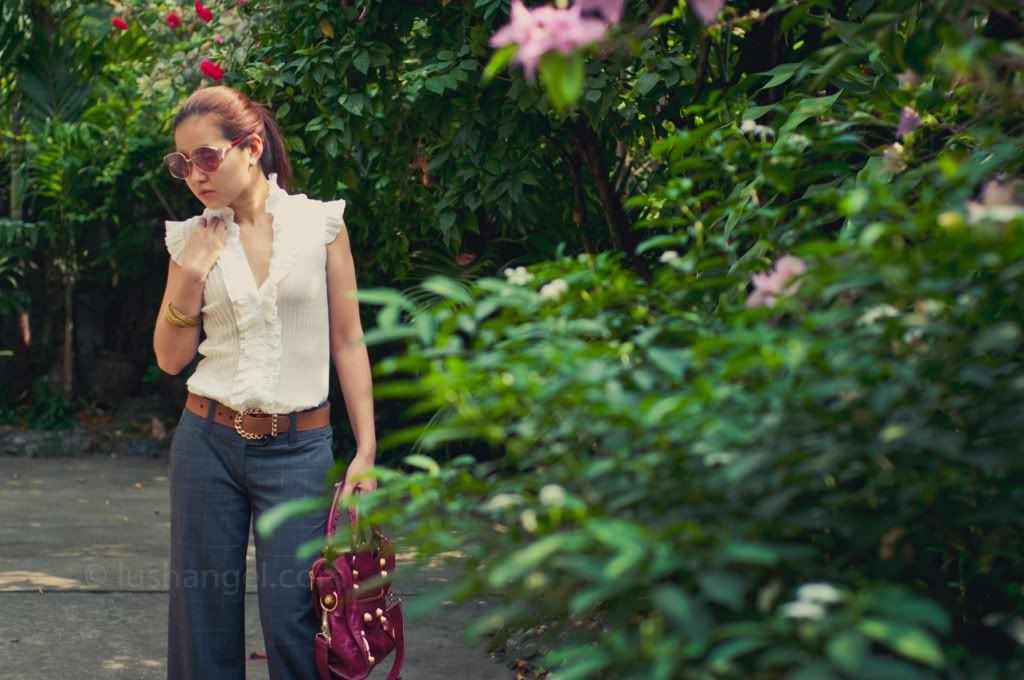 To add a bit of color, I wore my ever reliable vintage camel belt with gold buckle and used a red purse.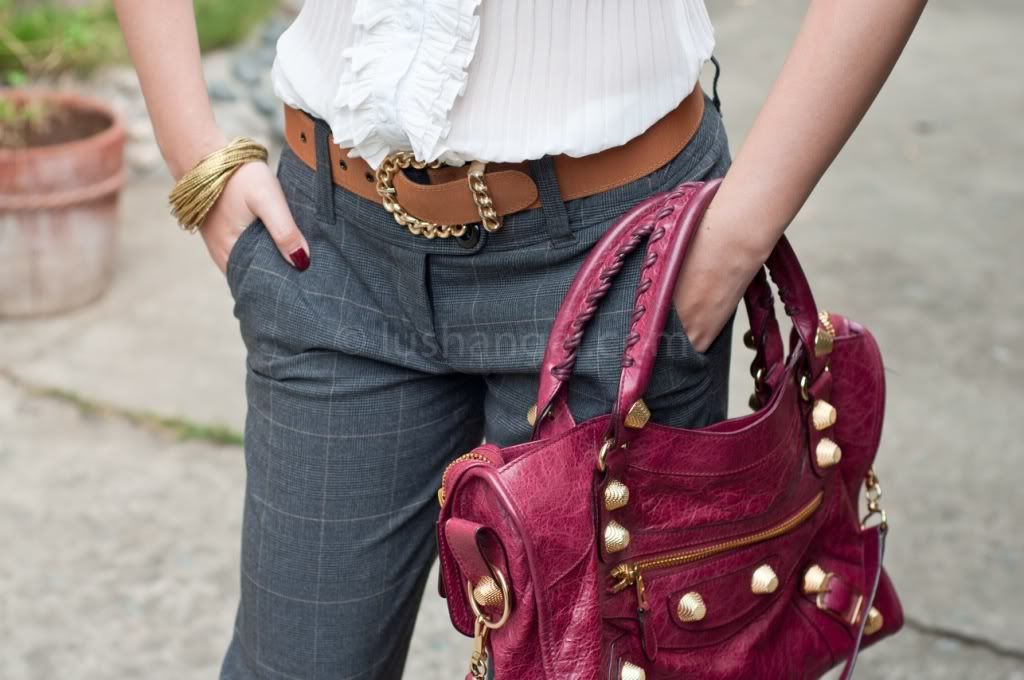 Although some gals out there can pull off the wide-legged pants with flats, wearing it with sky-high heels or wedges still looks best for me. With those added inches, the structure of the pants becomes more defined. Also, I'm not blessed with long legs so I certainly need the added height that heels and wide-leg pants create. For this look, I went for my sandals with wooden chunky heels.
Another important thing to remember when wearing wide-leg trousers is the length. It should be long enough for your shoes to peep through. It's a trick to create an illusion of longer leg line. 🙂
So what are you waiting for? Time to bring out those flared or wide-legged trousers once again! 😀 I tell you, it's one ensemble you'll love wearing from day 'til night.
For more tips on how to wear wide-legged trousers from me and other fashion bloggers, check out Blogger Challenge: Wide-Legged Trousers of StyleBible. Again, thank you so much StyleBible for the feature. 😀
Blouse: 101 New York
Trousers: H&M
Shoes: Mango
Vintage belt: from mom
Purse: Balenciaga Giant City
Bangles: H&M
Earrings: from mom
Vintage sunglasses: Christian Dior