Pond's Flawless White held a blogger's challenge a month ago. The chosen bloggers had to choose a partner, who will be using the Pond's Flawless White line for 3 weeks. The aim of the contest is to prove its effectiveness compared to their current skin lightening regimen. I'm supposed to be part of this challenge, but I had to decline due to some conflicts in my contract. 🙁 That doesn't mean though I can't support my fellow bloggers. 🙂 I'm sooo glad to be invited in this event and to finally meet some of the bloggers I follow on a daily basis! Yay! 😀 Thank you Pond's for this opportunity! 😀
And so last April 14, 2011, Pond's held a party at Fiama for the get-together of the Pond's Online Beauty Ambassadors and of course, for the unveiling of the Pond's Flawless White Unbeaten Whitening Experience Challenge winners.
To start off the program, Jacque Yuengtian, Pond's Senior Brand Manager, introduced the brand, explained the contest and mechanics, and of course, presented the contestants.
Oh, and finally, they put a name behind the face of Pond's. Mikaela Lagdameo-Martinez has been the face of Pond's for years now.
Isn't she sooo pretty?! Now, I've got a girl crush on her! LOL! 😀
And I looove her dress that night!
Oh, and can I just share this??? "Sweet Disposition" by Temper Trap played while she walked and did a little modeling on stage. That's one of my fave songs and it always give me goose bumps when I hear it! Weird, I know! LOL! 😀
Now, let's give it up to the contestants of Pond's Flawless White Unbeaten Whitening Experience Challenge!!! 😀
Liz and Tanya
Cathleen and Michelle
Nikki (finally we've met! 😀 you're such a darling! :D) and Sophie
Earth and Lace
Tara and Dang
Ginger and Reena
Jill and Martha
Jheng and Shen
Catherine and Rowena (sorry I don't have a photo!!!)
All of them are definitely winners! 😀 Hey, it's tedious for the bloggers to have deadlines on documenting the progress of the effects of the products. Also, being a beauty enthusiast, I know it's pretty hard to give up the regimen you have for months/ years. All of them deserves a round of applause!!! Congrats everyone! 😀
Congratulations to Jheng, Shen, Nikki, Sophie, Reena, and Ginger for winning the special awards! 🙂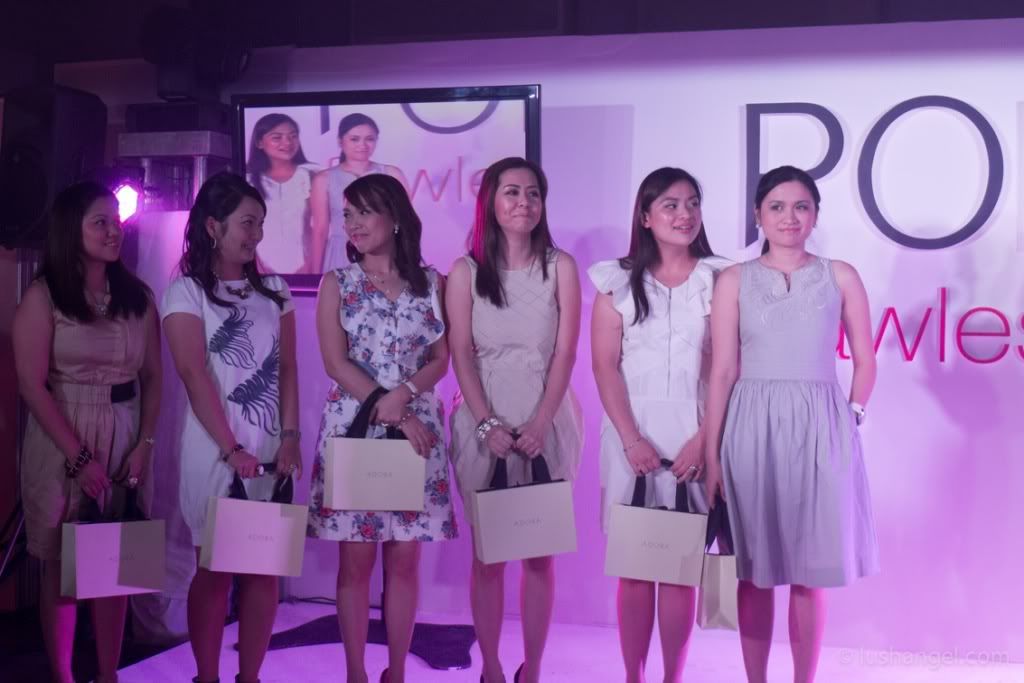 And of course, the grand prize winner, who will featured in a Pond's Flawless White magazine spread of the top publications in the Philippines- Reena and Ginger! Congratulations!!! 😀
Before the night completely ended, I'd like to say thank you to Kira and Alex for keeping me company that night. It was my first time to meet these two lovely ladies. I really had a great time! *Hi Kira and Alex! I'm really glad to meet you both. I hope to see you guys soon. *