Okay, that's an odd title! I was arranging my photos of my Japan trip (yes, just now!!!) and I just realized I haven't shared all my outfits while I was there. This is a bit late, I know. Alright, more of suuuper late! I'm featuring winter clothing during the summer time, which explains the title. BUT it's better late than never, right?! Haha! And I just wanna share one of my fave coats when I go to a place with a wintery weather. I've mentioned before how much I love to collect coats. I almost always get magnetized to buy one when I travel. Why? You can wear really comfy clothes without looking lousy. There's no need to worry for those days that you're not in the mood to dress up. Just wear a coat and you can look glam in an instant! If there's a reason why I love the cold weather, it's the fact that I could wear a coat! I really find it to be one of the most fashionable ensemble ever!!! 😀
I always pack this gray checkered coat when I anticipate an extremely cold weather. It's one of my great finds when I went to Korea several years back. This coat keeps me really, really warm. It may not seem like it, but this trench coat is quite heavy because of its very thick lining. It also has that removable faux fur collar, which I find it really glam. 😀 It also comes with a belt, which I can opt to fasten or simply tie around the waist. One downside of wearing a coat is that you can look quite big, probably because of too much layering. To avoid this, just fasten a belt to create a waistline.
Sorry, I don't have any close up pictures of the coat as my photographer here was too annoyed to click the camera. Her hands were freezing and shaking already. Haha!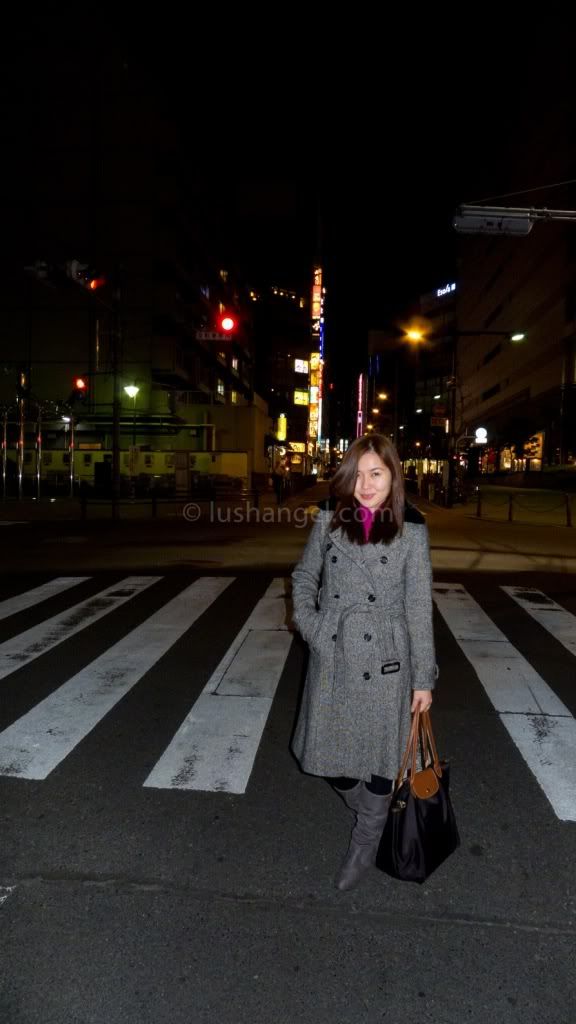 And if you're wondering what I was wearing inside, here it is…
Aside from the black top and gray cardigan that you see, I had a lot of layers inside- tank tops, shirt and a thermal! Haha! I used my fuchsia shawl as a pop of color for my outfit. The cold weather shouldn't stop you from popping bright colors here and there. In fact, having a bright color in a dark outfit can make you stand out. 🙂
Black top: H&M
Gray cardigan: H&M
Black leggings: random
Boots: from Shanghai
Shawl: SM Department Store
Coat: from Korea
Purse: Longchamp Le Pliage