Last May 12, 2011, I was invited at the launching of the New CLEAR shampoo. Days before the event, I've been seeing its new advertisement (with Chris Tiu acting as a host) on television. I actually wondered how different this new CLEAR shampoo is from what they had before. Is it just their sleek packaging, just like what other brands do when they have a re-launch? Read on…
The launching of the new CLEAR shampoo was held at the luxurious Midas Hotel, located at Roxas Boulevard. It wasn't my first time to see this lovely hotel and I was so glad to be back. If you've seen my Facebook page, I posted a photo of it admiring the fiber optics chandelier. (To get regular updates from me, "LIKE" my Facebook page in this link!) And for all the baghags out there, who wouldn't recognize those orange boxes?! Hermes, is that you?! Haha! Definitely, hands down to the Almario sisters for doing the interior of Midas Hotel! 😀
Anyway, the moment I entered the hotel, I was ushered to the red carpet right away, which led to the special elevator that goes all the way up to the function rooms of the CLEAR event. After registration, I was escorted to a room where I was invited to do the scalp test analyzer. I was pretty sure I didn't have dandruff, but it was still scary! Haha! What if I actually have dandruff?! What a shame! Eeeek!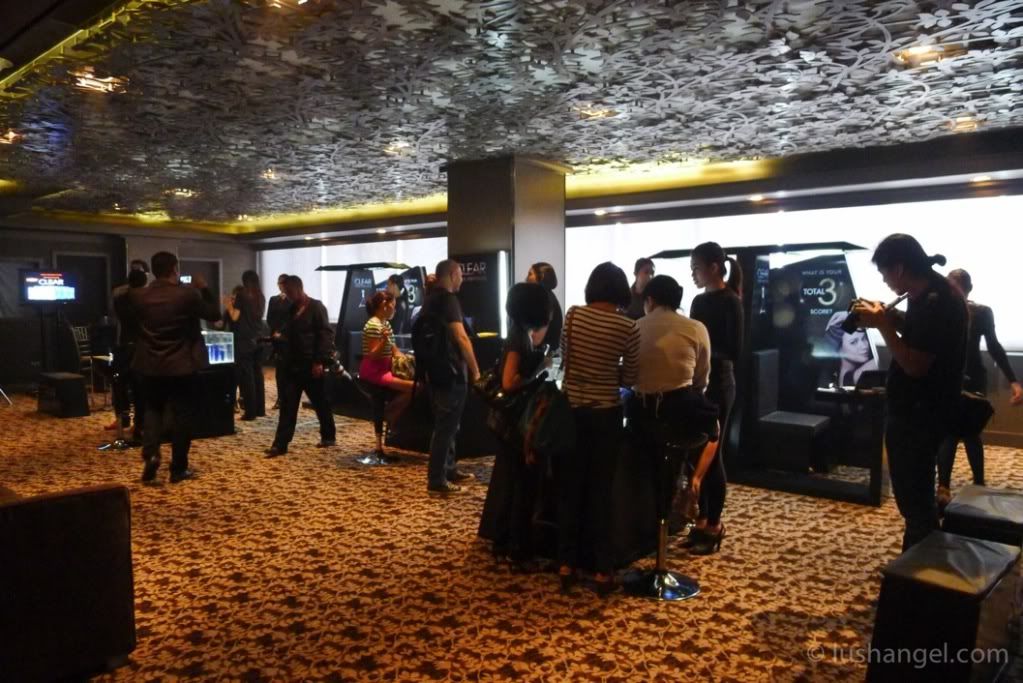 During the scalp test, this pretty girl from CLEAR said I actually have very healthy scalp- no signs of dandruff at all! 😀 Over-all, I got 80%. The 20% deduction came from the 2 hair problems I declared- hair fall and damaged hair. The recommended solution for me is to use CLEAR's Anti- Hair Fall variant.
After taking the scalp test challenge, I was ushered to the other room, where the actual event was held. While waiting, we were all invited to take part of their lunch buffet. The food was spectacular- just perfect for my first meal that day! Haha! 😀
A few chit-chats here and there while eating and the event started. Borgy Manotoc and Bianca Valerio hosted the launch. They actually look good together, don't you think? Haha! 😀
Ms. Kellda Centeno, CLEAR Brand Manager, explained more about the new CLEAR shampoo.
More than the sleek packaging, which was designed to save more trees, the New CLEAR has Nutrium 10 (a breakthrough synergistic complex of 10 vitamins and mineral nutrients) that nourishes the scalp 3 layers deep for TOTAL 3: No Dandruff, No Dryness and Less Hair Fall.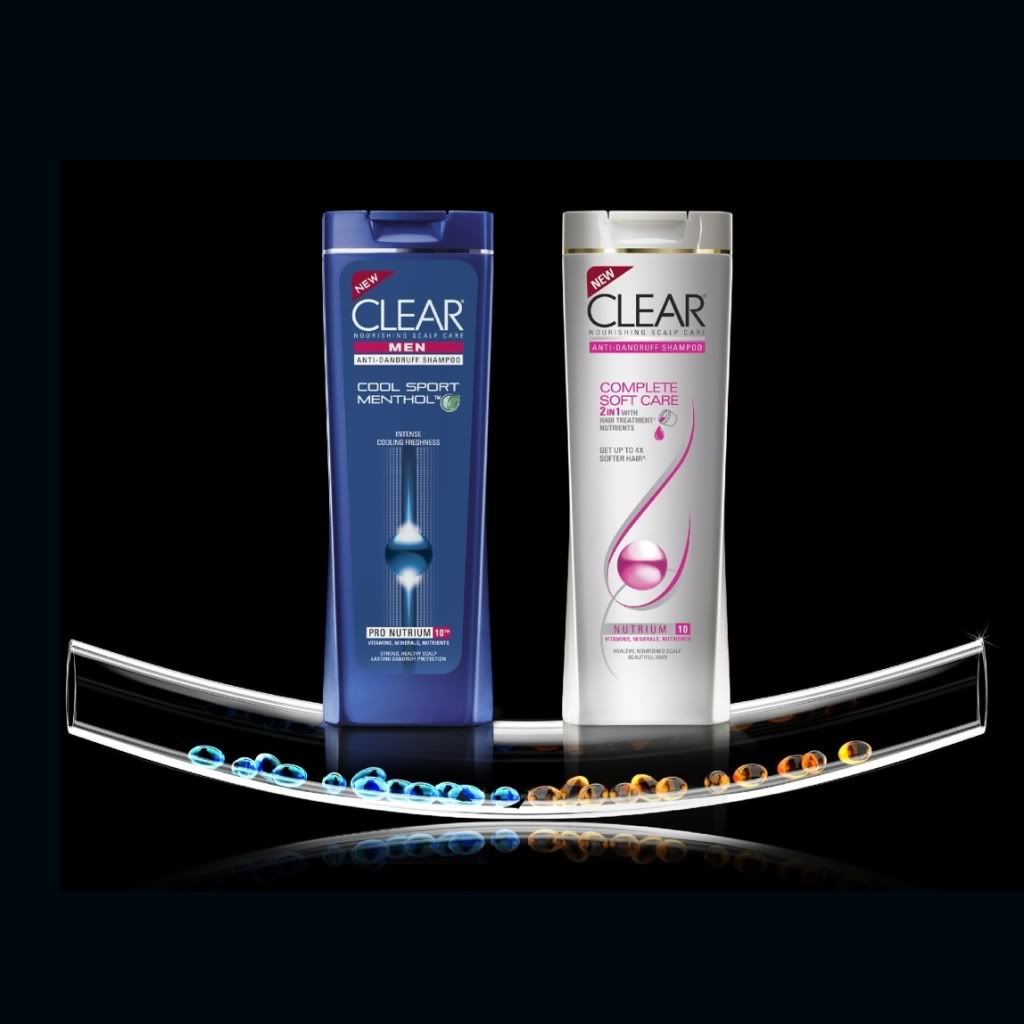 Since men's scalps have more sebum and are more inclined to dandruff, while women's are prone to chemical residues and stress, CLEAR formulated shampoos for men with Pro-Nutrium 10 and for women with Nutrium 10.
CLEAR Men with Pro-Nutrium 10 contains Zinc Pyrithione and Climbazole to effectively and quickly fight dandruff. The scent is inspired by the premium fragrance, Clinique Happy. CLEAR Men has the following variants:
Cool Sport Menthol
Anti-Hair Fall
Cooling Itch Control
On the other hand, CLEAR Women with Nutrium 10 has Zinc Pyrithione and 2x more panthenol (compared to CLEAR Men) to help strengthen the hair fibre. The scent of CLEAR Women shampoo is inspired by the perfume Escada Magnetism. It comes in different variants, as well.
Complete Soft Care 2 in 1
Ice Cool Menthol
Dry Scalp & Itch Control
Anti-Hair Fall
The 3-year endorsers of CLEAR graced the event, of course.
Bea Alonzo was the first one called on stage.
And of course, all the girls waited for him…
He even had this teaser backstage before coming out. 😀
It's none other than, Piolo Pascual! I'm not really a fan of Piolo, but he's really good looking in person. 😀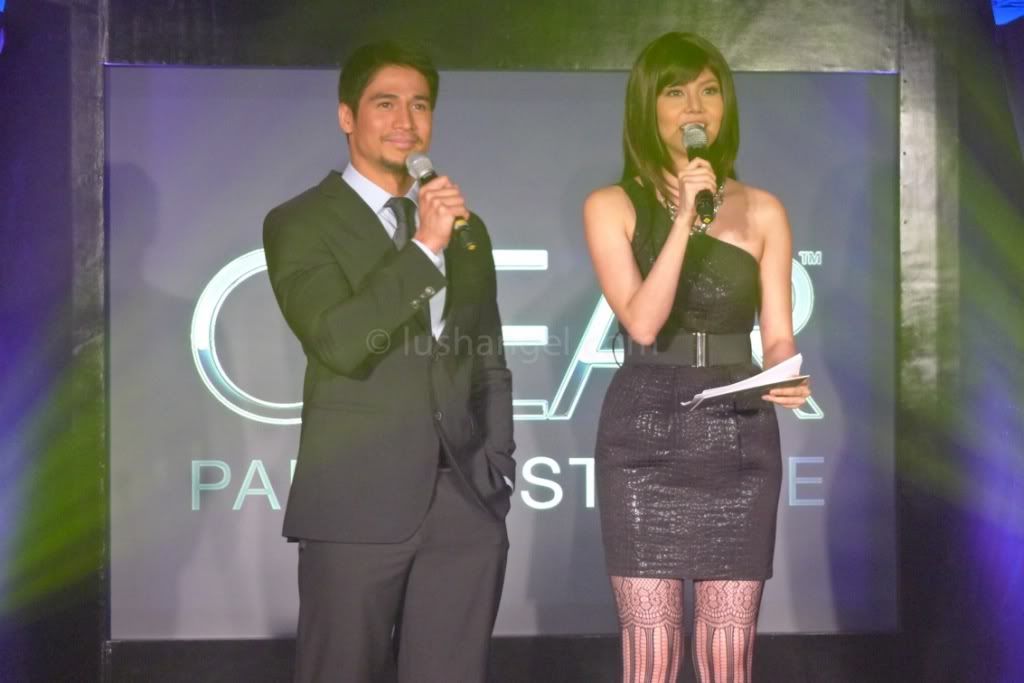 After their short interviews regarding the New CLEAR shampoos, Bea and Piolo gave the media people (and that includes us, the bloggers) the chance to ask questions about their experience with CLEAR.
Ummm… I'm speechless with this photo!!! 😀
Here are more pictures during the event…
with Bianca and Borgy
Oh my, I look like a dwarf standing in between them!!! Take note, I was wearing 5-inch heels already here!!!
with Tessa Prieto Valdes
She's such a darling!!! She was so nice to us!!! Oh, and I can't help but adore her accessories! I super like everything- from the head piece, to the earrings, to the necklace, and to the bracelets and rings!
with Beal Alonzo (Special thanks to Kim for taking this photo from her cam!)
She's tall too! I'm envious of her long straight hair! I'm missing my long hair!!! 🙁 Oh, and I love the peep-toe Loubs she was wearing that afternoon. *wink*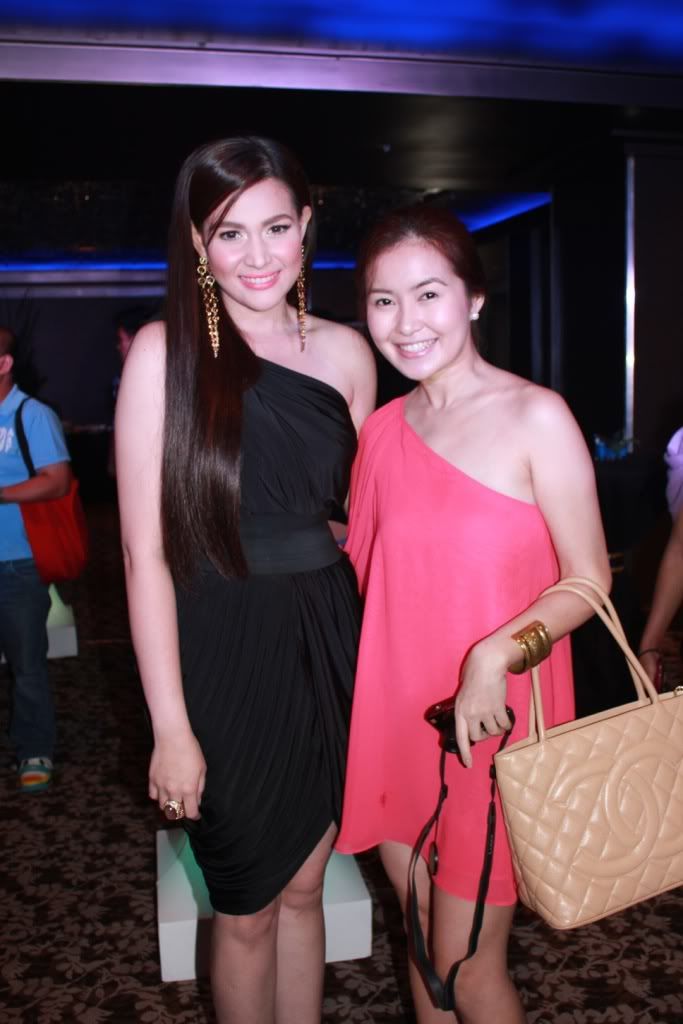 with Piolo Pascual
Of course, I can't leave without a picture with Mr. Piolo Pascual!!! Can I just say, he held me on my waist while taking this photo! LOL! Wala lang, I'm just kilig! Wahahaha! 😀
More than the celebs I saw, I won't enjoy the event without my 2 gorgeous friends, Michelle and Kim! It was the first time I met Kim, a fellow beauty blogger, and she's suuuper nice! 😀 On the other hand, this was the second time I met Michelle. A big big thank you to you, Michelle, for pushing me and Kim to take photos with the celebs! Hands down to you! Haha! 😀 It was as if the three of us have known each other for quite some time because of the stories and laughs we all shared that afternoon! I really had fun! I hope to see you, Kim and Michelle, soon! 😀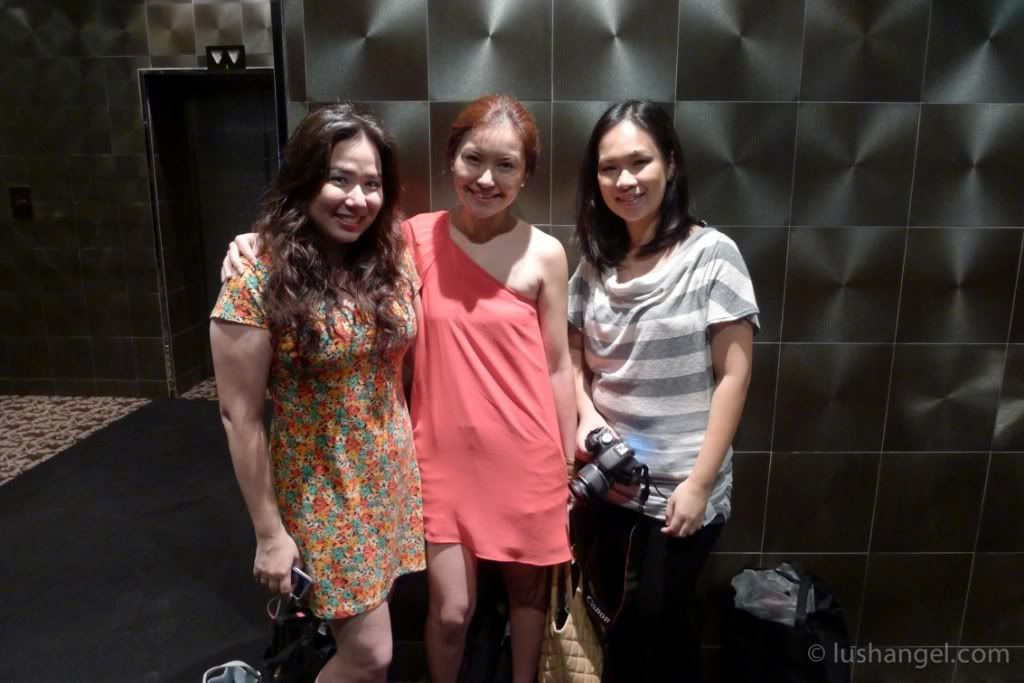 And as for my outfit that day, I wore a one shoulder dress from Topshop for the Clubwear Glam dress code. What really attracted me to get this dress is its pleated sleeve. Oh, even Bea Alonzo complimented my dress during the "press con". 😀 Apparently, she has the same dress, but couldn't really wear it as a dress alone. It's already pretty short on me. What more on her, right?! She's really tall in person, as seen in my photo with her above. But I didn't expect she was that kind to even call my attention and compliment me, while the media people surrounded her. *BLUSH* Anyway, sorry I wasn't able to take a full body picture of what I was wearing that afternoon. All my photos didn't include my shoes. 🙁 I paired this dress with my nude pumps, which I posted here.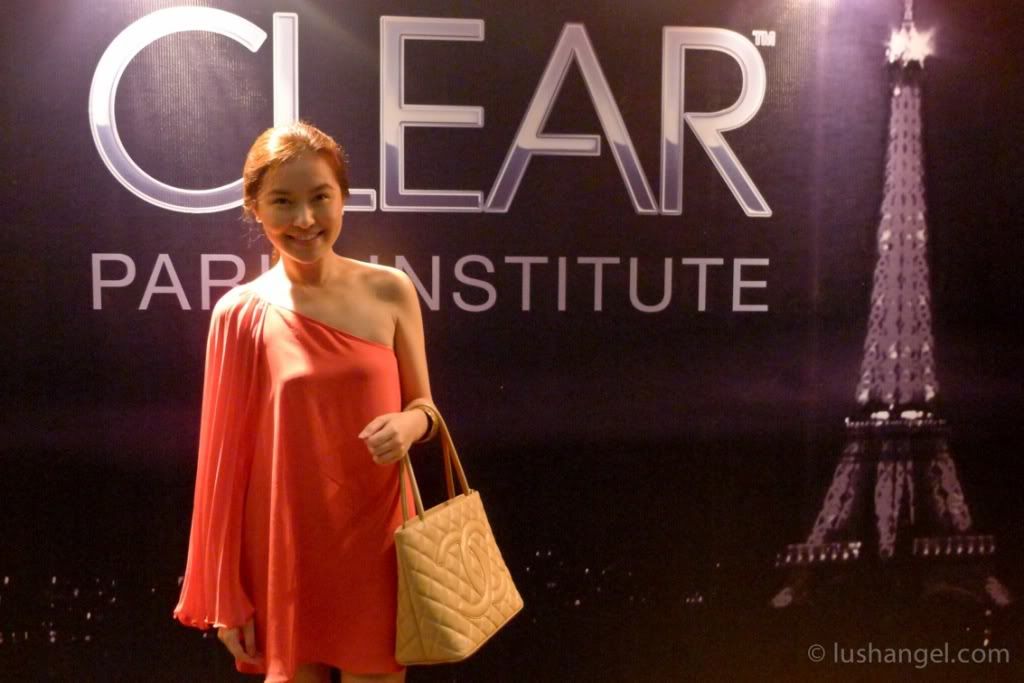 Dress: Topshop
Purse: Chanel Medallion
Cuff: Cotton On
Pearl earrings: from mom
Shoes: Forever 21