First of all, apologies for not being able to post that much. I've been quite busy with my makeup school. And since I've been dragging my friends to be my model almost everyday for my hands-on, I end up going out with them after class. Ergo, I reach home late at night dead tired. Sorry about that! But to all my friends who agreed to be my model, suuuper thank you! 😀 Thank you for the support. I never thought I have much friends who would agree to sit in front of the mirror for almost 2 hours, while I do their makeup. To be honest, that was one of my dilemmas when I was still deciding if I'm going to a makeup school. Where will I get my models, especially on a weekday?! I can't believe some of my friends would even take a vacation leave for me. Awww… They love me and believe in me so much! To my dear friends (you know who you are), THANK YOU! 😀 Anyway, enough of that. I just can't believe how much support and love I'm getting from my friends that I have to share to the world how great they are! 😀 Let's get down to business…
Aside from the flash of bright colors, flesh, beige, white or light-colored clothes are also associated with summer. Here's something I decided to wear one hot (but extremely windy) Sunday afternoon…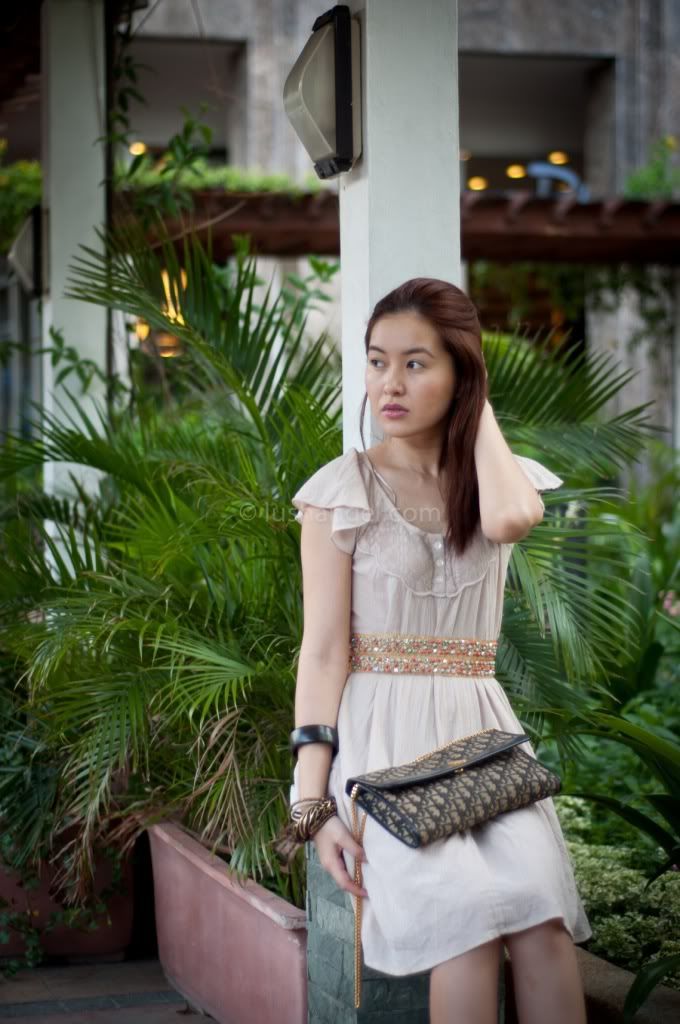 It's a dress in flesh that my mom brought home from Hong Kong. She's so sweet! Remember my post last April when my entire family went to Hong Kong, except me? You can read that in this link. Since I wasn't able to go with them, mom bought me a couple of stuff. She's so sweet. 😀 Thank you mom! 😀 She actually bought this dress at H&M. She knows how much I love to shop there. I think she forgot that I was in Shanghai at that time and that there's also H&M there. LOL! It doesn't matter! As I mentioned in my previous posts, I didn't really shop that much during my last trip in Shanghai. So, thanks to my mom! 😀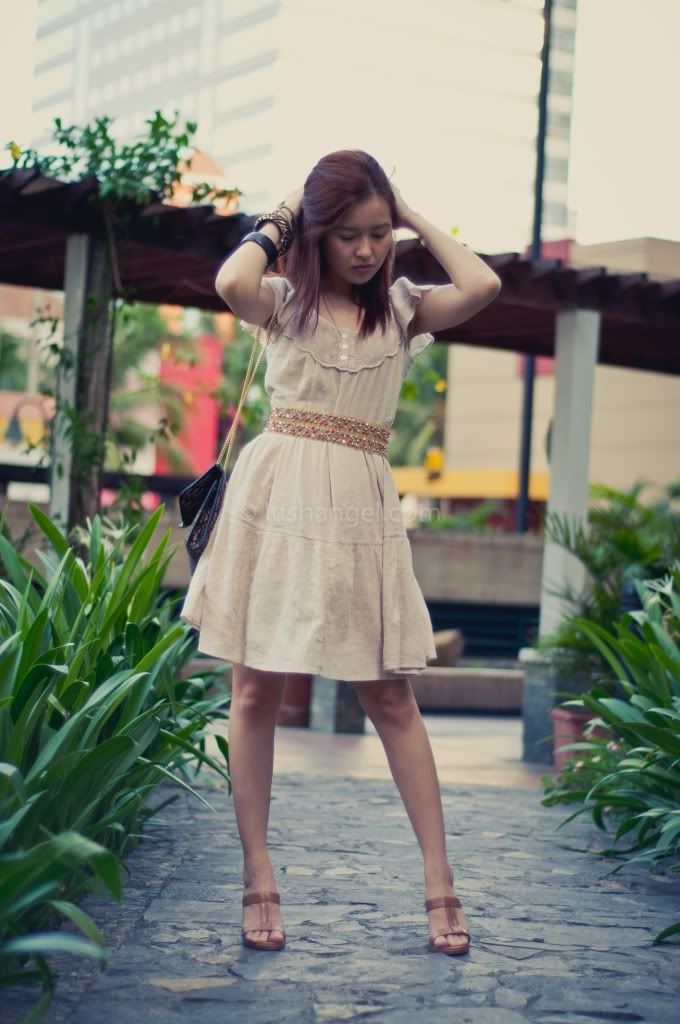 I love the breezy feel of this dress! The material is sooo light that I imagine myself wearing it to the beach, while the mini sleeves and skirt are being blown away by the wind. Ooooh, that's just picture-perfect! Sorry, for my imagination. I've been dying to go to the beach! Let me just share why… I'm supposed to be in El Nido right now. Everything was set since last month. I booked my tickets and did my research. Last minute (as in, hours before my flight to Palawan), I decided not to go. Why? At first, it was because of the supposedly super typhoon that would hit the Philippines. (Thank God it didn't hit us directly!) Since the start of the week, it was all over the news and everyone was getting ready for it. They said, we would feel the storm by Wednesday night, the night before my flight. I didn't pack my things thinking my flight would be cancelled. I even called my airline several times asking for updates, but they said it would still push through. Early morning of Thursday I was still up, thinking if I would go or not. By the way, my flight was supposedly at 7:30am so I really had to decide as soon as possible. I ended up not going, even if there was not even a hint of typhoon. Honestly, more than the safety that I was also concerned of course, I thought of my makeup class. Haha! I actually asked permission that I'd be absent. Maybe I just love what I'm doing right now that I don't even want to take 2 days off, even if I was allowed to attend make-up classes for those sessions I'd miss. Yeah, that's how much I love it that I chose it over El Nido. Now, do I sound crazy?! Thinking about it, yes I think I am! LOL! 😀 Well now, here goes my beach frustration! Haha! 😀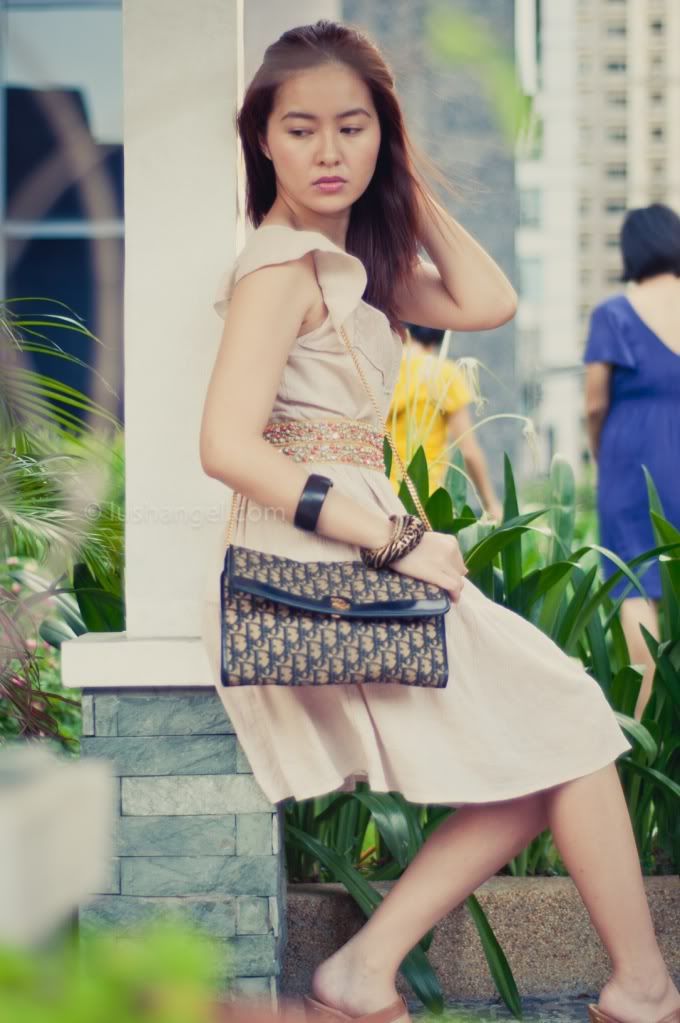 Okay, that was quite a long story. Sorry 'bout that! This is what I get from not blogging. I tend to blabber a lot since I wasn't able to share a lot of my stories. ANYWAY, back to my outfit again. For my bag and sandals, I chose colors close to flesh/ beige. I wanted my dress to be the focus so I avoided any pop of colors. I just chose to wear an embellished belt as my main accessory.
Dress: H&M
Belt: vintage from my aunt
Sandals: VNC
Purse: vintage Dior
Bangles: H&M and New Look
And what do I love about spring or summer?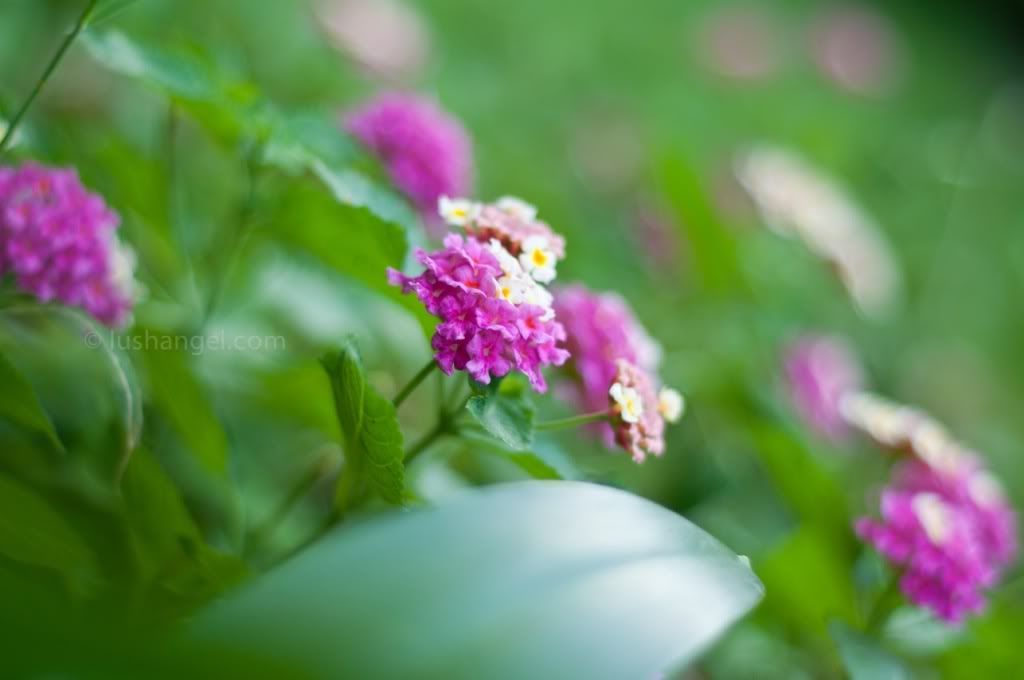 The blooming flowers!