Last May 24, 2011, Asus launched the new K Series notebooks and Eee Pad Transformer at Palladium Club in New World Hotel. I know this is quite a late post, but there's something in this event that's worth blogging. It's something that really caught my eye and until now, I can't get over it! LOL! 😀
What is it? Hint: It's the techy geek in me again! Ugh! Read on…
Let's take a look first of the newly launched K Series Laptops…
Yes, they're available in multi-color aluminum textures! 😀 It has the IceCool Technology, which lowers temperatures to maintain a comfortable palm rest feel, preventing unwanted heat build up. It now has the multi-touch touchpad, which allows you to easily scroll through web pages and pinch-zoom in and out of images. At the same time, the Palm Proof technology-equipped touchpad distinguishes between the contact surfaces of the palm and fingers to prevent inadvertent cursor movements during typing.
Asus K Series Notebook is powered by the 2nd generation Intel® CoreTM processors. You can choose from i3 (2.10Ghz dual-core), i5 (2.30Ghz dual-core), or i7 (2.00Ghz quad-core). It's also packed with NVIDIA® GeForce® GT 520M with 512MB/1GB DDR3 VRAM to boost multitasking, multimedia and gaming experience.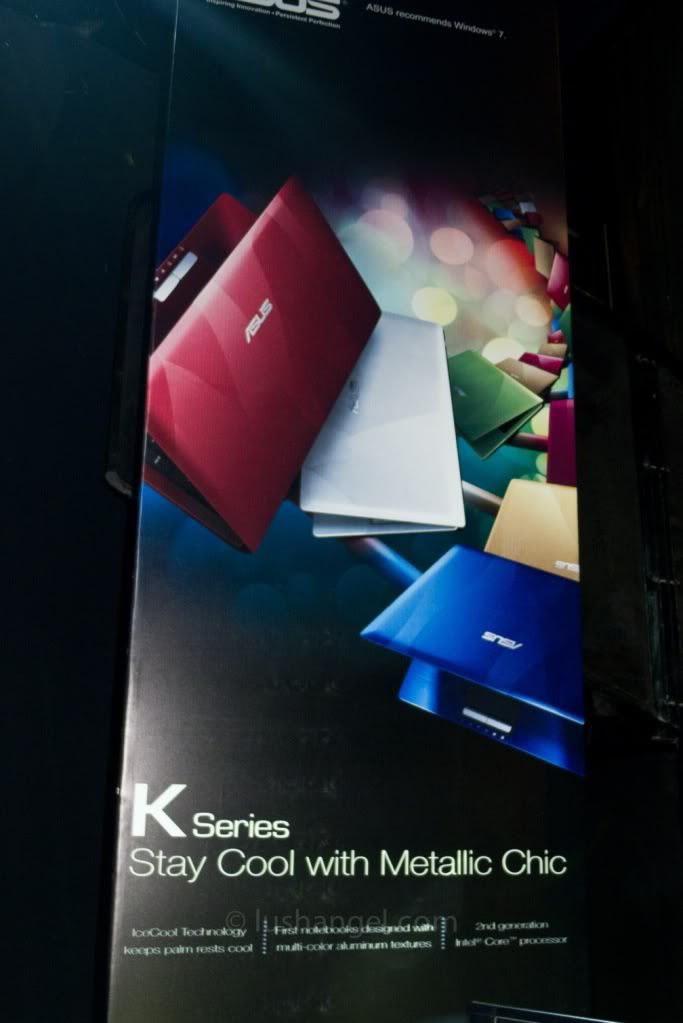 Price points are the following:
K Series K43SJ (PHP 29,995)
K Series K43SV-VX120 (PHP 32,995)
Get a closer look of the new K Series Laptops in the video below.
And now, what really caught my eye that I can't get over until now? It's another latest gadget from Asus- the Eee Pad Transformer! Seriously, when I saw it and laid my hands on it, I wanted to bring it home!!! I'm seriously considering giving up my current tablet for this! Why? It transforms! It can be a 10-inch tablet and a notebook! Now, how brilliant is that?! 😀 Let's face it, typing with a keyboard is way, way easier than with a touchscreen tablet alone. A blogger, like me, would definitely agree with me. I attempted to blog using my tablet once and I never wanted to try it again. I simply use it to play games and surf the net. With Asus Eee Pad Transformer, you can easily attach the keyboard to make it like a normal notebook and just type away! On the other hand, if you simply want a tablet for presentation, gaming or surfing purposes, just bring the pad! 😀
This 10-inch Eee Pad Transformer has a dimension of 271 x 171 x 12.98 mm. With a super slim profile of only 12.98mm thick in a frame that weighs only 680g, the ASUS Eee Pad Transformer is comfortable to hold from any position. The unique textured pattern offers a better tactile sensation, so it won't feel as if it will slip out of your hands.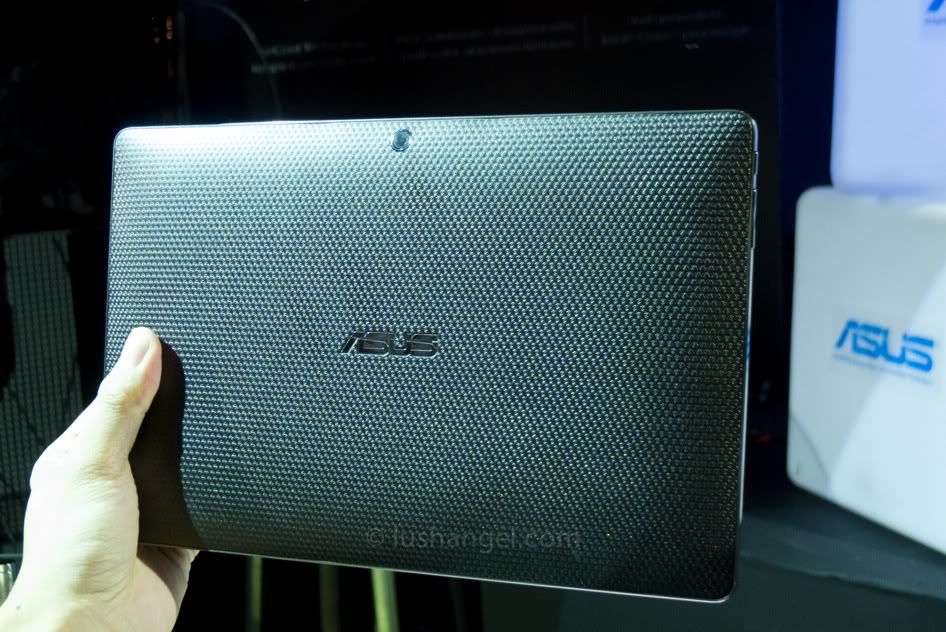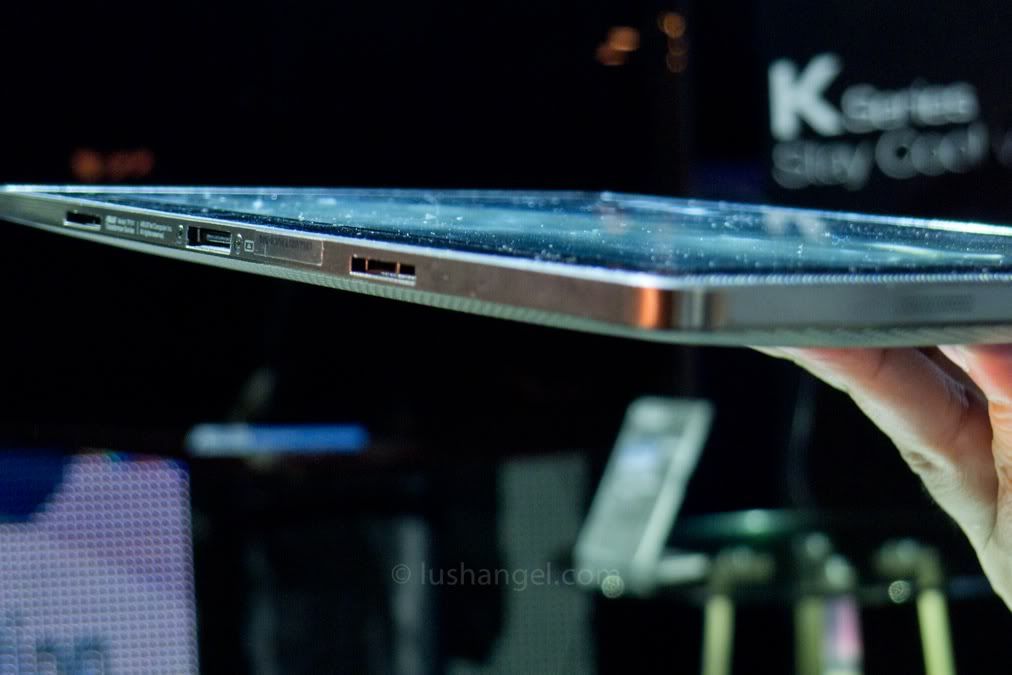 The Transformer makes the Eee Pad unique. The optional docking station provides access to a full QWERTY keyboard, turning the tablet Transformer into a notebook. The docking station also extends the Transformer's 9.5 hours of battery life up to 16 hours! That being said makes this a real winner for me! Hehe! 😀 But there's more to this amazing gadget.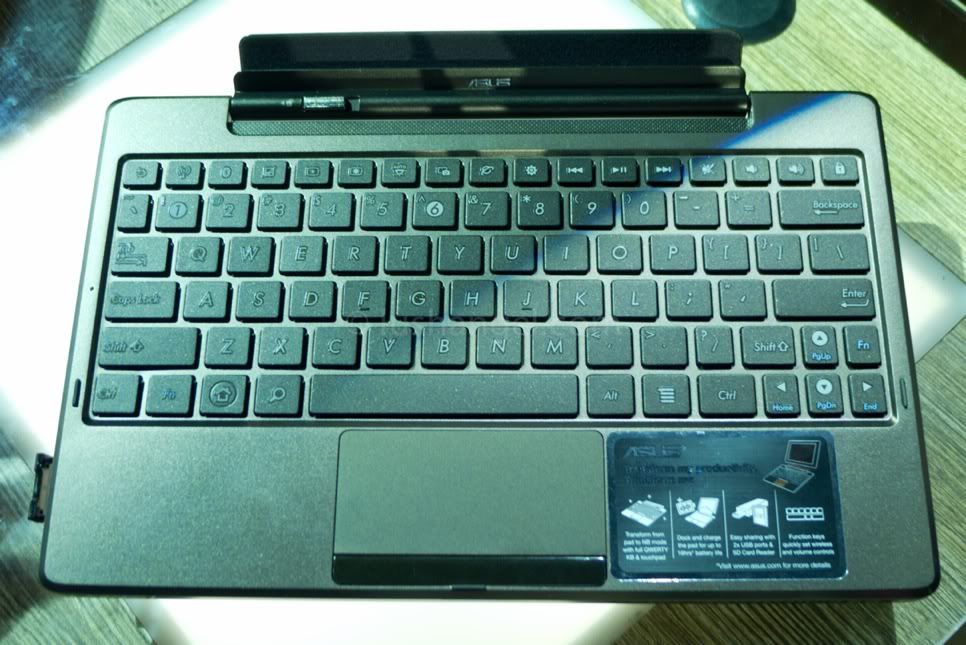 An IPS Panel made from durable and scratch-resistant glass (we really tested it with a key, as seen below!!!) is viewable at angles up to 178°, and produces a crisper and more accurate color range by up to 50% when compared to other tablets in the market.
A touchpad, 3.5mm audio jack, two USB ports, SD Card reader make this a versatile media hub. It also has a dual camera (1.2 mega pixel front camera and 5 mega pixel rear camera).
Preloaded on the Transformer is Polaris® Office® 3.0, a professional mobile office Solution which enables users to edit various types of office documents including documents (.doc), spreadsheets (.xls) and presentation (.ppt) files, making the Transformer very attractive for professional use. It runs under Android 3.0 Honeycomb operating system with Adobe® Flash® 10.2 support. It's powered by the NVIDIA® Tegra™ 2 1.0GHz dual-core CPU for excellent multitasking & 1080p video playback. It can also connect to a HDTV and 5.1 surround sound system through its HDMI 1.3a port.
Now, here's Lush Angel wanting to take home the Eee Pad Transformer!!! Waaaah!
Now, how much???
Eee Pad Transformer TF101 (PHP 22,995)
Eee Pad Transformer TF101 with Dock (PHP 29,995)
Not so bad, eh??? 🙂
Here's a video of the Eee Pad Transformer…
Before the event ended, they introduced their new brand ambassadors- Valerie Chua, Vince Golangco, Crissey Si and Arbie Won. Asus felt that these 4 brand ambassadors best represent the sophisticated, active and multifaceted lifestyle of this generation, where Asus gadgets can definitely fit in.
from left to right: Valerie Chua (graphic artist); Crissey Si (fashion icon); Vince Golangco (blogger/ radio DJ); Arbie Won (club DJ)
Asus also raffled a K Series Notebook and an Eee Pad Transformer to those who attended the launching event. As always, I don't have luck in such kind of raffles! Ugh! 🙁 How I wish I was able to take home that Eee Pad Transformer! Hehe! See, now you know how much I can't get it off my mind!!!
And as for my outfit for this event, you can check out the details in this outfit post. 🙂