I was invited by Rustan's and Elizabeth Arden team in a relaxing afternoon at Neo Day Spa, Fort. Who doesn't know Elizabeth Arden Green Tea?! The moment it was released, people where hoarding. Up to this day, it's one of the top favorite perfumes of ladies (and even gents). A small gallery was set up to give a short introduction of Elizabeth Arden Green Tea, together with its seasonal fragrances.
Now, they launched a new Elizabeth Arden Green Tea fragrance this season. Inspired by the tradition, heritage and experience of a Japanese Hanami Cherry Blossom Festival, the new Elizabeth Arden Green Tea Cherry Blossom captures the mesmerizing and ethereal beauty of cherry blossoms at the peak of spring.
Of course, the Elizabeth Arden team made sure to let us feel the cherry blossom festival. Neo Day Spa was transformed into japanese-inspired tea room with cherry blossom trees. 😀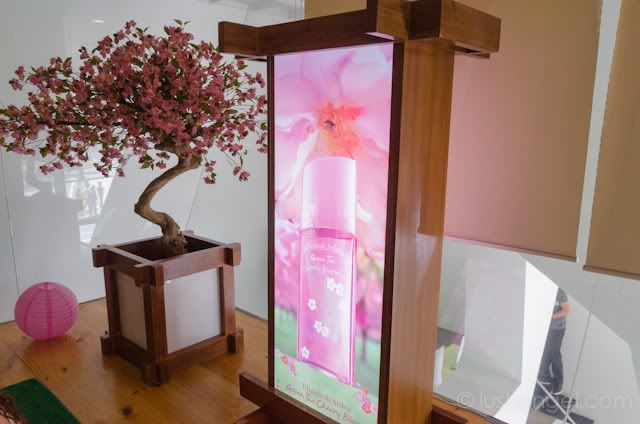 To complete the experience, we were served food and drinks with green tea extracts too.
Ethereal, fresh and feminine, this new exquisite citrus floral fragrance brings together the sparkling femininity of delicate pink petals and the lush freshness of green tea leaves to create a truly unique and beautiful fragrance experience. The scent opens with sparkling and luminous accords of lemon and bergamot. Its refrehing drops are combined with green tea vapor to announce delicate cherry blossom mixed with fine notes of green tea leaves. Abase incorporates woody notes of birch tree intertwining with angelica and moss.
50 ml  Eau de Toilette Spray (PHP 2,250) and 100 ml  Eau de Toilette Spray (PHP 2,950)
I find Elizabeth Green Tea Cherry Blossom very relaxing. Its refreshing scent would suit all ages. Those who love Elizabeth Arden Green Tea should definitely give this a try! 😀
We were also introduced to the new fragrance-free formula of Eight Hour Cream Silk Protectant. For those who are not aware, it's world famous for its incredible restorative abilities. It has become a beauty must-have for models, makeup artists, beauty editors, socialities, Hollywood celebrities and wome all over the world.
I was able to try it and it's pretty thick. It's perfect for dry skin and moisture will definitely last for 8 hours or even more.
There was also a makeup counter on one side of the room to let us try Elizabeth Arden's New Spring 2012 Color Collection, Rose Aurora. This color story is a modern twist on the original 1950's collection designed by Ms. Elizabeth Arden herself.
I'm in love with its elegant rose gold packaging and beautiful, soft rose printed cartons.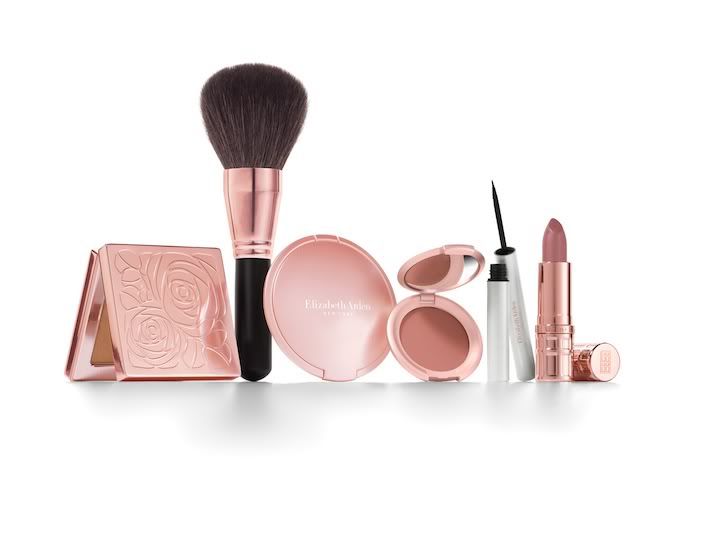 Rose Aurora collection includes: Pure Finish Bronze Powder (PHP 2,050), Pure Finish Highlighter (PHP 1,750), Ceramide Ultra Lipstick (PHP 1,400), Elizabeth Arden Liquid Eyeliner (PHP 1,100), and Ceramide Cream Blush (PHP 1,700).
 Here's Liz trying out the Rose Aurora Collection
 And here's the Rustan's and Elizabeth Arden team with the bloggers…
Elizabeth Arden Green Tea Cherry Blossom, Eight Hour Cream Skin Protectant Fragrance Free, and Rose Aurora Spring Color Collection are available in leading department stores and exclusively distributed by Rustan Marketing Corp.