I really hate it when I see baby hairs sticking out here and there. This is why I've always loved hair serums, hair cuticle coats or hair creams that can tame hair. I remember back when I was in grade school or high school, hair cuticle coats were only available in salons, so as expected, they were a bit pricey. A few months after hair polishers were available in department stores and supermarkets at really affordable prices. Weee! 😀
One of the few quality yet affordable brands that I still stick with is Vitress. I'm a big fan of their hair cuticle coat. What is hair cuticle, anyway?
The Hair Cuticle defines the smoothness and shine intensity of the hair because it can be seen and touched. It may get damaged by chemical processes, overexposure to sunlight (UV), too much heat from a dryer/curler/straightening iron, abusive brushing and combing, over-chlorinated swimming pool water, etc.
Therefore, hair cuticle coat wraps and seals each strand of hair to protect it from damage and breaking. It gives hair instant shine, smoothness, and softness. Aside from the classic or original variant, Vitress has 3 more kinds of hair cuticle coats depending on your needs.
If you have stubborn curls or waves, Vitress Instant Relax Cuticle Coat helps flatten unruly, wavy hair for a naturally straighter look through its Vita-Relax Technology.
Vitress Hair Repair Cuticle Coat is for dry, damaged hair. It can resist the ill-effects of chemicals used in perming, dyeing and other hair treatments through its Hydro-Restore System.
Vitress Heat Protect Cuticle Coat protects hair from the harmful effects of frequent blow drying, curling, or ironing through its Thermo-Shield Complex.
Vitress also has hair polish for those who want non-greasy hair styling cream.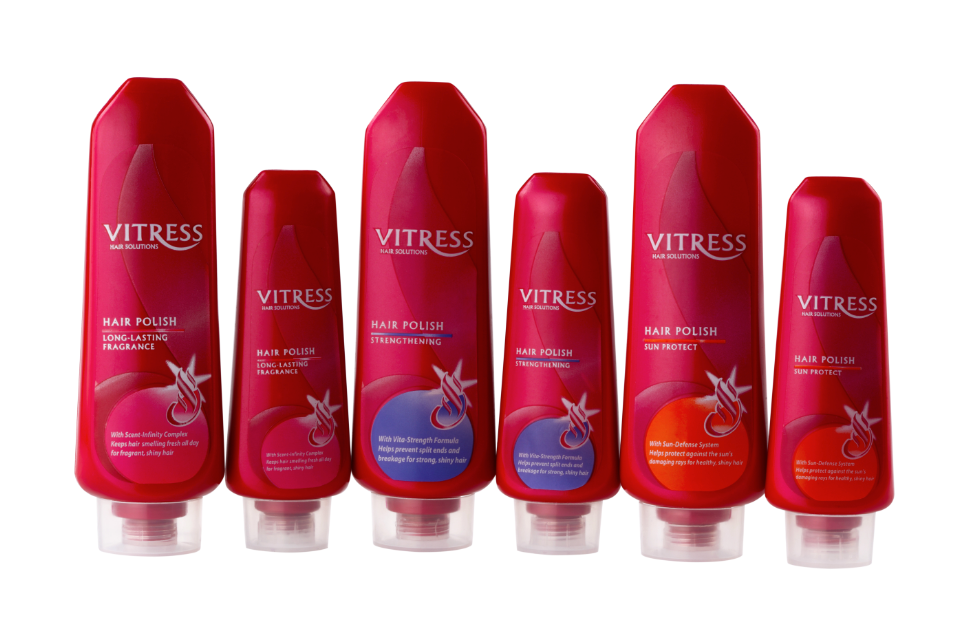 Vitress Hair Polish Strengthening is for the weak and brittle hair. It has vita strength formula preventing split ends and breakage.
If you'll be out the whole day and you'll be exposed to elements, like pollution or smoke, you can keep your hair smelling fresh, fragrant and shiny with Vitress Hair Polish Long Lasting Fragrance.
Vitress Hai Polish Sun Protect is for those who are exposed to the sun. Its sun-defense system helps protect hair from sun's damaging rays.
With a price range from PHP 33.00 to PHP 84.00, Vitress hair products can be an affordable way to tame and protect hair.