My "At Last" moment happened a few years back. After 3 years of getting burned out in my previous job, I finally had the courage to resign. Little did I know that God had a huge plan for me. It was unexpected. It was a big surprise.
During my first week of being free from the corporate world, I attended a casting call as a favor to my friend. It was my first time to attend a VTR then. I never liked going to one. It has never been my thing since I'm honestly shy. In fact, if you check my posts when I started this blog, I never posted a picture with my face in it. I even put a happy face icon on top of my face when I do outfit posts. Ridiculous, right?! It makes me want to delete all those posts. LOL! Well, that's how shy I was so I never thought I'll be working in front of the camera. Plus, it was my first time to audition, so what are the chances I'll be getting the part?! I just thought of going for the experience before I reach 30. Haha! Also, I am not used to not doing anything. I wanted to rest after getting burned out in the corporate world, but my body doesn't want to.
Anyway, fast forward. After a few days, I received the news that I got the part I casted for in a TV commercial. Another plus, it was for an international stint. I die right there and then. LOL! 😀 This probably marked my "At Last" moment. From then on, I got continuous modelling projects for both TV commercials and prints internationally. But more than the projects I got, I guess the most important "At Last" moment for me was the confidence I gained from the experience. Of course, I'm still a bit shy, but it's a work in progress. 😀
What is your "At Last" moment? Godiva Natural Skincare is inviting you to share your story and a photo of it! Get a chance to win Godiva Natural Skincare gift pack. They will choose 3 entries per week from July 5 to August 2, 2013! Promo is open to all Philippine residents. For more information, head on to their facebook page- https://www.facebook.com/GodivaNaturalSkinCare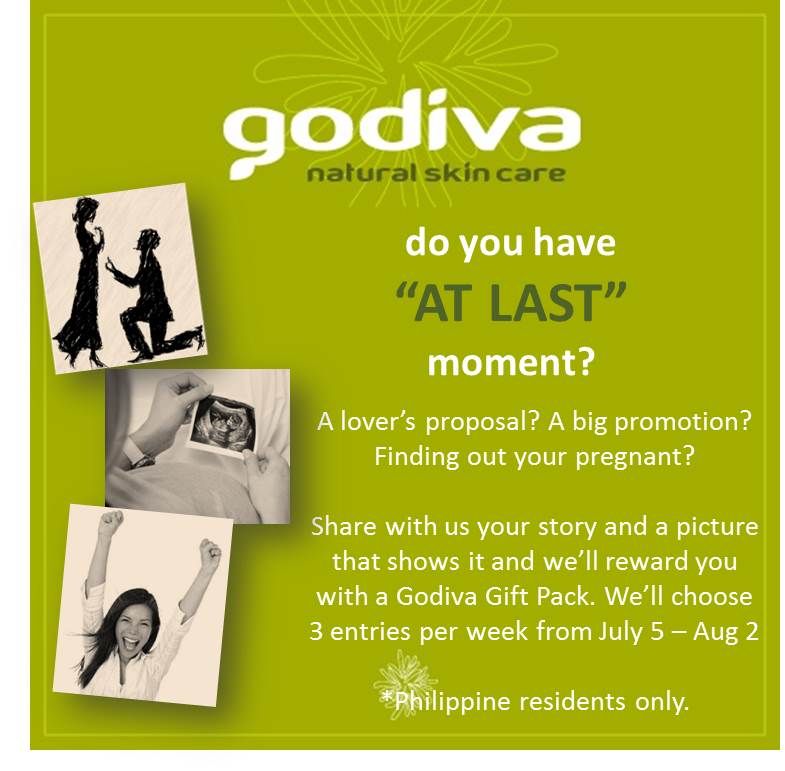 For instant beauty, fashion, travel, foodie, or random updates from me, LIKE lushangelblog on FACEBOOK, FOLLOW  lush_angel on TWITTER and lush_angel on INSTAGRAM.