Since I got my DSLR back in 2009, one of the places I've been meaning to go to is Corregidor. No doubt, historical places, such as Corregidor, would be a great venue for photo op. After 2 years, I was finally able to set my foot on the island, as seen in my previous outfit post. 😀 Yes, FINALLY!!! 😀
Sun Cruises handles the tour for Corregidor. They have day tour and overnight packages. Their current rate for day tour is PHP 1,999 per person, inclusive of roundtrip ferry transfers (from and to Manila harbour), entrance and terminal fees, guided island tour and buffet lunch. As for overnight packages, PHP 2,880 per person for single and PHP 1,999 per person for twin/ double/ triple sharing. Overnight package includes roundtrip ferry transfers, entrance and terminal fees, guided island tour, (1) buffet lunch on day 1 and overnight accomodation at Corregidor Inn. My friends and I availed of the day tour package, which we only got for PHP 1,500 per person! We got these promo tickets late last year in a travel fair. What's even great about this deal is our package includes a Manila Bay Dinner Cruise, which costs PHP 550 per person. More about the Manila Bay Cruise in my next post.

So thinking about it, we just paid PHP 950 for our Corregidor day tour! Yay! 😀 See, it pays to visit travel fairs! Hehe! 😀
Our day started early- something I'm not really used to, except when I'm on vacation. I know, it's ironic. Well, I just try to make the most out of my day when I'm not in Manila.

Plus, check-in time at the CCP Bay Termianl (near Folk Arts Theater) is at 7:00 am and boarding is at 7:30 am, so I really have no choice. Hehe! Unless, I'd rather be left behind (definitely, not an option!).
The ferry ride is approximately about an hour. We arrived at the island of Corregidor around 9:00 am and a number of trams with tour guides in it are already waiting for us. The tram would be the mode of transportation for the entire trip.
Corregidor is definitely a nice place for photo op and of course, to learn more about history. I just used to read about Corregidor in school books and look at pictures all over the internet. I thought I pretty much knew everything about this historical place, but once I set foot on the island and the tram started to tour us around, I was still left at awe! I never knew that such place still exists here in the Philippines. Well, I already knew what to expect before we went to Corregidor. It's just that, it really feels different when you see it in person!

I love ruins. I love looking at them. I love taking pictures of them. Ruins are just so lovely no matter what angle you take them.

a canon behind me…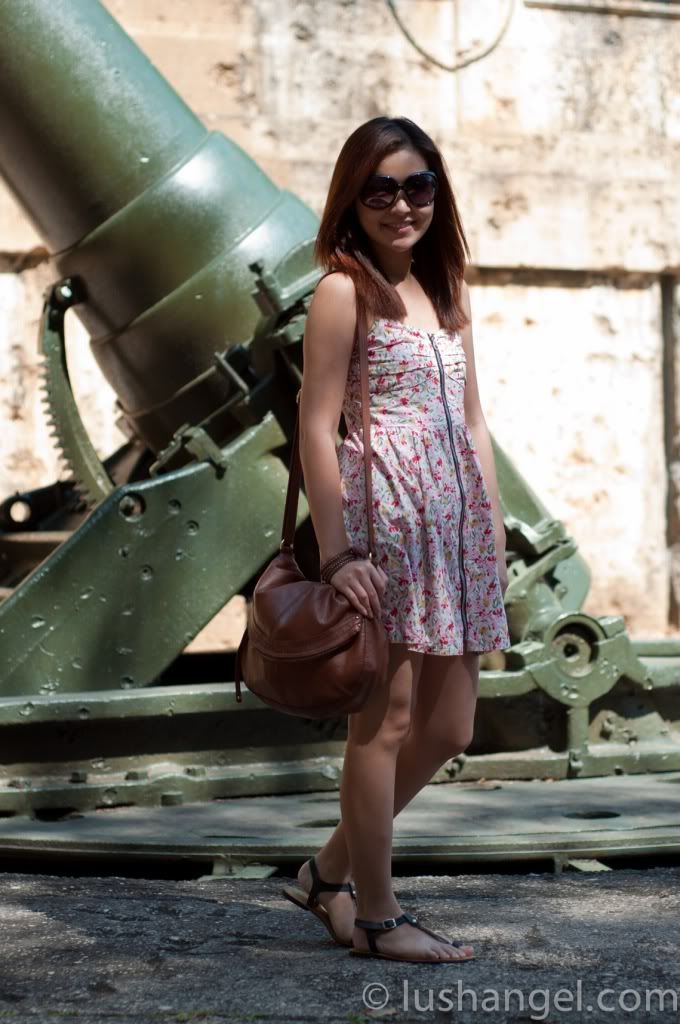 An optional part of the tour is the Lights and Sounds Show, which costs PHP 150.
It's pretty much about the history of the Philippines, specifically what happened in the island of Corregidor during the American and Japanese occupation.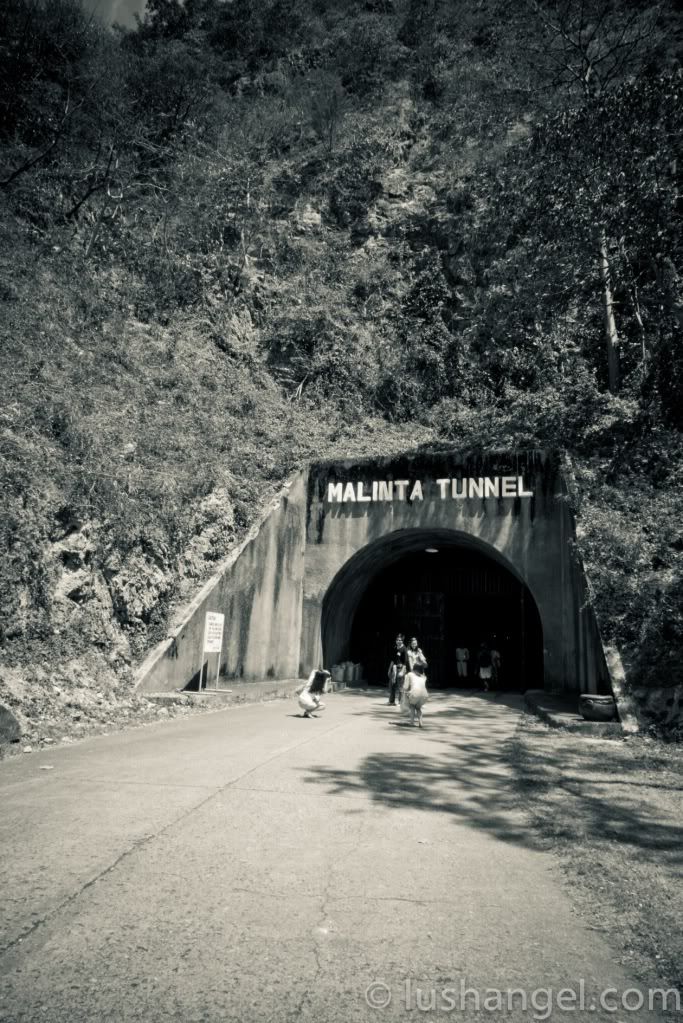 To be honest, I really don't recommend this to those who are not into history. My friends and I got really bored. Don't get me wrong- not that we don't love history. Probably because we were all tired and restless already by this time and we expected more from the show. We have to walk inside Malinta Tunnel, as seen below. Ushers would stop us from time to time to view videos on the wall or statues, while voice-overs about history were played. The show ran for about 30 minutes.
the lighthouse…
Can I just say- It was sooo hard to go down that lighthouse! The stairs were so steep! Eeeek! Scary!

Well, was it worth it? You can judge from the view below.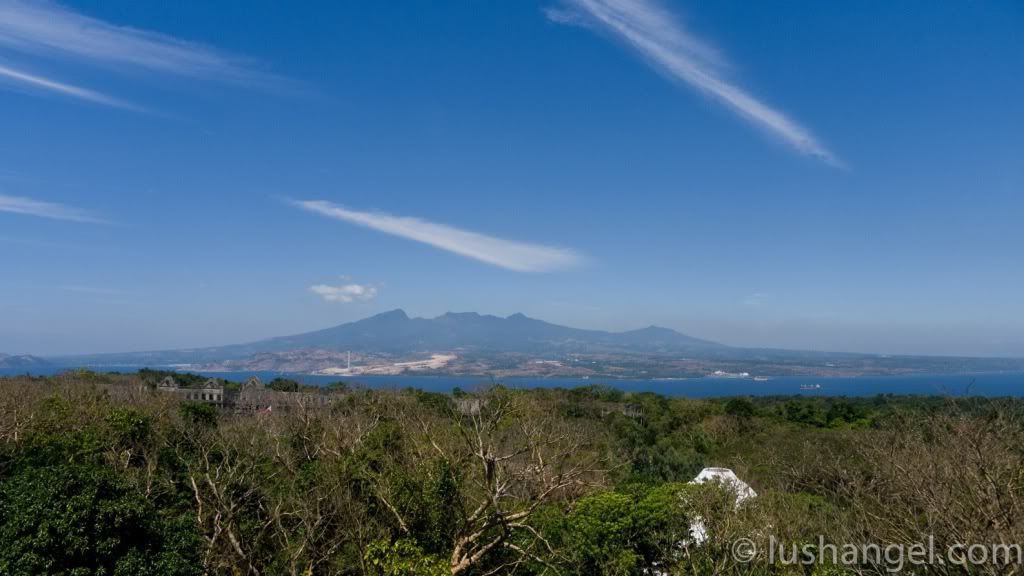 Well, yeah… That's it! Hehe! 😀 Bringing me to more ruins, such as the picture below, would bring me more joy! LOL! Whew! Did I mention how much I love ruins?!?! LOL! 😀
Douglas MacArthur's famous "I shall return!"
I wish I had more pictures around the island.

We already had the perfect weather and don't mention- the blue skies! It's just so hard to take photographs when you're on a tour. It's really a skill to get a lot of good photos under time pressure. Hehe!

Disclaimer: Prices above are as of March 1, 2011. These may or may not change without prior notice.
Sun Cruises Reservations Office
CCP Terminal A. CCP Complex, Roxas Boulevard, Manila, Philippines
Tel. Nos. (632) 831-8140,(632) 834-6857 to 58
Fax No. (632) 834-1523
E-mail: suncruises@magsaysay.com.ph
Sun Cruises Sales Office
21st Floor Times Plaza Bldg., Ermita, Manila, Philippines
Tel. Nos. (632) 527-555 local 4511 and 4512
Fax No. (632) 527-5555 local 4513
E-mail: sales@suncruises.com.ph
Corregidor Inn
Corregidor Island, Cavite
Mobile: 0917-5276350
E-mail: corregidor_inn@suncruises.com.ph