When I learned about the effectiveness of Glabridin from licorice, an ingredient used by Godiva Natural Skin Care, I was so excited to try out their products. (To know more about Glabridin and Godiva Natural Skin Care products, visit my GODIVA NATURAL SKIN CARE POST. You can also read my Godiva Whitening Lotion Review HERE.) I have sensitive underarms so I'm very picky when it comes to deodorants. Today, I'm reviewing Godiva Anti-Perspirant Deodorant. Let's see how it fairs on my sensitive skin.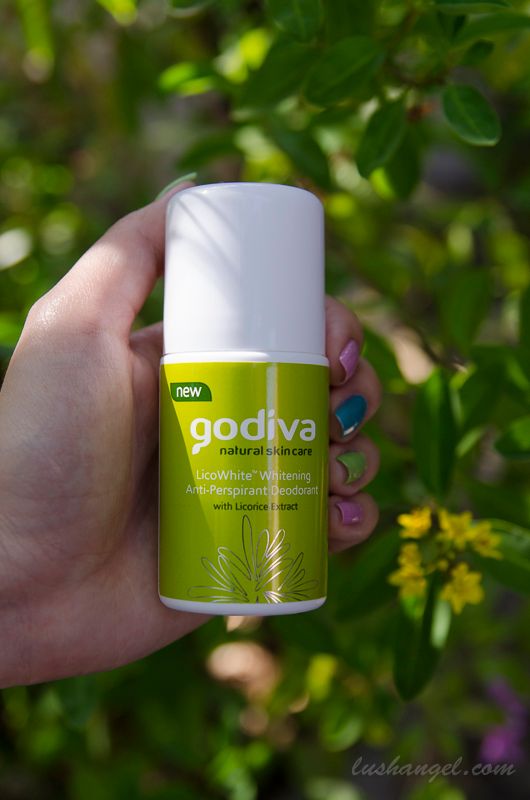 Godiva Anti-Perspirant Deodorant Product Information
Godiva LicoWhite™ Whitening AntiPerspirant Deodorant contains Glabridin from licorice. It has high levels of whitening ingredients to lighten dark underarms faster. Safe for continued use for longer-lasting whiter skin.
I love Godiva Anti-Perspirant Deodorant because…
it's fragrance-free.
it didn't cause me any irritations or allergic reactions.
it's mild. It doesn't sting.
it doesn't contain alcohol.
it keeps me protected all day.
it dries up pretty quick upon application.
it doesn't darken the underarm.
it didn't stain any of my tops.
it's not hard to remove when taking a bath.
it's affordable. Godiva Anti-Perspirant Deodorant 100ml is priced at PHP 120.00 and 6ml is just PHP 8.00.
I wish Godiva Anti-Perspirant Deodorant…
is an effective anti-perspirant. If you really sweat A LOT, it may not keep you dry all day especially when engaging in strenuous activity.
Tips on Godiva Anti-Perspirant Deodorant
If itchiness or allergies occur, stop using the product.
Since it's a mild deodorant and it doesn't darken underarm, Godiva Anti-Perspirant Deodorant is great for everyday use.
Godiva Anti-Perspirant Deodorant Verdict
I've been using Godiva Anti-Perspirant Deodorant for 6 months now and I'm very satisfied. It's mild to use everyday and it doesn't cause darkening of underarm. It keeps me protected all day. I don't really sweat a lot so it's good enough for me when it comes to the anti-perspirant department. It may not be enough for those with very active lifestyle or for men though. As for its whitening claim, I can't vouch that it can lighten really dark underarms since thankfully, I don't suffer such problem (knock on wood).
Godiva Anti-Perspirant is available in leading local department stores. For international readers, you can also order online-www.godivaskin.com.ph
Godiva Natural Skincare Giveaway
It has been a while since I last gave out Godiva Natural Skincare gift packs. Today, I'm giving away giving away 3 gift packs of Godiva Natural Skin Care to 3 lucky readers:
1 Complete Set- Bar Soap 135g, Face Wash 50ml, Toner 100ml, Face Cream 40g, Lotion 100ml, Deo 40ml
1 Face Regimen Set- Face Wash 6ml (sachet in box), Toner 60ml, Face Cream 6g (sachet in box)
1 Body Regimen Set- 2x Bar Soap 65g, Lotion 6ml (sachet in box), Deo 4ml (sachet in box)
*PLEASE NOTE THAT FACE CREAM IS SUBJECT TO AVAILABILITY AT THE TIME OF DRAW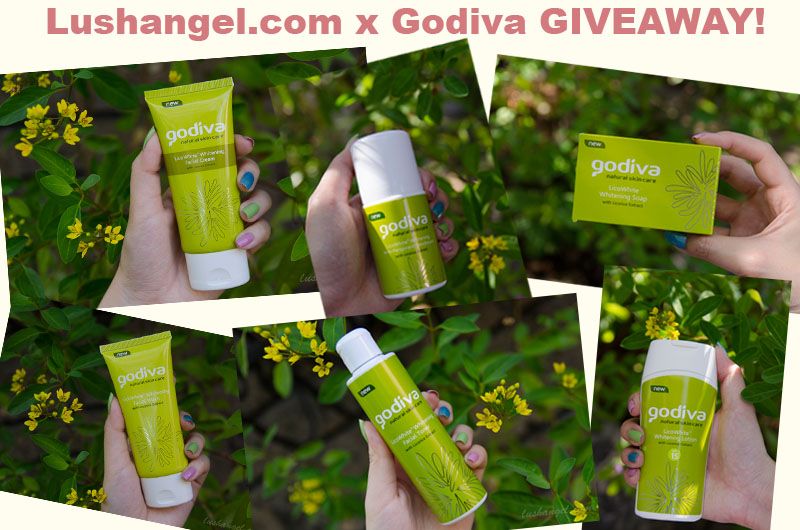 It's so easy to join. Just follow my instructions via Rafflecopter. It just involves the usual "likes".

Reminders:
Giveaway ends on November 8, 2013 (12:00am).
Winners will be announced here on my blog.
3 winners will be chosen via Rafflecopter.
Metro Manila winners must claim the prizes at Godiva's office along Pasong Tamo extension, Makati City.
Prizes will be shipped to those living outside Metro Manila.
Good luck to all! 
For instant beauty, fashion, travel, foodie, or random updates from me, LIKE lushangelblog on FACEBOOK, FOLLOW  lush_angel on TWITTER and lush_angel on INSTAGRAM.