One of the first products I tried when I received my Godiva package is the Godiva Whitening Lotion. I got really excited when I first heard about Licorice, an ingredient found in Godiva Natural Skin Care products. Visit my GODIVA NATURAL SKIN CARE POST to know more about it. After trying the lotion for weeks, here's my review. I have to say, trying lotions during summer here in the Philippines can be an ultimate test if the product is apt for our weather! 😀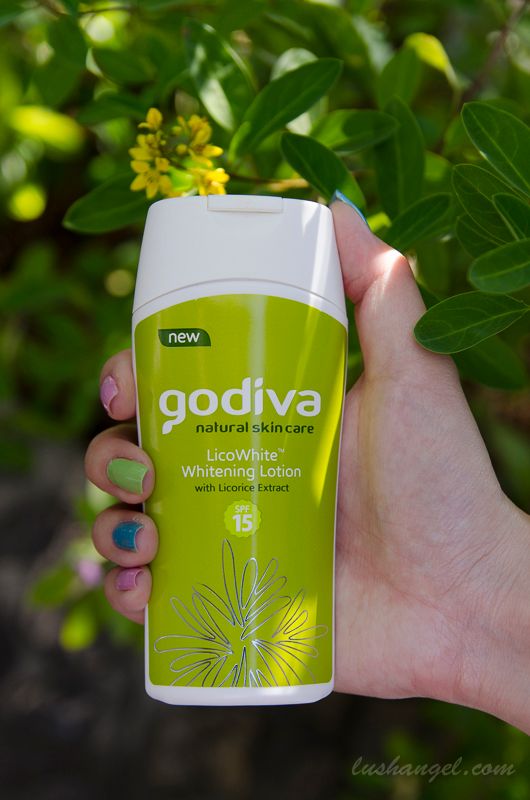 Product Information
Godiva LicoWhite Whitening Lotion with SPF15 (100ml Php120.00; 6ml Php8.00) helps even out skin discolorations caused by age, scarring and pregnancy. It provides sun protection as it moisturizes to keep skin soft and smooth. Godiva LicoWhite Whitening Lotion with SPF15 contains Glabridin, a powerful skin whitening ingredient from licorice extract that is both effective and gentle to the skin. It is safe for continued use for longer-lasting whiter skin.
I love it because…
it has a faint relaxing scent.
there's expiration date indicated at the bottom of the bottle.
it's perfect for our humid weather. It doesn't feel sticky nor greasy once absorbed.
it doesn't feel heavy on skin.
skin feels supple and moisturized. Note that since Godiva Whitening Lotion doesn't have very thick texture, it may not fully hydrate extremely dry skin.
it has licorice extract, which is widely recognized all over the world as the most potent, naturally-derived whitening ingredient.
it didn't cause me any allergic reactions or irritations.
it's very affordable at PHP 120 (approx. USD 3) for 100ml and PHP 8 (approx USD 0.20) for 6ml.
I wish…
it has higher SPF. Although higher SPF can also mean, thicker formulation which can get sticky.

it's easily absorbed by my skin. It takes a few minutes for the lotion to be fully absorbed, but once it does, I don't feel any greasiness, which is definitely perfect for our humid weather.
Tips
Store in cool and dry place.

Use day and night. Reapply when needed.

Apply ample amount on legs, arms, and body.
Overall
I'm very particular when it comes to body lotion. I hate the sticky and greasy feeling, especially with our humid weather. I even skip lotion application when I know I'll be out in the sun for quite a while. The combination of sweat and lotion makes me want to run to the shower. The first time I applied Godiva Whitening Lotion, I thought I wouldn't like it. It took a while for the lotion to be absorbed by my skin. I was surprised that the sticky feeling was gone after a few minutes and my skin was left soft, smooth and moisturized! 🙂 This lotion is indeed perfect for our weather! Once the product gets absorbed, it's as if I didn't put anything on my body. There's no heavy feel, unlike rich body lotions. I cannot vouch for its whitening effect as it would take more time to see the difference.
I recommend Godiva Whitening Lotion to those looking for a body moisturizer that's not sticky nor greasy and that's perfect for humid weather. It's for normal to dry skin. Very dry skin might need a richer body lotion.
Now for my May Godiva Giveaway, here are the winners:
Belinda Ibanez: 1 Complete Set- Bar Soap 135g, Face Wash 50ml, Toner 100ml, Face Cream 40g, Lotion 100ml, Deo 40ml
Maria Jobelle Lopez: 1 Face Regimen Set- Face Wash 6ml (sachet in box), Toner 60ml, Face Cream 6g (sachet in box)
Aliz Maganis: 1 Body Regimen Set- 2x Bar Soap 65g, Lotion 6ml (sachet in box), Deo 4ml (sachet in box)
Congratulations Belinda, Jobelle and Aliz! Please e-mail me at [email protected] on how to claim the prizes. To all those who joined, thank you for the support. Don't worry, there's another Godiva giveaway coming next month! 😀
To know more about Godiva Natural Skin Care, follow GodivaNaturalSkincare on Facebook and GodivaSkin on Twitter.
For instant beauty, fashion, travel, foodie, or random updates from me, LIKE lushangelblog on FACEBOOK, FOLLOW  lush_angel on TWITTER and lush_angel on INSTAGRAM.