While I wait for Make Up For Ever Smoky Couleur to come out, which I shared in this post, I searched for some distraction. Well, I guess it was a bad idea as I end up wanting more! Ugh! Check out Fall 2011 Collection Illusion d'Ombres De Chanel!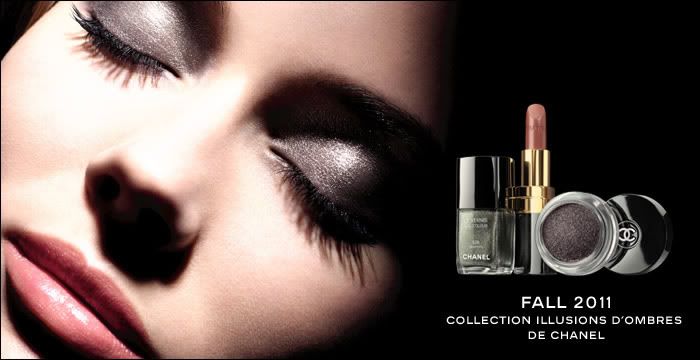 It's all about luminous shimmers and dramatic metallics that bring touches of radiant colour to face and fingertips!!!
As seen in their website:
Peter Philips, Creative Director of Chanel Makeup, pays tribute to the expertise and talent of exceptional ateliers: the artisans of the House of Chanel.

Each creation is born of inspiration, like a vision the emerges from the shadows into the light.

Inspired by spun gold and bronze and platinum shimmers. The Fall 2011 Collection glimmers with radiance.

Embrace the beauty of Illusions d'Ombres De Chanel.
Watch the video below to get a closer look…
I saw these Chanel gel eyeshadows when I dropped by the store. The colors are really intense! It can be worn as eyeshadow or eyeliner. Oooh! I love! Ummm… samples are always welcome… *Ehem* Haha! 😀
I really can't wait for fall!!! There's so many lovely things coming out. It has always been my fave season. Aside from the weather, I have always been in love with fall fashion. Too bad, we only have 2 seasons here in the Philippines. 🙁 But, but, but… I might be experiencing Fall this year!!! Weee! Time to let my coats breathe! 😀 *crossing my fingers* 😉