Allow me to set aside fashion and beauty for awhile and let me share with you some jaw-dropping dishes. Jaw-dropping not because of their appetizing look but because of their over the top prices. Some of us find a PHP 1,000 dish expensive already. Wait till you read what I'm about to share…
Yes, we've heard of the $1,000 pizza in New York. It was all over the news some time in 2007, if I'm not mistaken. This pizza is topped with lobster tail and caviar. If you love pizza and caviar, then this dish is for you.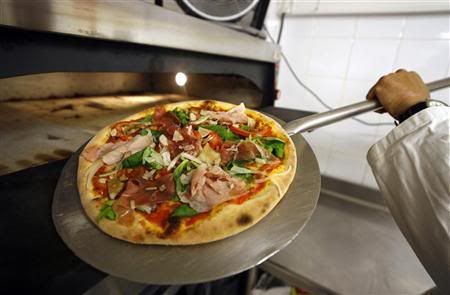 photo from http://www.reuters.com/
Ever wonder what gold might taste like? The Sultan's Golden Cake in Istanbul is one of the most expensive, if not the most expensive cake in the world. This cake consists of ingredients that have been marinated for 2 years. As the name connotes, this cake has 24-karat edible gold. Well, talk about bling bling, baby! If you want to live like a king, here's a $1,000 cake for you.
photo from http://www.fudgin-it.com/
Ever heard of the FleurBurger 5000? You can take a bite of this luxury burger at Fleur de Lys in Mandalay Bay, Las Vegas. It's made of Kobe beef patty topped with foie gras (goose liver) and black truffles. To all burger lovers out there, this dish is priced at..you guessed it right…$5000! Oh, I heard you get to have a certificate at the end of the meal. Now, at least you have a souvenir after finishing all that burger. 😉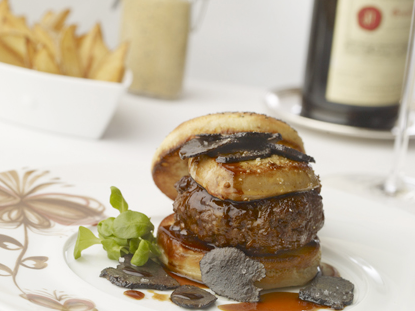 photo from http://www.luxist.com/
After eating your PHP 45,000 pizza, PHP 45,000 cake and PHP 225,000 burger, why not go for a PHP 1,125,000 chocolate dessert?! That's right! Serendipity 3 in New York has a $25,000 dessert called Frrozen Haute Chocolate. Spelled with double Rs, this sundae consists of 28 cocoas and real edible gold. It's topped with whipped cream, truffles, and yes, more gold. This luxurious dessert is served with a gold spoon with white and chocolate diamonds on it. Yes, another souvenir you may take home with you. 🙂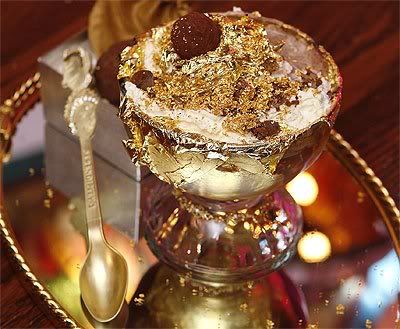 photo from http://stuntmanblog.com/
What dish should I try? Nothing! I'd rather starve and save my money for makeup and bags! Hahaha! 😀
xoxo,
Lush Angel