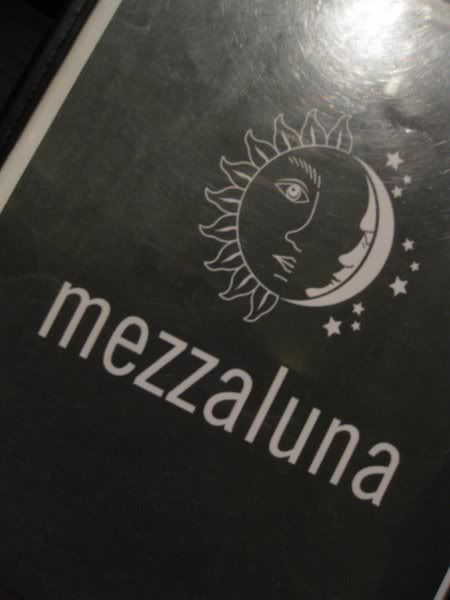 As I have said in my previous post, I celebrated the eve of my birthday at Mezzaluna, Serendra. It was actually my first time to dine there as I have never had an urged to try it out until recently.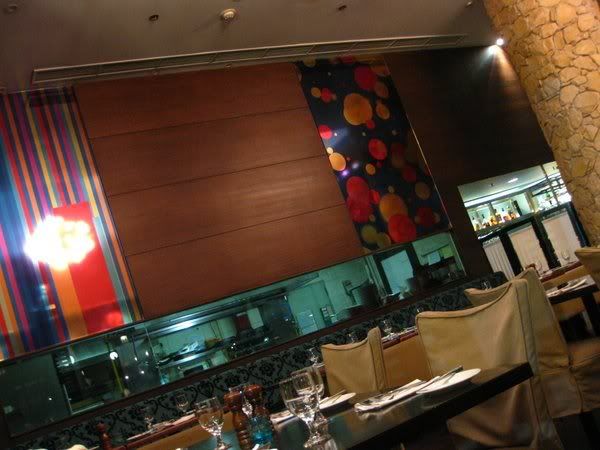 When we got inside, there was only one table occupied. I suddenly thought Mezzaluna might be a bad choice, but hello it was a Monday! In fact, after 5 mins, Arthur and I were the only customers left in the restaurant. Hmmm.. Did he actually closed down Mezzaluna for me??? Awwww… LOL! Just kidding! 🙂
Anyways, moving on… Let me first describe the ambiance. Over-all, I find the place very relaxing. It's not like those noisy, rowdy restaurants.  In my opinion, it's actually close to fine dining. Hmmm… Or is it because we were
the only ones in there?! Well, I wouldn't know unless I go back some other time. Hehehe! As for the surroundings, it's well-lighted with yellow lights, which is just so perfect. It definitely adds to the relaxing and warm mood. 🙂 Oh, and I just need to mention that I love their "wine cellar". Well, I'm not even sure if that's considered a wine cellar (photo on the right). It's nothing fancy at all. It's just like a refrigerator with lots of wines in it. For some reason, I just like seeing numerous wines displayed all together. Hehehe! 🙂 Something I want in my dream home (so I guess that will forever be a dream)… LOL! 🙂
Now, for our orders, Arthur and I ordered Chicken Piccata and Peppered Tuna Steak, as seen below.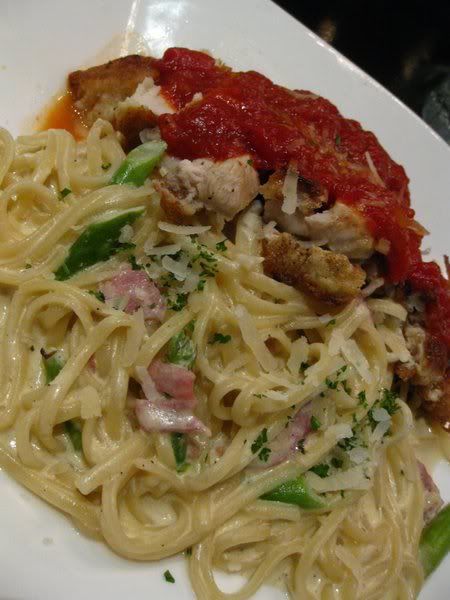 Chicken Piccata is pan fried chicken breast strips topped with pomodoro sauce on bacon flavored pasta with asparagus. Now, that sounds interesting, eh? 🙂 When I saw the description in their menu, I ordered it right away! I love pasta! I love bacon! I love asparagus! And I love pomodoro sauce! Now, this dish is definitely for me! My likes are all in 1 dish! 🙂 It's priced at Php 390, which is very cheap since the serving is way too big, especially for small eaters. So how was the taste?  It is delicious, but I find the mix of the cream sauce of the pasta and the pomodoro sauce too rich. Considering the size of its serving and the richness of the sauce, I couldn't even finish half of it. It is worth a try though, especially for the cream sauce lovers.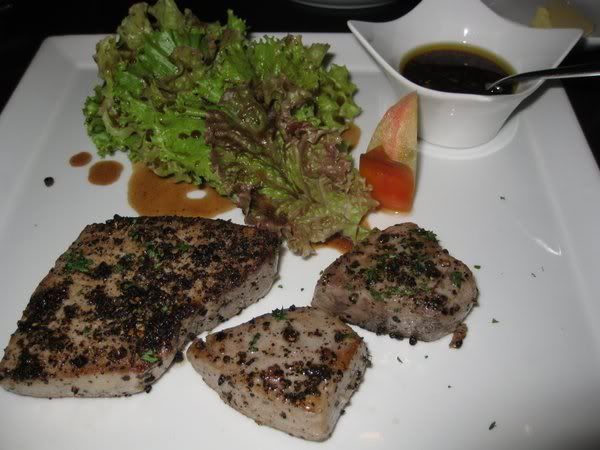 The Peppered Tuna Steak is a pan seared drizzled with vinaigrette-sundried tomato dressing. To be honest, I'm not a pepper lover at all. I can eat food with pepper for as long as I don't taste those chunky black pepper. When the dish arrived, I was surprised to see that the tuna steak was like covered with pepper! Waaaah! Nightmare for me! LOL! 🙂 Well, I know, I was kinda stupid not to realize that. Hello?! The name says it all! Anyways, no choice, I still have to eat it, or else this Php 485 dish would just be wasted. So how did I eat it? I obviously scraped off all the pepper before getting a bite! Hahaha! And guess what, after taking out all the pepper, take my word for this- it is damn so delicious! 🙂 Whew! The tuna tasted so fresh. The mix of spices made it so tasty. It was perfect! Coming from a meat lover, yes, it must be that goood. Hehehe! 🙂 The vinaigrette-sundried tomato dressing perfectly fits the tuna steak! This dish is a must, especially for the pepper lovers! 🙂
In the end, celebrating the eve of my birthday at Mezzaluna is not bad after all. Tasting something new all the time has always been a past time for me and Arthur. 🙂 I will surely miss that when he leaves… 🙁