What makes me excited this Fall 2011? It's Make Up For Ever Smoky Couleur! It's the newest collection of Make Up For Ever, which includes the eye makeup essentials- limited edition Eye Shadow Smoky Palette, 3 new Khol Pencils and 4 new shades of Smoky Lash Mascara, inspired by the rich jewel tones seen on the fall 2011 runways.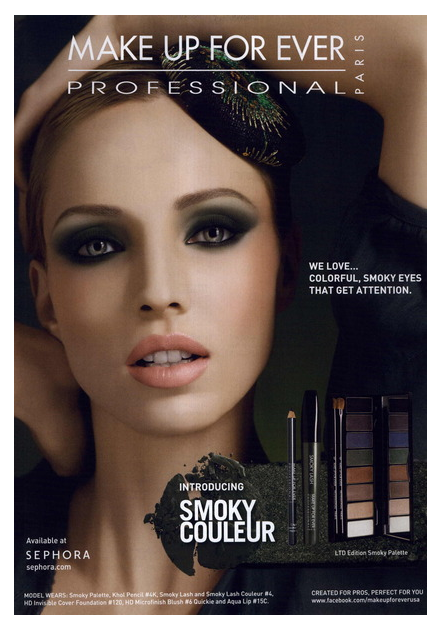 Photo from myfdb.com
I seriously want to own that limited edition Make Up For Ever Smoky Palette! I've tried Make Up For Ever eye shadows during my makeup classes and they are indeed long-lasting and highly-pigmented. A single eye shadow costs about $19, but this palette is priced at $45 with 8 colors ranging from subtle neutrals to dramatic jewel tones and 2 brushes! Well, obviously the size of each eye shadow in a palette is smaller compared to the singles, but you won't need much when applying. A little goes a looong way because, as I said, they're really highly-pigmented. Oh gawd, I'm talking like an endorser of Make Up For Ever already! Haha! I guess my train case would pretty much tell how much I love their products! 😀
The Make Up For Ever Smoky Palette set includes eye shadows in #4 Black, #79 Deep Plum Shimmer, #81 Metallic Navy Blue, #80 Peacock Green, #122 Metallic Copper, #127 Metallic Taupe, #126 Yellow Beige, #7 White Shimmer, brush 16P and brush 10P.
I love the soft and creamy texture of Make Up For Ever's Khol Pencils. It can easily be blended and smudged for that smoky eye look. It can also be used to line the inner eye and above/ below the lash line. The new colors of M.U.F.E.'s Khol pencils are #8K pearly deep blue, #9K matte mocha brown and #10K pearly black purple.
And of course, to complete that perfect eye makeup, Make Up For Ever's Smoky Lash Mascara gives that length and volume to your lashes. It's now available in #3 deep brown,#4 green, #5 dark blue and #6 plum.
Want to have an idea how to use all these? Check out the making of Make Up For Ever's Fall 2011 Smoky Couleur!
To all the beauty junkies out there, I know Make Up Forever Smoky Couleur can be irresistible!!! Oh my, I really want that Smoky Palette. Ummm… My birthday is coming up! I'm accepting sponsors. LOL! 😀 😀 😀