Oh dear!!! I'm still catching up on all the news I missed since I left. Okay, this is embarrassing… I didn't know that David Cook and David Archuleta will be having a concert here in Manila! I just learned about it this week while I was listening to the radio. Hahaha! And guess what, I asked my music blogger friend, Ed, if I heard that right. He said rumors about David Cook going here in Manila started late last year! Oh dear! My bad! Anyway, probably I'm not the only one here on earth that does not know about this news so I'm blogging about it. Hehehe! 🙂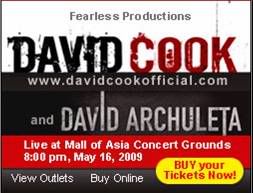 The concert of David Cook and David Archuleta will be held at Mall of Asia Concert Grounds on May 16, 2009. Yes, on a Saturday so that's good news for most of us. Tickets can be bought in any TicketWorld outlets or through their website. Ticket prices are as follows:
VIP: Php 3,625
GOLD: Php 2,075
SILVER: Php 625
BRONZE: Php 315
If only it will be held in some other place aside from Mall of Asia, I would surely watch this! I'm quite disappointed with the venue. I really prefer Araneta Coliseum for concerts. I hate open fields, but of course the Rihanna and Chris Brown concert is an exception. Hehehe! 🙂
For more inquiries about David Cook and David Archuleta concert, you can contact TicketWorld at 891-9999.