WARNING: Really long post ahead because of my frustration… LOL! 🙂
When I first opened my e-mail last April 23, 2009, there was one subject that caught my attention right away- "PAL 2-Day Sale Promo- THE REAL DEAL". Since I've been itching to go out of the country these days (probably because I just came from vacation), I opened that mail right away. OMG! The rates were unbelievable. I was thinking that there could be some catch at the end of the mail or some hidden charges, but no! It specifically says "no hidden charges" and the prices are "all-in" packages. Okay, for those who weren't able to see this mail or their advertisement in the local newspaper, here it is: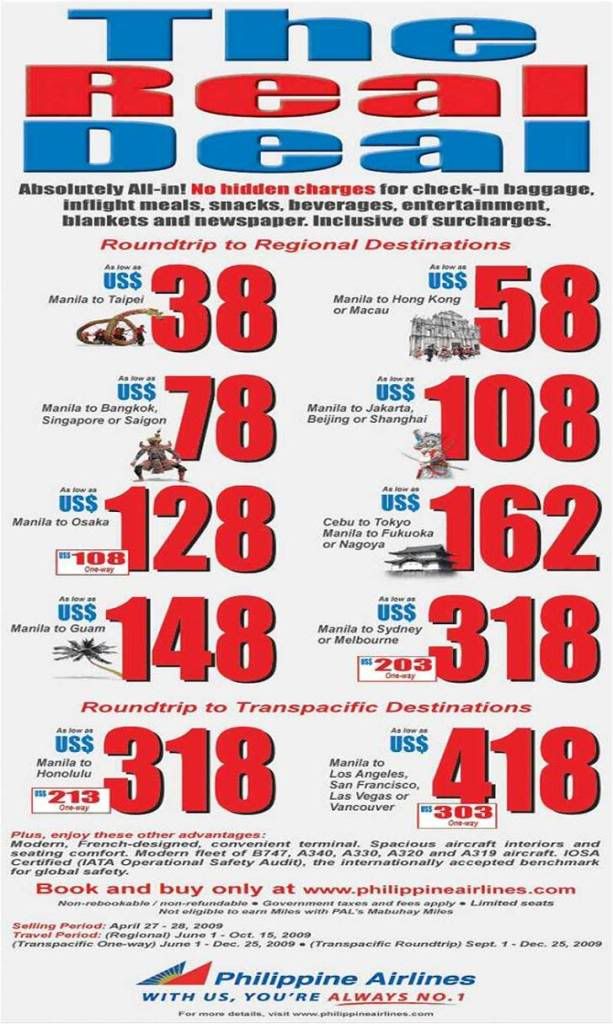 So wouldn't you go wild with these prices?!  If not, well I did! Hahaha! 🙂 I called my mom right away and met with her for 2 days to discuss what tickets should I book. Both of us were going insane! We wanted to get everything! I swear! If only I was allowed to take a looooot of leaves… Hahaha! It came to a point that my mom was suggesting me to go on leave without pay if I run out of leaves because of the trips lined up for us. LOL! Anyway, by Sunday night, we had our final destinations- Australia (for a tour), Singapore (for F1), Japan (for a tour), U.S. (for shopping), China (for tour and shopping), and Hong Kong (for shopping). I tell you, this was already well thought of! Australia because I wanted to see Sydney and Melbourne. Singapore because my sister wanted to watch F1 so my mom and I need to accompany her (Yah, what an excuse! Hahaha! But really, I personally don't want to go back to Singapore. There is just not much to do except eat here and there.  It's not much of a shopping country for me. Hahaha!) Japan because I haven't been there. (This one I had to convince mom because she has been there before and doesn't feel like going back yet.) U.S. because the flight is soooo cheap! China because we wanted to see Shanghai and Beijing again. (The sceneries are just awesome!) And last but not the least, yesss Hong Kong again because of the super sale during the month of August. So to my teamlead, you now probably understand why I was like a travel agent for the past days. BUT I still get the job done, boss.  Hehehe! 🙂
Anyway, as seen in the photo above, PAL's selling period for the promo tickets was only Monday and Tuesday. Therefore, my mind was already set to book everything the moment the clock strikes 12mn. Imagine, the next day was a working day but I was willing to stay up all night just to travel. Geeesh! I think that's a bad sign as I'm getting addicted to traveling. Hahaha! Well, I didn't anticipate that everyone or probably all Filipinos were online by 12mn!!! The Philippine Airlines website was sooo sloooow. Unbelievable! I had to wait around 5 minutes every time the screen says "processing". Several times, I thought my computer hanged already! I tried until around 2am, but no luck at all! I thought the next day would be better. The moment I got in the office, I tried… and tried… and tried… until my friends and I decided to go to Bangkok too… Hehehe! So just imagine how many tickets I was trying to book! To cut the story short, I wasn't successful the entire first day! For some reason, different kinds of error popped out after processing the fare, or the passenger names, or even after entering the credit card number! There were several instances I was afraid that I got charged in my credit card because I had submitted the card number already but the application didn't push through! Argh! Very, very disappointing!
The second / last day, which was Tuesday, did not make any difference! Oh, well wait there was a difference… I got a way to book my one and only flight! I called up PAL. Yes, I was able to get through. You know why? I called up PAL Cebu and the first time I called, the phone rang right away. Hahaha! I complained that I had been entering the names of the passengers and my credit card number repeatedly, but there was no progress! He got the names of the passengers and all the flight details I had been trying. Guess what?! Our names got through in their system! BUT… there is a BIG BUT… the only flight that I got to book was HONG KONG! Oh dear! Of all places, why Hong Kong! It was one of my least priorities since I'll be there by June already. Plus, with the swine flu going on, why o why?! With all the hassle I went through, I just got it and had it reserved, which by the way was only reserved until 12nn the next day. After he gave me the code so that I could just pay at any ticketing office near me, I went online again and tried my luck. Hours had passed and the same errors occurred. Around 6pm, I called PAL Cebu again to check if any of my latest attempts got in their system. Well, it seems my luck ended already. Our names couldn't be searched in any of the flights I tried. I gave up and left the office right away to pay for my one and only flight.
Since it was already 6pm at that time, I was left with no choice but to go to NAIA 2, the one and only ticketing office nearby that closes around 10pm. When I went inside, there were a lot of people. You wanna know how "a lot"??? The guard at the entrance gave me the number 162. When I looked at the number being served, it was already 485. I complained since I thought the number given to me was wrong. Guess what?! The guard said that the number in the computer would reset back to 1 when it reaches 999! Meaning, there were more than 600 people before me!!!!!! Oh dear! And that ticketing office, which should supposedly close by 10pm, was open 24 hours that night!!!! That's insane!!!! Super, super, super insane! Okay, the first thing that came to my mind was maybe I could go straight to the cashier since all I had to do was pay anyway. Most people in there were trying their luck to book tickets since PAL announced that day that they would already be accepting walk-ins. Initially, the promo was exclusively for online booking, but because their website was a big flop, they ended up announcing that anyone could just go to any ticketing office to avail of the promo. Result: CHAOS! Moving on, I asked again the guard if there was a counter intended for payments only since I already have the code thingy. No luck for me again as he said that I still had to wait for my turn! The moment I heard that, I just left. Hello?! Are you serious?! Waiting for more than 600 people to be served would make me crazy! An hour of waiting makes me uneasy! What more waiting for more than 5… 6… 7… or 24 hours (who knows?!)!
The next day, I was determined to wake up early just to pay for my one and only flight. I already went through all the hassle (which I really regret) and of course, I didn't want to put all my efforts to a waste. I know for a fact that the ticketing office at Pasay Road opens at 8:30am so I was thinking of going there before it opens. I arrived around 8:20am and you wouldn't believe what I saw! There was a line outside the building already since the office wasn't open yet. I decided to stay since what's 10 minutes with all the effort I was putting on this?! Good thing in just a matter of minutes, they opened the office and the line was already moving. At the entrance, the guard was giving numbers to control people. The number I got was 5040+. 40 plus people ahead of me (since they started at 5000) was such a great improvement from the 600 plus, right?! Hahaha! I thought of just going back to the office since I didn't wanna waste my time waiting there. Before I left, I got two more control numbers just in case I missed my number. Hehehe! Yah, I'm a genius! LOL! 🙂 What made me feel lucky that day is before I left, the girl behind me and the guy in front of me asked if I'd like them to text me when our numbers were already near. Oh, I felt so lucky to be beside these nice people!!! Thank you! Thank you! Thank you! 🙂
Around lunch time, I received text messages from my "line-mates" that our number would be called soon. Yes, after 3 hours, PAL was able to serve 30 plus customers only! I left the office right away as I also remembered that my booking reservation was until 12nn only. Well, of course, I thought PAL automatically extended all reservations because of their flop website and their inconvenient ticketing offices, right? Anyway, when my number was called and gave the code to the girl, she told me that my reservation was already cancelled because it was past 12nn already. OMG!!! I was sooo annoyed! Good thing she told me that she could still reinstate my booking, but there was an IF, if the flight is still available. Thank God it still was or else… !!! So there, I went home with my Hong Kong ticket! 🙂
On my way back to the office, I was thinking if everything I went through was worth it. Is it really a REAL DEAL? Well, I'm sorry but I have to say NO. One, the prices in their advertisement weren't really "all in". For some reason, there were still added charges, which I do not know what. Okay, maybe because I'm not used to buying tickets online because ever since, we buy everything at our dependable travel agency. The agent does everything for us. We don't even have to go to their office. Everything is just delivered to us. Ultimately hassle free for us. This is the first time I have ever encountered such kind of hassle. Geeesh! Another thing, I am not sure if Philippine Airlines actually prepared for this kind of promo. With those prices, obviously, everyone would panic. I am no computer geek, but maybe there is a way to avoid the unbelievable traffic in their website to ensure customers could finish the online booking process. If there is no such way, then the promo flights should not be booked online. For such big company, they could have done something better. And one last thing, I believe in valuing clients, especially those who have been loyal customers. When it comes to promotions, I strongly believe that they should have done something special to those valuable clients. Ever since, my family chooses Philippine Airlines, as long as they have straight flights to wherever we are going. Okay, there may be times we flew Cathay to Hong Kong or Thai Airways to Bangkok, Singapore and Malaysia, but I am sure that we always choose PAL in all our U.S. trips. So special treatments to loyal customers??? They could have given a day for their loyal clients to buy tickets or they could have assigned a special counter or just whatever to make them feel special as they always choose PAL in their trips. Please correct me if I'm asking too much. Hehehe! 🙂
I'm sorry if I keep on ranting here. I apologize if this post had become too long and I thank those who were able to bear with me. 🙂 In conclusion, I think Philippine Airlines was really successful in their recent promo. Successful because they really got the attention of everyone, BUT I'm sorry to say, I don't think they were successful enough to satisfy all their clients. I may be generalizing because of my experience, but I heard a lot of stories and read series of threads on how disappointed people are. Okay, there may be exceptions since I have a friend who was able to book flights to the U.S., which were really, really cheap. Well, the prices are a real deal, but going through such a loooong and hard process makes me wonder if everything is worth it. Well honestly, probably it is worth it if you were able to book more than one flight or if your destination is outside Asia (because those countries can be quite expensive). But due to the poor service rendered by PAL, it's just impossible to book all the flights you want, in my case that be 6 flights!!! Probably, all of us have one common conclusion: PAL wasn't ready enough for something this big and thus, leading to people's disappointment. Oh well, everything's done and we can't do anything about it anymore. I already have tickets to Hong Kong, but I would have been happier if I were able to book at least two destinations. 🙂 Well, I just hope, and most probably everyone would agree on me when I say, that the next seat sale of Philippine Airlines should be far, far better than this.
P.S.
Everything stated here is just my opinion and is based on what I have experienced. *wink*
P.P.S.
Advance Happy Mother's Day to momski and Advance Happy Birthday to my Atsi! Tikets and accomodations would be my treat to you. 🙂 My shopping would have to come from you already. Bwahahaha! 🙂 Smart move, huh?! 🙂