Finally, Ensembles and Debbie Co found each other! Yay! Last March 15, 2009, Ensembles launched their new line of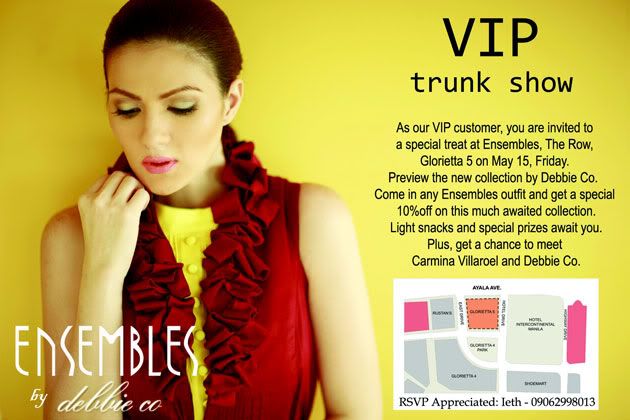 clothing created by the chic and young designer, Debbie Co. I am one of the lucky bloggers who got invited to this event so before anything else, I wanna thank Ensembles and the organizers for giving me a chance to have a sneak peek of their new collection. Anyway, so how was it? It was fabulous! I really enjoyed the event and I love most of the clothes! 🙂
My photog (hehehe) and I arrived at Glorietta 5, The Row around 7pm. Thank God it wasn't starting yet when we arrived since the invite says 6pm. The moment I registered, I was already given a 15% discount card for
bloggers. Oh dear, the moment I received it, I knew I was bound to swipe my credit card. Hehehe! A few minutes later while we were eating the yummy pica-picas, Carmina Villaroel, the lovely model of Ensembles, arrived and of course, with the rest of the press people. After her interview, the most awaited fashion show inside The Row started. Here are some pictures from the runway. 🙂
After the fashion show, I already have something in mind to buy. Hehehe! 🙂 But before shopping, I first got my press kit. Here it is:
Thanks Ensembles! And thanks for the lovely shrug! 🙂
Anyway, just before I headed to the store to buy those cutesy high-waisted skirts, my name was mentioned by the emcee! Eeeek! I was one of the lucky winners of a Php 1,000 gift certificate! Yay! 🙂 My first ever winning from a raffle! I'm not so lucky when it comes to those, but this event was an exception. When I got it, without a doubt, I headed inside The Row and started choosing from the rack of clothes by Debbie Co. I tell you, Ensembles clothes by Debbie Co are real value for money! I ended up buying a red sleeveless top with intricate but lovely detail on the neckline, and a black high-waist skirt (which I will be sharing soon). I paid about Php 1,000 only.  Of course, I made use of the Php 1,000 GC and the 15% bloggers discount right away. Hehehe! Again, thanks to Ensembles! 🙂 I can't stop smiling when I went home with some goodies. 🙂
See… I told you I can't stop smiling! LOL! 🙂 What are you waiting for? Check out Debbie Co's high fashion collection at any Ensembles boutique near you!