It has been a while since I last posted anything about gadgets. Well, obviously 'coz I had to stop from blogging for a while. I'm going insane with my frantic schedule already! Hehehe! Anyway, one of the latest gadgets I got before the start of the new year is this new BlackBerry Curve 8520 also known as Gemini. I have been planning to get a BlackBerry since last year. Well, I was choosing between an iPhone and a BlackBerry. The iPhone should have been perfect fit for me since I have already switched to Mac and 'Once you go Mac, There's NO turning Back!' 🙂 So I wanted my gadgets to be all out Apple. Wehehehe! 🙂 I had to ditch the iPhone though since I usually have long nails and it's merely impossible for me to use it. It's ultra sensitive keypad only responds to the human 'touch' and won't work with any stylus or in my case, my glimmering nails.  Hahaha! I tried to give it a go but I really had a hard time typing. I usually press on the wrong letters! Definitely, the iPhone is not for me and so BlackBerry it is! 🙂
If you ask me why this BlackBerry is a must buy, it's the unbelievable cheap price! 🙂 BlackBerry phones are usually Php 20,000 and up. It is surprising that BlackBerry released an affordable version. This was only about Php 15,000 in Globe Telecom. I think they are now selling it for Php 16,000 with the Prepaid kit, still cheap for a QWERTY phone and for a BlackBerry, of course. Check out my new BlackBerry Curve 8520 below. Just click to enlarge. 🙂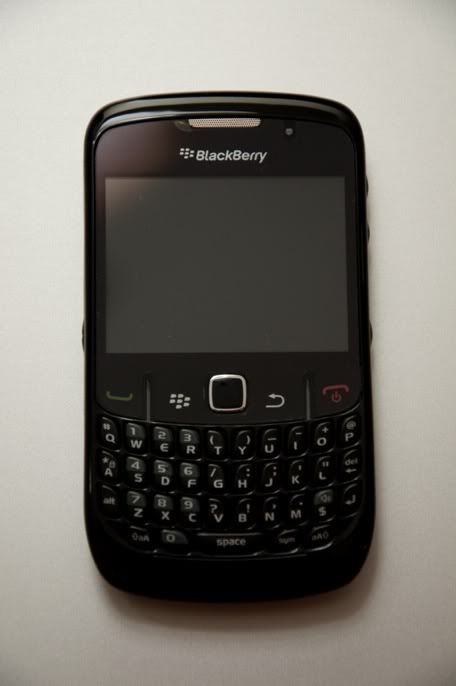 Since this is an entry level smartphone, this new BlackBerry Curve 8520 lacks a few features that other top of the range BlackBerry models have. For example, this is not a 3G phone.  Well, this is not really an issue for me as I use Wi-Fi for downloads most of the time. Yes, it has Wi-Fi connectivity so I really don't need the speed of the 3G. 🙂 Also, it only has 2 megapixel camera without flash (Other upscale models have a built in flash), which I really do not use. Well, it can still take decent pictures in good light so it can still be my emergency camera for this blog. Hehehe! The drawbacks of the Curve 8250 are that it has a lower resolution compared to the BlackBerry Curve 8900 and has 320×240 pixel color display.  It doesn't have GPS as well. Well, I don't really use GPS here in Manila so I can forgo that feature. Oh, and I don't think that the GPS here is even accurate! I bet if I use that feature here, I'll just end up getting lost even more. Hehe! 🙂
What I like about this budget smartphone is it has dedicated music buttons on top of it and a 3.55mm headset jack on the side. I'm sure all the music lovers out there would appreciate this feature. Combine this with the Gemini's 256MB internal storage and microSD slot for expandable memory, one can store their favorite songs and videos in it.
For all girls with long nails and guys with big fingers, you would definitely like the keypad of the Curve. It has nice separated and raised buttons, making it easier to type. It is also not as sensitive as other phones but at the same time not a struggle to press.
Measuring only 14mm, it is fairly thin compared to other smartphones! Me likey! 🙂 I don't have to worry about it not fitting my purse or my soon to be Purple Balenciaga Giant Envelope (Wahahaha! How I wish!) whenever I go out at night. 🙂
I don't see any problems with its processor as well. I feel it is adequate to support the OS as it opens up and do things quickly even though its memory is full of messages and other media files.
Since the advent of the optical trackpad, trackballs have become obsolete. We all know how trackballs can be so annoying, especially when dirt starts to build up! I have to say, the optical trackpad of the Blackberry Curve 8250 is a wonder to use. Its movement is smooth and you can even change the sensitivity setting of the trackpad to suit your delight. 🙂
Even though BlackBerry had to cut down some of the features of the Curve 8520, it still has the same basic functions as the other models, making it worth the price. If you've been wanting to own a BlackBerry, this affordable Blackberry Curve 8520 can do the job. With it's price, you can't go wrong with it! 🙂
If you wanna know more about Blackberry Curve 8520 or Gemini, watch the video below.