For those who have been reading my blog, you have probably seen me wearing my Colin Stuart Glittered Wedge Flip Flops in some of my outfit posts. I just thought of sharing with you guys this bargain. 😉
A few months ago, I saw this cutie glittered wedge flip flops in Aldo. I was thinking I needed to quit (or at least lessen) wearing Havaianas. And why?! Wearing Havaianas since college days left me some "permanent" marks on my feet. You know how those rubberized straps rub onto your feet while walking? That results to callous after some time. No matter how much I love Havaianas, I had to stop using them. Okay, make that lessen 'coz I just can't totally ignore them. Hehe! 🙂 Anyway, the moment I tried on those wedge flip flops in Aldo, I knew I had to get them. It's suuuper comfortable! The soles are so soft that I can wear them forever! 😀 It doesn't look like the usual wedge rubber slippers, just like what Havaianas have. It has those shiny shimmering details on its straps, making it look hip and perfect for strolling around the mall for long hours. I'm just not sure if it can get wet, but other than that, everything about it is just perfect for my needs. 🙂 Well, there is an exception- the price. When I looked at the tag, it's about PHP 2,000! Geesh, I'd rather get a Fit Flops! I suddenly had a light bulb moment while I was looking (or probably more of "staring") at those wedge flip flops. I knew then that I have seen it somewhere, until I remembered Victoria's Secret. The first thing I did when I got home that day was check Victoria's Secret website. And yes, I was right! 🙂 They are selling those exact glittered wedge flip flops! 🙂 Guess how much it is…
…..
…
.
I got 2 pairs for $25! It was VS's semi-annual sale at that time. Currently, it's priced at $19 for each pair- definitely not bad for an ultimately comfortable sandals. Plus, that exact thing is being sold at Aldo for PHP 2,000! This glittered wedge flip flops from Colin Stuart is really a bargain! 🙂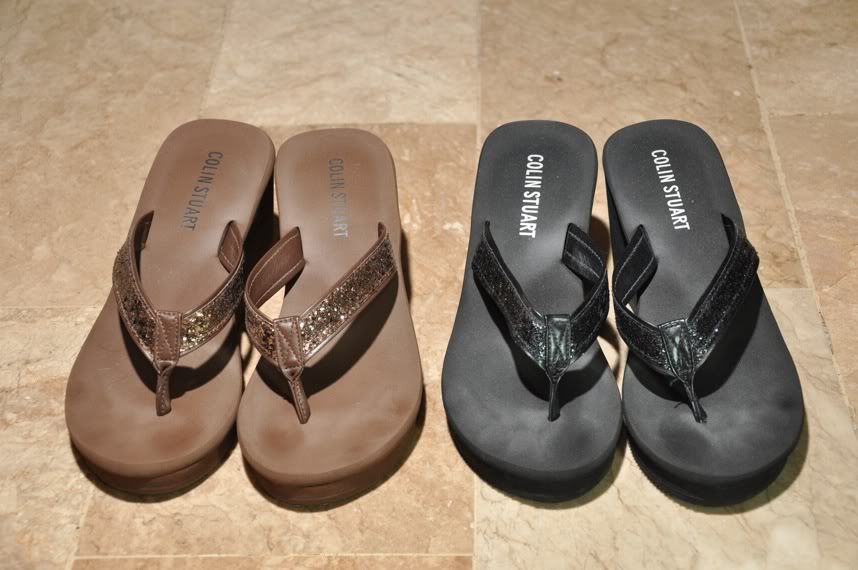 It's made of imported polyurethane.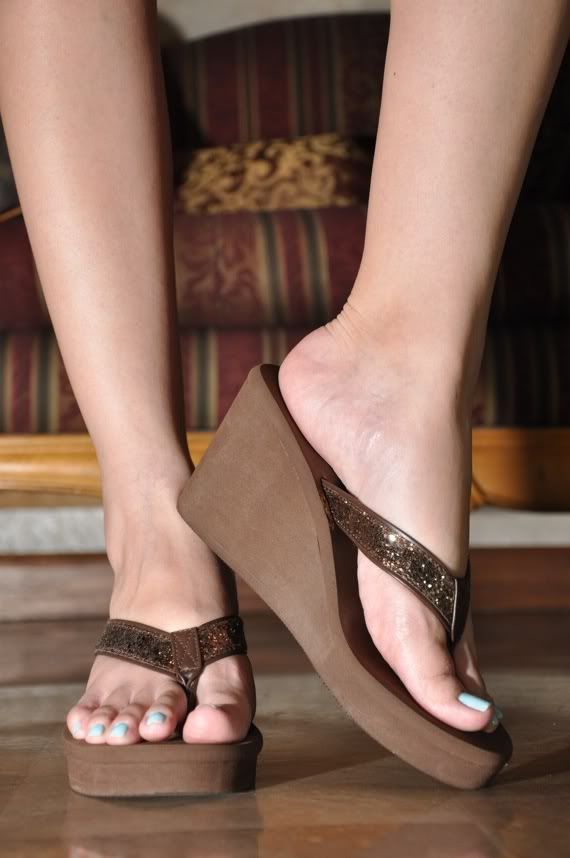 And it has 3.5″ wedge.
Because these flip flops are really light and soft, I don't feel the 3.5″ wedge at all! It's as comfortable as wearing flats. 🙂 I seldom use my chunky wedge Havaianas. I now bring along my Colin Stuart glittered wedge flip flops anywhere. 🙂 Actually, I always have a pair inside my car just in case I need to do some long walks. Hehe! 🙂
If you wanna check it out, you can click on this link to direct you to the site.