If you have noticed, yakiniku buffet style restaurants have been sprouting all over the metro- one of them is Sambo Kojin Yakiniku Smokeless Grill, named after the Japanese god of the kitchen. What makes Sambo Kojin unique  compared to other yakiniku restaurants is the Japanese and Korean fusion buffet. I love Japanese and Korean food and through Sambo Kojin, I get the best of both worlds! LOL! 🙂
Sambo Kojin has a quite big place in Eastwood City, Libis. It's located at the second level of Something Fishy, where entrance is at the back, just across Manor Superclub. The moment we entered, a receptionist gladly attended and ushered us to the second floor dining area. It has a casual dining environment, with a relatively huge seating capacity.
just click on the photos to enlarge 🙂
We started off with various Korean appetizers. My favorites, as always- sweet spicy dilis (anchovies), spinach, bean sprout and kimchi, of course! 🙂
Then, I tried out some of their yummy sushi, which were readily available on the buffet table.
Before I started with the main course, I also had some soup. And since the buffet is a fusion of Japanese and Korean dishes, they served the popular Miso soup and Kimchi soup. There was nothing really special with their Miso soup, but it still tasted good. 🙂 As for the Kimchi soup, I was afraid to try it. I'd rather eat the real Kimchi. LOL!
Sambo Kojin also offers other Japanese and Korean specialties, such as Korean Beef Stew, Japchae, Tofu Steak, Gyoza, Beef Curry, and Ebi Tempura! 🙂 You can even ask them to cook Sukiyaki and fried rice for you. All of the dishes were really delicious! 😀
And of course, we were at Sambo Kojin for the yakiniku, where you cook your choice of meat over a grill. There were various raw meats marinated in different kinds of sauces on the buffet table. Oh, and they also have bacon rolls, which I also love! 🙂
And the best part? They have assorted seafood! I can't help but compare Sambo Kojin with Yakimix, another popular yakiniku restaurant here in Manila. I remember eating at Yakimix once and we were already there right before they opened for dinner, which was 6pm. The moment we got to the buffet table, all the prawns were gone! They did not even bother refilling the plate. I'm not sure if it was only that instance or if they actually do not replinish the seafood since that visit at Yakimix was my first and my last! Here at Sambo Kojin, I love how alert all the servers were. All dishes in the buffet table were refilled right away even before everything was consumed. 🙂
And for the yakiniku to taste even better, aside from their marination of the meat, they have several sauces you can choose from- Takumi sauce, Teriyaki sauce, Bulgogi sauce, Spicy sauce, sesame oil with salt & pepper, and Sambokojin sauce. My personal favorite is the Sambokojin sauce, which had a perfect mix of sweetness and saltiness.
The dining experience at Sambo Kojin doesn't end there. You still have a plethora of desserts to choose from- cakes, fruits, chocolate fondue and ice cream. My favorites? Of course, the chocolate fondue and ice cream. Though there's nothing really special with their taste, my sweet tooth was left satified.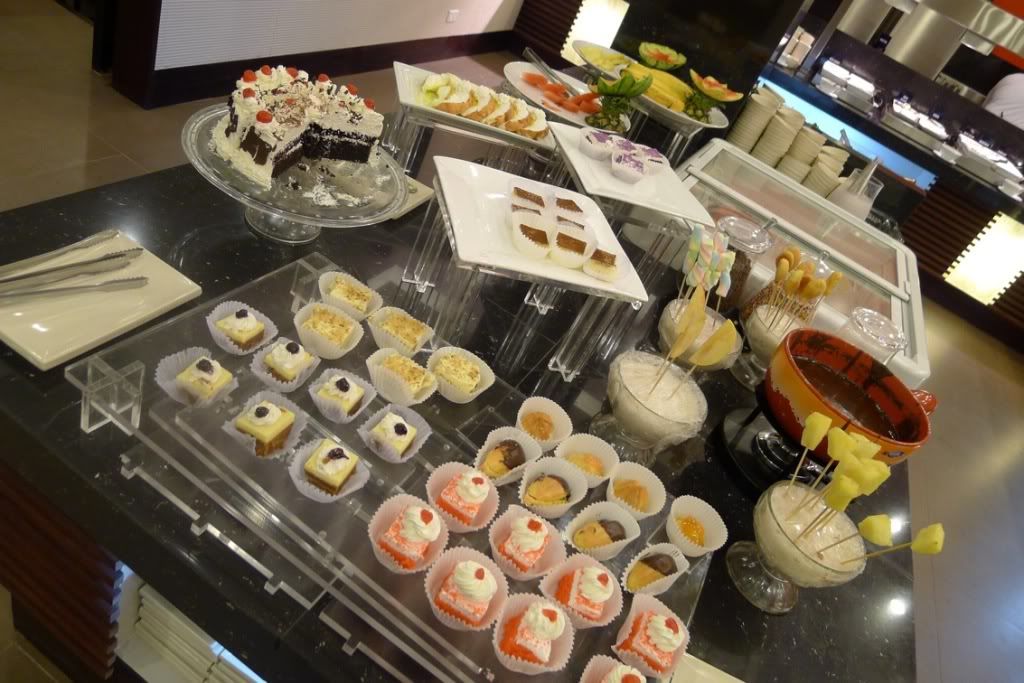 Again, I have to commend their excellent service. The moment we entered the restaurant, the staff made us feel so welcome. All of them were also very attentive to the customers' needs. With Sambo Kojin's food and service, I would definitely be back! 😀 Every penny I spent was really worth it! 😀
Sambo Kojin's buffet rates:
Monday to Friday Lunch PHP 495 No left-over price (regular price PHP 595) *except for holidays*
Monday to Sunday Dinner PHP 595 No left-over price (regular price PHP 695)
Saturday and Sunday Lunch PHP 595 No left-over price (regular price PHP 695)
Children's price PHP 295 No left-over price (regular price PHP 395)
For reservations, call 421-0145 or 421-0146. Sambo Kojin is open from 11:00 am – 3:00 pm and 6:00 pm – 11:00 pm.