One of the best things to do when on vacation is to eat, eat and eat! I know I'm not alone when I say that. For me, to be on a diet while having a vacation is a sin. LOL! Vacation means relaxation, time for self and reward for hard work, so why deprive yourself?! This is especially true when you're in Boracay. 😀 Who could resist food tripping when you feel the sun on your skin, hear the sound of the waves, feel the powdery sand on your feet, then you see chains of restaurants and food stalls, and  smell the ribs and seafoods grilling? Ahhh… Don't you just wanna binge in that kind of environment?! Thank goodness I don't live in Boracay. Haha! I admit, one of the few reasons why I love to go to Boracay is the food. I literally binged during those few times I've been there (especially when I was with my family)- early breakfast buffet – snacks – lunch – snacks again – shake – dinner – dessert – alcoholic drinks – midnight snacks again. It's like I was holding food/ drink every two hours. LOL! 😀 And being in Shangri-la Boracay was not an exception.
As I mentioned in my previous post, Shangri-la Boracay is not all about the ambiance. Since good food is part of relaxation, they made sure guests can choose from a variety of restaurants in the resort. Cielo is one of the two restaurants which offers casual outdoor setting by the poolside.
For the two times I ate here with my family, we chose to eat in one of their cabanas.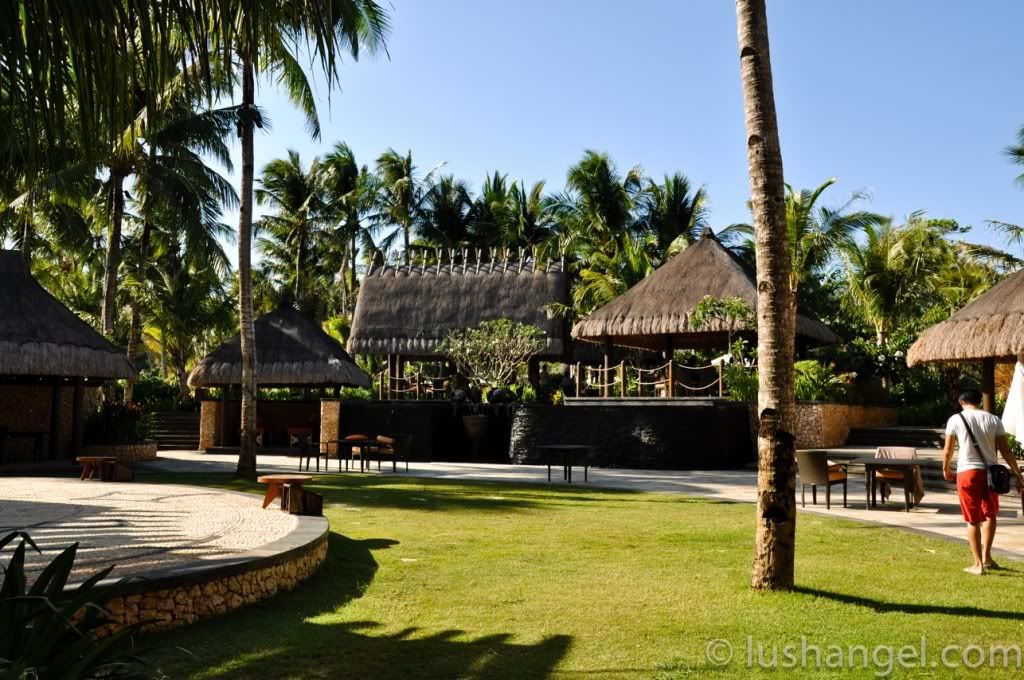 We also got a view of the beach, which made our dining experience more relaxing.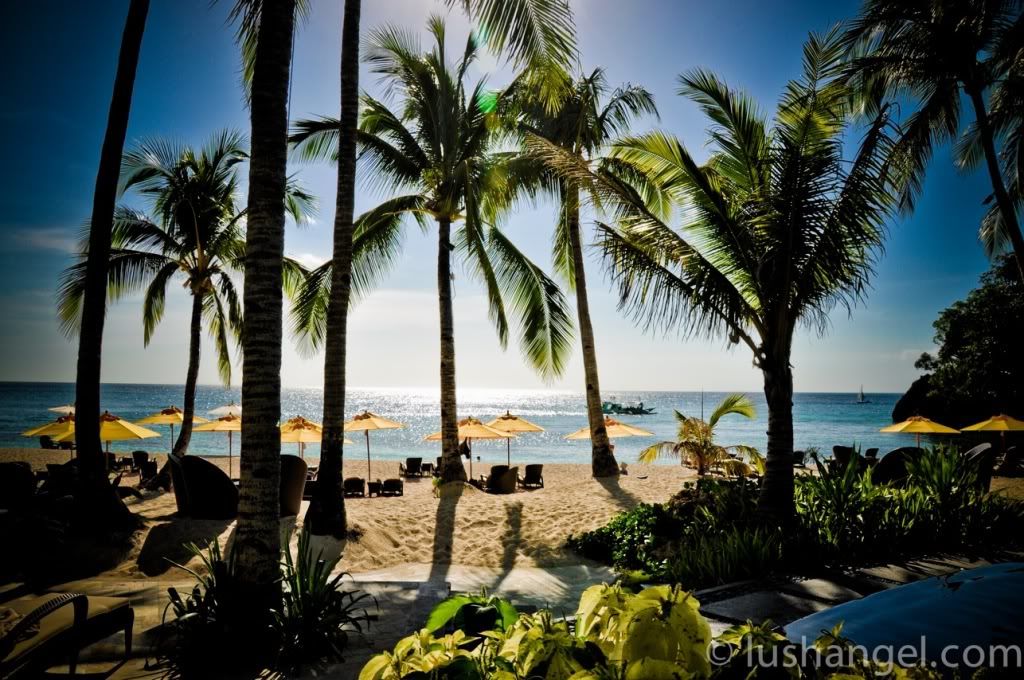 Here's what we ordered:
Fettuccine Carbonara (PHP 350)– It's the all-time favorite of most white sauce lovers. The creamy sauce had that perfect blend, that finishing it wasn't a problem at all. You know how cream sauce can be too thick sometimes that you get used to its taste after several bites? You end up not finishing the dish anymore, or you might just feel like throwing up. That wasn't the case in Cielo's Fettuccine Carbonara. The creaminess was just right and the generous amount of bacon bits and cheese made it more perfect! 😀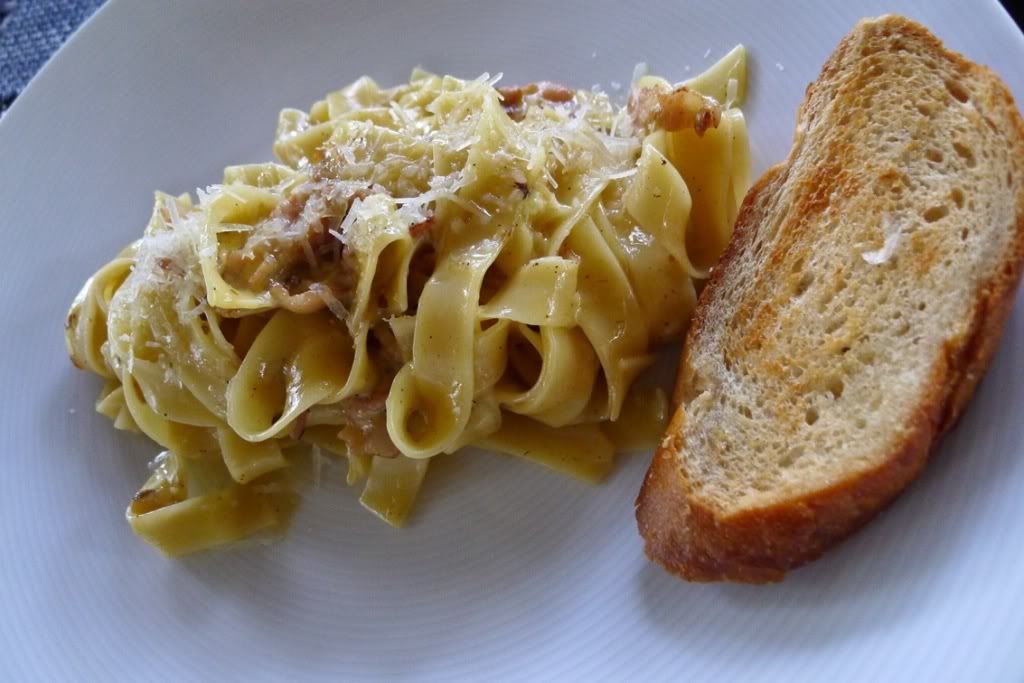 Spaghetti Bolognese (PHP 350)– While some restaurants serve their Spaghetti Bolognese with a lot of tomato sauce and small amount of ground beef, Cielo's version was really meaty!!! Yummy indeed! 😀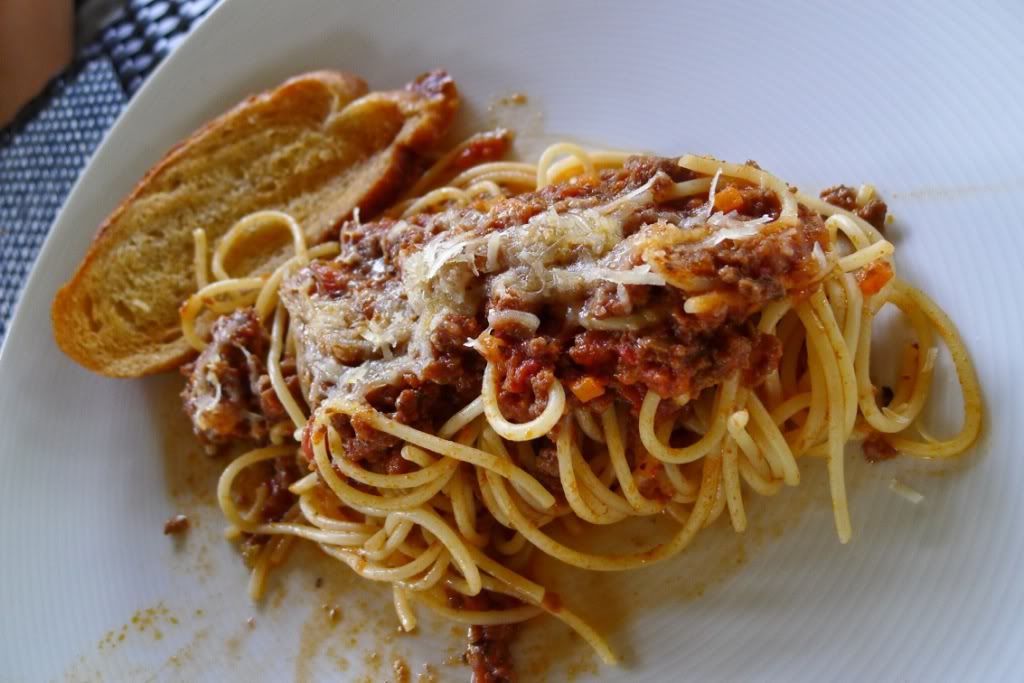 Chicken Fingers– Sorry, I couldn't remember the price but if I'm not mistaken, this was part of the Kids Menu. My nephews were with us the last time I went to Boracay with my family so this order was a must. LOL! Kids always have appetite for fried chicken. 😉 I had a small bite of this chicken fingers and it was really crispy. It came with gravy sauce, which tasted good, but I always prefer honey-mustard or blue cheese when it comes to chicken fingers. But since it's a kids meal, gravy is surely a big hit for the kids. 🙂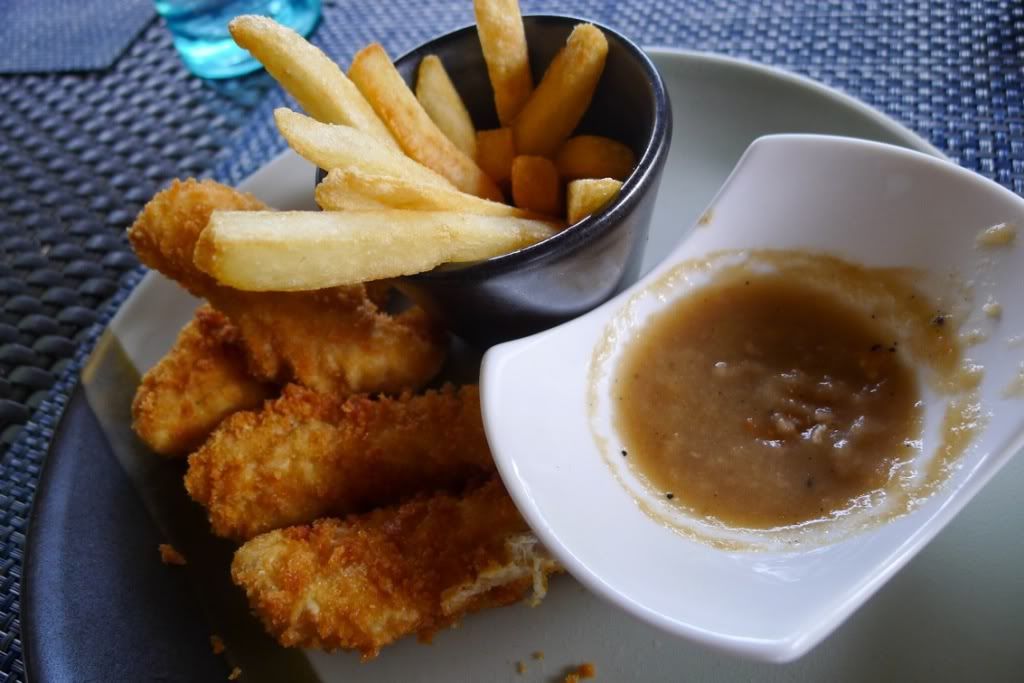 Cielo Club Sandwich (PHP 400)– It's the usual double-decker sandwich, with 2 layers of filling in between 3 slices of bread. Again, they were very generous with the fillings, which includes crispy bacon strips, cheese, egg, lettuce, tomato and chicken (if I'm not mistaken). You can never go wrong with Cielo's Club Sandwich for snack time. 😀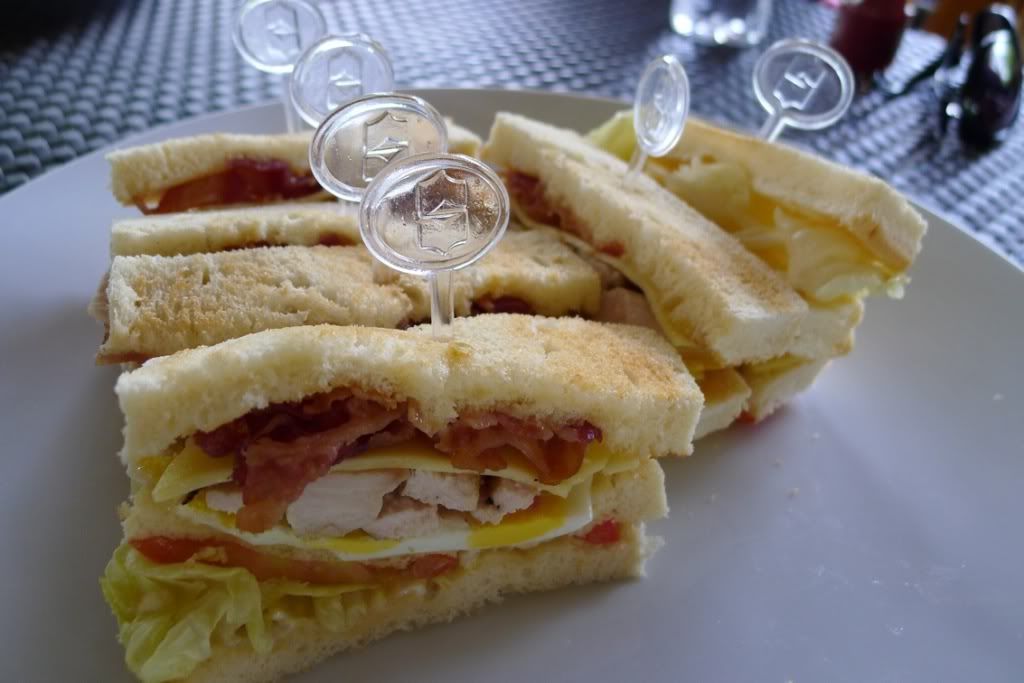 Meatzza (PHP 500)– One of Cielo's best sellers in their oven baked pizza is their Meatzza! All the meat lovers out there would definitely go wild when they take a bite of Meatzza pizza, which has ham, salami and ground meat with onions. Just take a look at the photos below and see for yourself! 😀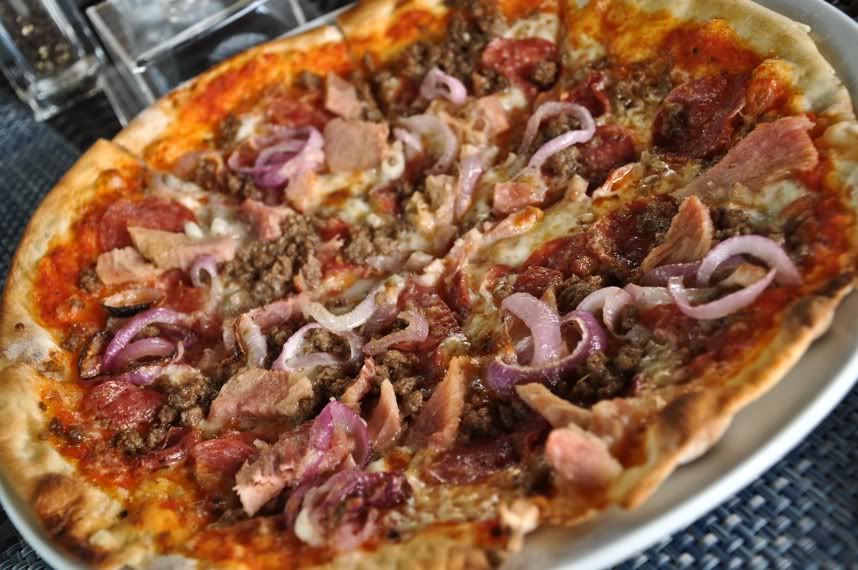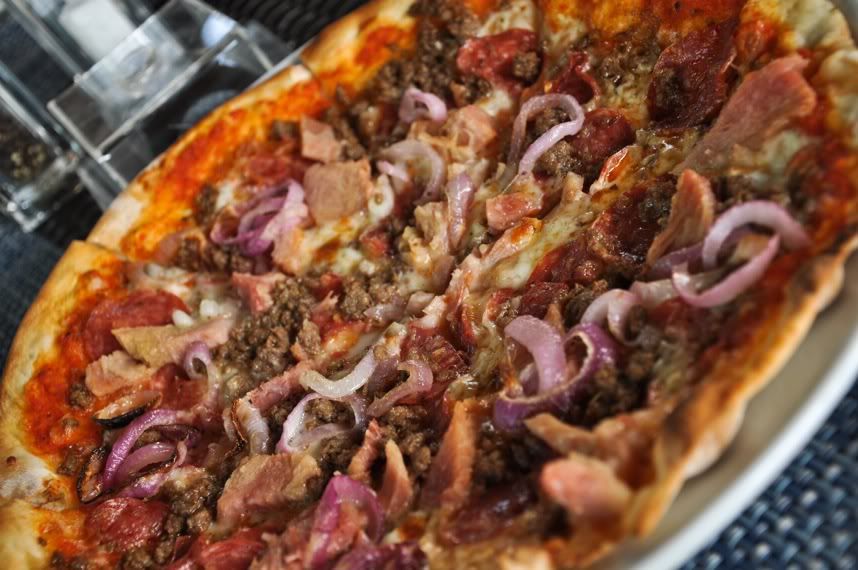 Seafood Pizza (PHP 450) – Another oven baked pizza with generous mouth-watering toppings is Cielo's Seafood Pizza. It had crispy thin crust topped with grilled prawns, fish, squid,  mussels, tomato and cheese. Based on the taste, the seafoods were fresh and cooked very well- something that seafood lovers are very particular with. 🙂 It had the right amount of saltiness in it, which, I believe, came from the seafoods too. This is definitely a must-try! 🙂
Four Cheese Pizza (PHP 400) – Most pizza lovers would always have Four Cheese Pizza on their table. Cielo's oven baked Four Cheese Pizza has gruyere, parmesan, mozzarella and gorgonzola. The crust was thin and crispy, same as that of the Meatzza and Seafood Pizza. There was enough saltiness in every bite because of the different kinds of cheese in it.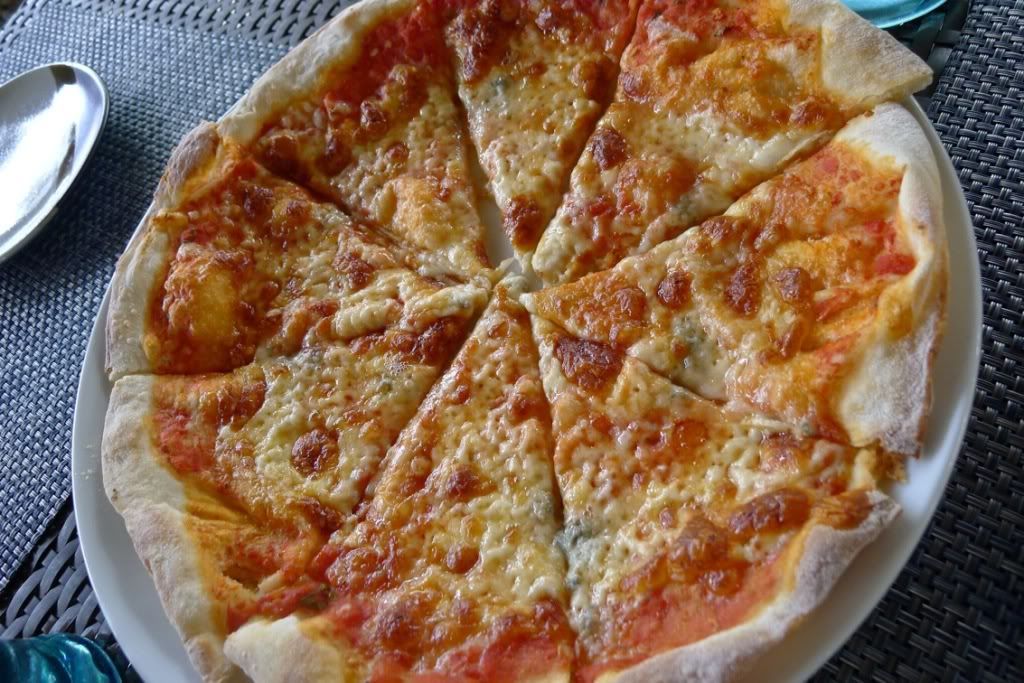 If you noticed in my photos above, Cielo's dishes all had generous amount of toppings- something we don't usually see in most restaurants out there. You really get what you pay for at Cielo's. Also, the prices of their food aren't that bad for a five-star hotel! With such abundant servings, a lot of their dishes can be for sharing, like the pizzas. 😀 I'll definitely be back at Shangri-la Boracay, but hopefully for dinner the next time around. 🙂
Cielo
Barangay Yapak, Boracay Island
Malay, Aklan 5608, Philippines
(63 36) 288 4988