Since summer is just around the corner, I thought of reminiscing one of my fave vacation spots- Boracay. 😀  And of course, who doesn't know one of the most elegant and relaxing resort in the island, Shangri-la Boracay? Being a self-proclaimed travel junkie, I just had to experience this much talked about hotel. 🙂
The first time I got to see Shangri-la Boracay was last March 2009. I remember how excited and curious I was to set my foot on that resort. It was on my must-see list before I left the city. It was quite new then. Seeing its photos all over the internet made my jaw dropped. It was like a tropical paradise! And hearing that the presidential suite can cost more than a hundred grand, Shangri-la Boracay must be something!
When I first went to Shangri-la Boracay, it was already dark. Being a first timer at that time, I really wanted to go around the entire resort in broad daylight. Nevertheless, seeing all the lights lit up all around the resort left me breathless! 🙂 See some of my photos below taken last March 2009. You can click to enlarge.
OMG! I was still wearing braces back then! LOL! 😀
After that visit, I knew that I had to go back to this paradise! Actually, more of- I've been wanting to stay here for at least a night. True enough, a year after (April 2010), I went back to Shangri-la Boracay. This time, the sun was up! Yay! 😀 I wasn't there to stay for a night though. I just spent my entire afternoon going around the very huge place, eating and relaxing by the pool. It was only during that time that I got to see how BIG Shangri-la Boracay is. We had to go around using a golf cart. But with that big chunk of land, there were not so much people. Take note, it was summer that time. Probably the reason why now you can get a room for just about PHP 8,000! It's a pretty good deal already, but personally, I'm not up for it anymore. If you just want a quiet and relaxing vacation, no doubt, Shangri-la Boracay is the best place to stay. 🙂 I go to Boracay for the beach, the night life and the people. Yes, Shangri-la has a beach (as seen in the photos below), but it's not as white and as powdery as station 1's. They don't have Juice Bar (a popular bar in station 2) or the much awaited Epic (the new bar, which replaced Hey Jude). Shangri-la Boracay is just too out of the civilization for me. It's really for those who want peace and quiet time. Don't get me wrong. I love the place. In fact, during my most recent trip to Boracay (last October 2010), I dropped by the resort again. It's just that spending a day in this paradise is already enough for me. When night comes, I need to see people again. LOL! 😀
Yes, Shangri-la Boracay is really far from where all the happening is. This is  probably why they made sure to have the best facilities. Name it, they probably have it. Even if they're far from everybody else, their guests would still have an unforgettable stay! There are tons of things to do in Shangri-la Boracay. Here are only some…
Lounge at the Entertainment Center. They have an entertainment room where you can surf the internet and play billiards, computer games, table tennis, air hockey, foosball and board games. They also have karaoke rooms for those who want to practice their singing skills. 😀
Let the kids play at the Adventure Zone. I wasn't able to take a photo of it, but for those in Manila, think of it as Fun Ranch! 😀 It's a big room with really huge inflatable slides. Kids will surely go insane in this place. LOL! 😀
Go around. Shangri-la Boracay is a very huge place. Try to go around using their golf cart and explore nature. You can also ask for a showroom of their beautiful villas, if available.
Swim. They have a pool, which is said to be the country's largest free-form swimming pool. They have 2 secluded white beaches, Punta Bunga and Banyugan Beach. As I said, the sand is not as white and powdery as station 1's though.
the swimming pool
the beach
Have a relaxing massage at Chi Spa. The moment you enter Chi Spa, you might just give in to their signature massage that costs more than PHP 5,000. The place, the ambiance and the music are so inviting. I only got to try how good their masseuse is through the free massage at the Philippine Pavillion in Shanghai World Expo (as I mentioned in this post). The masseuses came all the way from Chi Spa and geesh, they were really good! 😀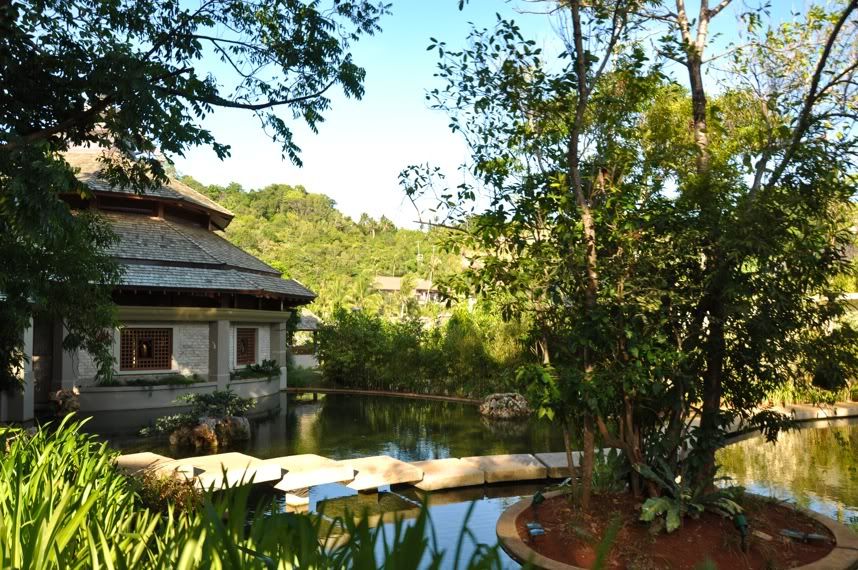 Chi Spa's pool
Last, but not the least, EAT! Shangri-la Boracay has a number of restaurants. If you love seafood, visit Sirena. For the Italian food lovers, try Rima restaurant. You can also enjoy a variety of world cuisine options at Vintana or Cielo. The resort also has lounges & bars namely, Alon, Solana and Lobby Lounge. Since my last two visits at the resort have always been afternoons, my family and I chose to eat by the poolside (Cielo restaurant). Check out my food review on Cielo in my next post. 🙂
For those who are interested, Shangri-la Boracay also has a day tour. I think it's around PHP 2,500 per person, use of facilities included. 🙂
Barangay Yapak, Boracay Island
Malay, Aklan 5608, Philippines
(63 36) 288 4988