Watching The Royal Wedding led me to reminisce the 2 months I was in London circa 2009. I just love everything about that city! I seriously enjoyed every single day of my stay there. Everything is spectacular! I have always loved baroque architectures and that's just about everywhere in London. Those victorian gothic buildings are simply amazing! I'd say London is one of the best places I've been to. I'm not sure if I was influenced by my long stay in the city, but to be honest, I want to live a couple of years there. After having been there, I now certainly believe on the saying- "A man tired of London is tired of life."
Seeing the city once again on television as I watch The Royal Wedding made me dig into all my photos of London. Gosh, would you believe I got teary-eyed?! Seriously, it's the city I missed the most. I would definitely go back to London, but hopefully with my future hubby that time. 🙂 Haha! Anyway, here are some photos I was able to grab in my hard drive . Oh, and more of my photos in London in this post. 🙂
St. Paul's Cathedral (where Prince Charles and Princess Diana got married)
Big Ben at night
Westminster Abbey (where Duke William and Duchess Kate of Cambridge got married)
Buckingham Palace (where the reception of the Duke and Duchess was held)
The Buckingham Palace is only open to the public 8 weeks a year. I was fortunate enough to get inside the Palace during my stay, but as expected, photos were not allowed. I was just able to take photos of the facade and around the courtyard.
I've been watching documentaries about the couple and the wedding itself over and over again and this may sound funny, but I always get goosebumps. I couldn't stop smiling. It's as if I'm watching a fairytale. I guess it's every girl's dream to meet her prince charming. And Kate, being a commoner, literally met her prince. 🙂 And a wedding with the carriage, palace, kings, queens, princes and princesses- all these show that fairytales do come true! 🙂
But okay ladies, sure we were all glued on our television sets for the wedding, but I'm pretty sure most of us waited for Kate's wedding gown. It has been the talk of the town months before (and even after) the wedding. Everyone was just wondering who's designing her dress. We've seen a lot of photos of Kate Middleton all over the internet and she is indeed a stylish lady- probably the reason why everyone was curious on how her wedding dress would look. 🙂
But before I comment on Kate's dress, does this wedding dress ring a bell?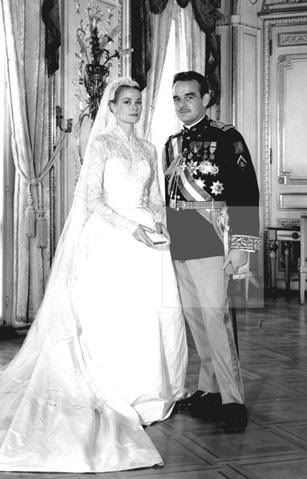 This is Grace Kelly on her wedding gown. Grace Kelly was the Princess of Monaco. She was married to Prince Rainier III in April of 1956.
And here's Duchess Kate Middleton's gown…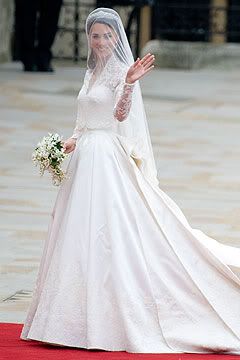 photo from Yahoo!
There are actually a number of obvious diffences between Grace's and Kate's wedding gown. One, Grace's skirt was pouffy, while Kate's dress had a sleek silhouette. Also, Grace had buttoned-up swan neckline, while Kate donned a sexy low neckline. What probably made the two dresses similar at first glance was the lace longsleeves. But what do you think about Kate's wedding dress?
Honestly, I never imagined her dress to be simple. I thought a Royal Wedding should always be grand in all aspects. But that simple dress of Kate made by Sarah Burton of Alexander McQueen Fashion House was enchanting! I love it! It's timeless, at the same time, it has a touch of modernity in it. It's very elegant and fitting for a princess. 🙂 It's so beautiful that replicas of the gown are expected to be available all over the world in the days to come- just like Princess Diana's wedding dress. 🙂
Duchess Kate Middleton had 2 gowns on her wedding day. The other one she wore during the Buckingham Palace reception. It was also a simple and sleek dress made by Sarah Burton. It was a strapless white satin gazar dress with a diamante embroidered waistband. To keep her warm all through out the night, the dress was paired with an angora shrug. Just like when she was wearing her wedding gown, Kate looked perfect in it. 🙂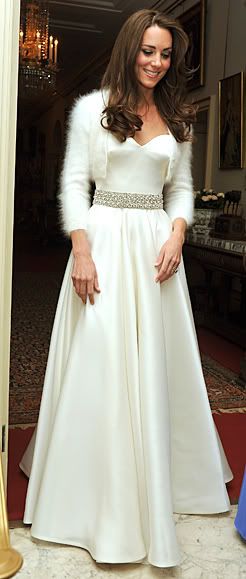 photo from Yahoo!
How I wish I was in London to get a glimpse of the wedding of the Duke and Duchess. If I was there, I would probably one of those people camping outside the Buckingham Palace. LOL! 😀
Congratulations to the newly weds, Duke William and Duchess Kate! 😀