In one of my previous posts, I've shared a beauty regimen that I can't live without- and that is, my daily use of Pond's Cold Cream. I literally grew up with it. You can read my story and product review in this post. A week after writing that article, I decided to try another cleansing product. See, as I've mentioned in that post, no matter how satisfied I am with Pond's Cold Cream, I'm still on the lookout for other products. Obviously, it's my curiosity that pushes me to keep on testing. I haven't tried any make-up remover that thoroughly cleanses like Pond's Cold Cream does. BUT now, I think I found a challenger! 😀 What is it?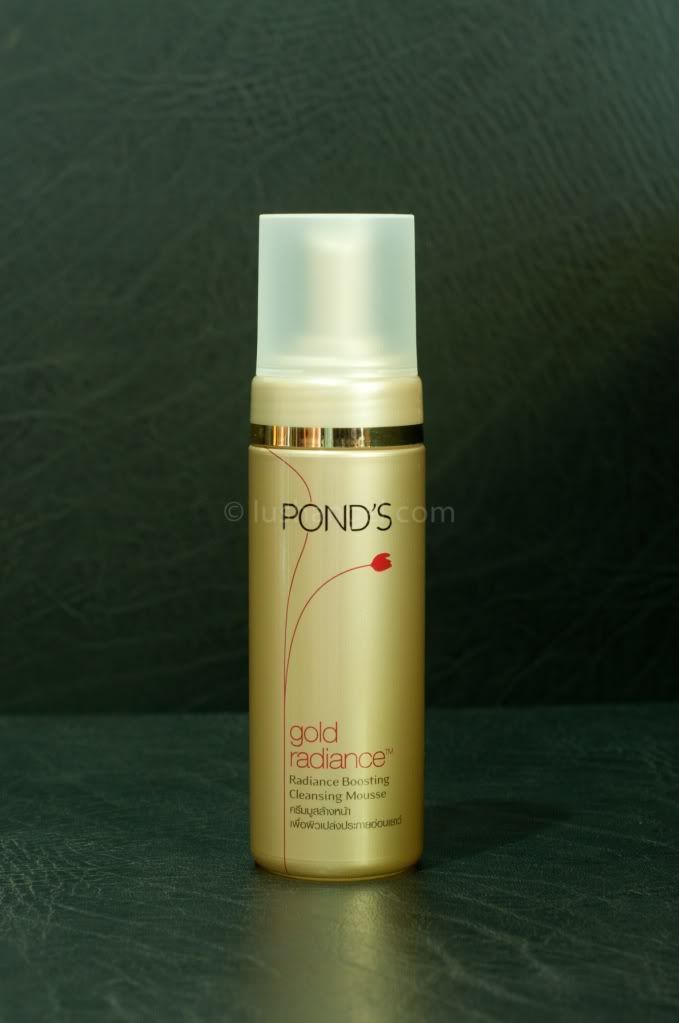 It's Pond's Gold Radiance Boosting Cleansing Mousse! Well, I didn't totally turned my back away from Pond's. It is still from their company. Hehe! 😀 I've heard a lot of great reviews about this product, which pushed me to try it out.
At the back of the container, it says:
With age, skin gets drier and can become dull looking. Especially designed for aging skin, this cleansing liquid transforms into light, satiny yet thoroughly effective cleansing foam to lift away dullness and helps reveal youthful radiance without making your skin feel dry.

Use every morning and evening as the first step in your skincare routine.
I don't have dry and dull skin. In fact, I have oily skin. This doesn't mean though I can't use any anti-aging products. Who doesn't want to age gracefully? We can delay, or at least reduce, the appearance of fine lines by using anti-aging products even in our 20's. This makes Pond's Gold Radiance Cleansing Mousse even more promising. 🙂
It's foamy once the product is pumped out of the container…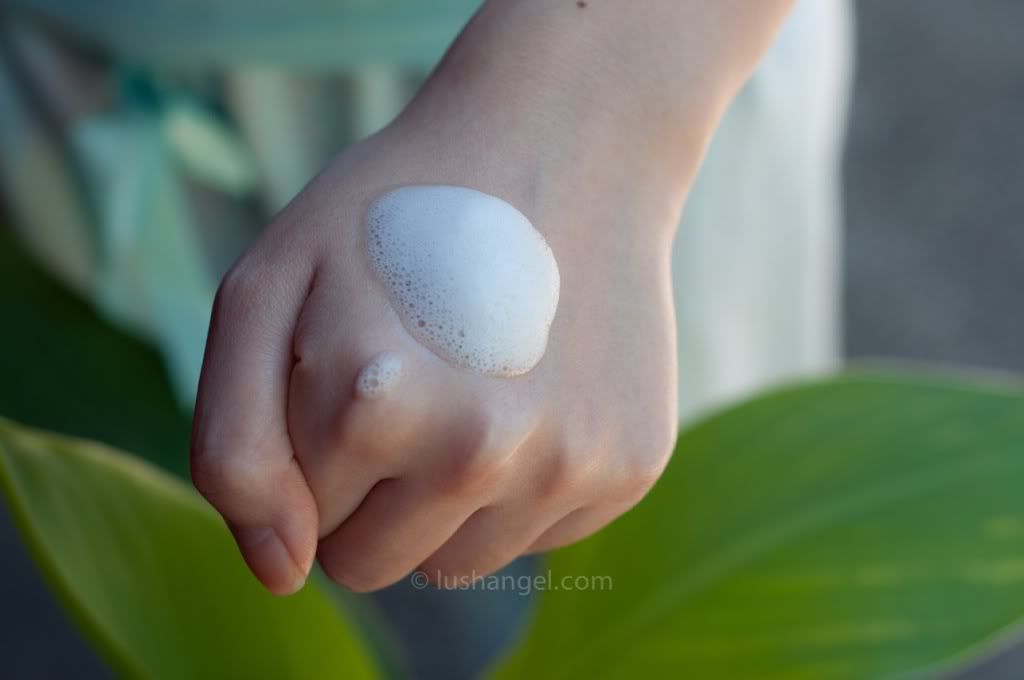 And when you start spreading it out, it becomes silky…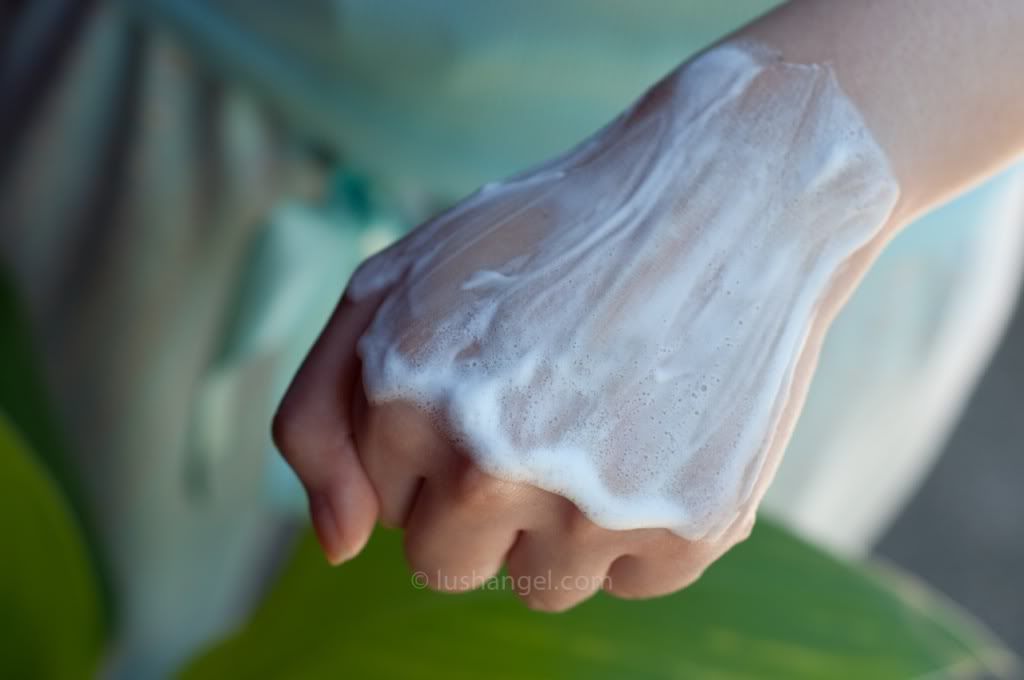 How can I say that Pond's Gold Radiance Cleansing Mousse is as effective as the famous Pond's Cold Cream? Well basically, it works the same way as Pond's Cold Cream. I can see my cotton pads or facial tissues full of dirt and make-up too when I use the Cleansing Mousse. Being the O.C. that I am, I clean my face twice to make sure that no dirt or make-up is left on my face. I once tried to use Pond's Cold Cream right after using Pond's Gold Radiance Cleansing Mousse twice just to see if I could still get more dirt/ make-up. And guess what?! The facial tissue that I used to wipe off the cold cream was so clean- not even a small streak of dirt. Finally, I found a make-up remover that matches the effectiveness of Pond's Cold Cream! 🙂
Another thing that I noticed when using Pond's Gold Radiance Cleansing Mousse is the softness of my skin after rinsing the product with water. My face feels so soft and smooth.
I also appreciate that they placed the expiration date at the bottom of the container. I hate it when beauty products don't have expiration dates. They leave me guessing up to when I could keep the product. Having the expiration date printed on the container is definitely a plus! 🙂
Some would think that mousse can be too uneconomical. Well, not really since one pump is good for the entire face already. 🙂
On the downside, just like Pond's Cold Cream, it's still hard to remove those heavy eye makeups and eyeliners. I still use a special make-up remover, specifically formulated to take off eye make-up. But I don't mind. As long as the cleansing mousse can thoroughly remove dirt and makeup for the rest of my face, I'm fine with it.
The only thing I don't like about Pond's Gold Radiance Cleansing Mousse is that it doesn't come with an instruction. I don't know if it's just me, but I was really wondering how to use the product at first. I wasn't sure if it works like a facial wash. But since I've heard that it's as good as the cold cream, I just figured out that it's used the same way- that is, spread the product all over the face, wipe it off with facial tissue or cotton pads, rinse and wash the face with soap. Well, I also asked a sales assistant of Pond's to make sure. Hehe!
But overall, I love how Pond's Gold Radiance Boosting Cleansing Mousse works. In my opinion, it can thoroughly take off dirt and make-up, just like Pond's famous Cold Cream. It's especially a good alternative of make-up remover for those with dry skin. I actually can't wait to let my mom try it. 🙂