I can clearly remember my visit in Venice Islands during our Euro Trip back in 2006. My family and I sailed through the ancient canals of San Marco. We saw the splendor of the Byzantine St. Mark's Cathedral, the Clock Tower, the Bridge of Sighs and the panoramic view of the lavish Doge's Palace. We were also able to witness the Murano Glass blowing demonstration in the Murano Glass Factory. And of course, to complete the quintessential Venice experience, we went for Gondola ride on the canals of Venice while being serenaded! Gosh, can we do that vacation all over again?! Seriously, I promise myself to redo that Euro Trip with my husband-to-be! *EHEM*
Yes, I used to love my Oakley that time! Horrible alien-like frame! LOL!
The serenade, the gondola, the place (Venezia, baby!) and the architectures- should be a perfect time to do wedding proposals, don't you think? But for me, not quite! You're cruising along a canal so yes, it's stinky! BUT BUT BUT, if my dear bf would want it here, I won't complain! It's Venice!!! LOL! 😀 Okay, dream on!!!
Dad, what are you looking at?! Wait a minute, are small shades really a big thing that time?! Or, I think that's my mom's! LOL! 😀
Anyway, why am I reminiscing all of a sudden? It's because of this…
Well, I took advantage of the place in one of my makeup gigs. 😀 And yes, as you can see, there is a gondola!!! 😀
After doing the makeup of Flaircandy and DJ Chloe of Mellow 947, here I go doing an outfit post. Haha! Flaircandy actually posted already a few photos of her boudoir shoot in her blog. You can see her make-up done by yours truly! 😀 As soon as I get copies, I will be posting all other photos here in my blog so I can also share here some of my works. 😀 Again, to Hannah, THANK YOU SOOO MUCH!!! 😀 It was sooo fun to work with you guys! More pictorials to come! I miss you dear!!!
Anyway, moving on to my outfit… The top is a H&M find from my recent trip to Hong Kong. It was on sale- 50% off, if I'm not mistaken! I don't usually buy such kind of knit garment since I can only wear it a few times. Why? Well, the holes almost always get caught by sharp objects while I walk. I don't know why. I'm not sure if I'm just clumsy. But I'm pretty sure such kind of clothes never last if I wear it. Haha! But an elegant poncho for 50% off, why not?!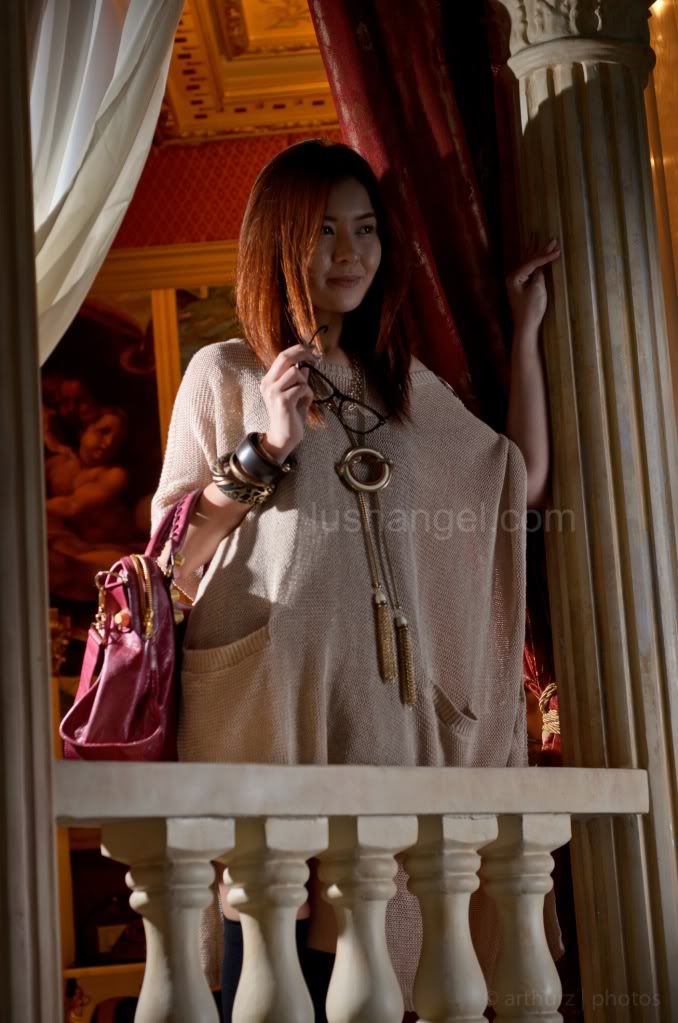 Since it's a long cover-up, I wore it like a dress. I just chose to wear something underneath in contrasting color, in this case, a black tank top and shorts. To complete the look, I paired it with a thigh-high stockings and nude pumps.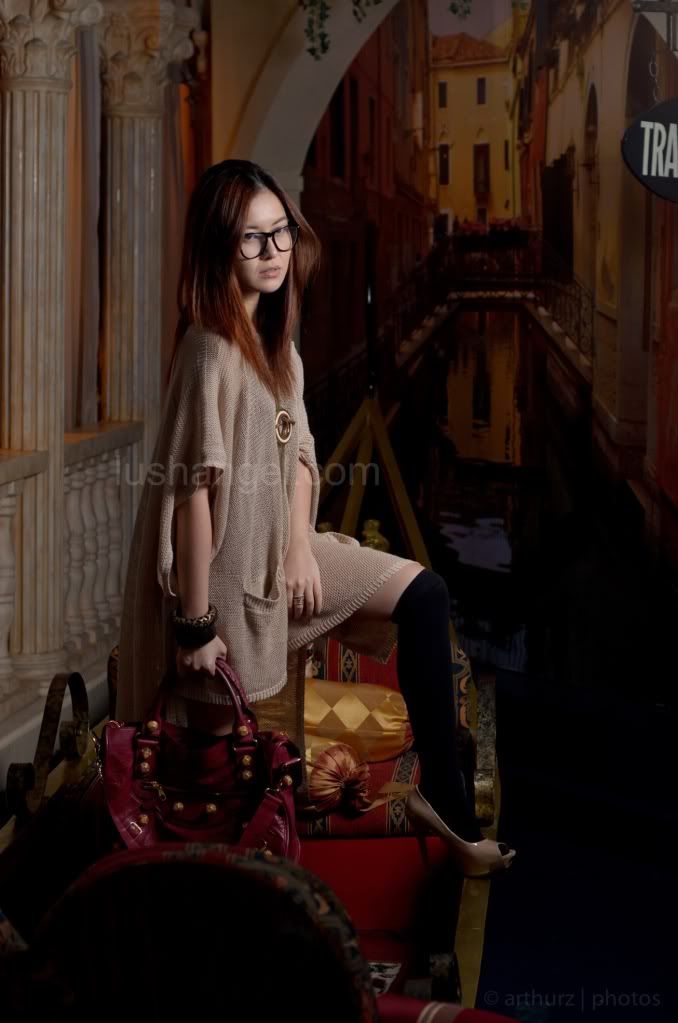 Poncho: H&M
Nude Pumps: Forever 21
Necklace: H&M
Bangles: H&M and New Look
Rings: H&M
Bag: Balenciaga Giant City
Since we're already in the topic of reminiscing, I will probably be looking back at this day after several days/ months/ years. This day is quite memorable for me. This morning, I underwent an operation for the very first time. Nothing biggie. It's just a minor one. It's just that, it's the very first time I was cut open. I had this cyst for over a year now. I only had the courage to have it removed just now since the size has grown a lot for the past few months. Thankfully, it's nothing serious. Well, just a thought for those who have cyst or suspects to have one, don't be like me! If there's one thing I learned, whether it's just a small lump/ bump, have it checked right away. Don't even wait for it to grow. Don't be ashamed to consult a doctor just because you think it might be nothing anyway. When we're talking about medical conditions, there's no such thing as over-reacting. It's always best to know its root cause right away before it's too late. On the aesthetics side, the bigger the cyst, the bigger / longer the incision- and obviously, so is the stitch. This is why my doctor had to refer me to a plastic surgeon to make sure it won't scar. All my stitches are so tiny, as if nothing happened. But more than anything, I learned to thank the Lord every single day for giving me a chance to live and enjoy His creations. 😀