Dove is one brand that will forever be close to my heart. Not only because I religiously use their products, but also they gave me huge opporuntities in an industry I've used to avoid and never imagined to be part of. This is why when Franco of Bridges PR invited me in an intimate dinner with bloggers and the people from Dove Philippines, no doubt, I said YES! 😀
The delicioso dinner was served at the Japan Room of Ascott, where they also held a talk about skin's moisture. They stressed the importance of having moisturized skin.
I used to hate moisturizers, especially for the face. If you've been a reader of my blog, I've mentioned here a few times how oily my skin is. I used to be one of those who skip on the moisturizer after the toner. I thought moisturizers make my face even oilier, which I really hate. You know what they say, oiliness is next to ugliness! LOL! Kidding aside, it's actually when our skin is not moisturized enough that our face produces more oil! Whenever we wash our face, we strip out the oil in our skin, making it very important to bring back the moisture lost. I then learned to make moisturizer part of my daily regimen. Who doesn't want to age gracefully, anyway? And now, I'm even more concerned with moisturized skin since I don't like blotchy makeup. That's a tip guys! You won't achieve a perfect canvass without a moisturized face. You don't want your face to look like a map after putting foundation on. You know how foundation accumulates on dry skin and forms lines? It's a disaster! Pulling the dry skin doesn't help! You'll still get that uneven color! Having that perfect, natural-looking makeup boils down to a perfect skin. 😀
This is where Dove Beauty Bar comes in. As Dove says, soap can be harsh on the skin. Dove is different. Dove is not soap. Huh? But it looks like an ordinary soap bar, don't you think? Well, they say, its main difference is it instantly brings back the moisture you lose after washing. We'll never know if this holds true until we put it to the test!
We were ushered to the ladies washroom, where a basket with towels and Dove Beauty Bars greeted us.
*All photos credit to Rowena of Animetric World*
Our agenda: The Moisture Test!
We were given this Skin Moisture Tester, which we have to press on to our skin to detect the level of our skin's moisture. The higher the number, the more moisturized the skin is. Since I had makeup on, I decided to test and wash the lower part of my cheekbone (almost near the jawline) only. Before washing that part of my face, I checked on my moisture level and i was already 35. The person from Dove said, on average, that part is around 35-40. At least, I'm part of the "average". Hehe! After washing and drying, I used the Skin Moisture Tester once again and it jumped to 37. Well, my moisture level didn't had a dramatic jump probably because I wasn't able to put on enough "soap" on that very small portion of my face. But still, my moisture level did increase just by using Dove Beauty Bar. I would imagine other facial cleansers could even decrease the moisture level since, as I said earlier, soaps could strip away oil and moisture. My fellow beauty bloggers' moisture levels jumped from 30+ to 40+ or even 50+!!! Now, that's dramatic and impressive! 😀
We were also given a short quiz to determine the real age of our skin and I scored 21 years old!!! Wohoo!!! 😀
I thought the event would end here, but no!!! The entire dinner, I was seated beside Ms. Xeng Zulueta. Seriously, I was left speechless! Who doesn't know Xeng Zulueta?!?! Probably, most make-up artists aspire to be like her! And being able to train under Shu Uemera himself, oh my, she's really my idol! LOL! 😀 Shu Uemura is one my fave brands ever since I opened my eyes to cosmetics. Gosh, and hearing that she'll do a short demo on a no-makeup makeup look, that definitely completed my day! LOL! 😀
Xeng stressed how important it is to have well-moisturized skin before putting make-up on. It helps in creating a perfect canvass and long-lasting makeup. Also, a no-makeup look means you can still see the skin. Make-up should be undetectable. Make-up must be light, but of course, you must still address skin issues. It was a fairly quick demo, with Hannah as the model. Just a quick run-down of what she taught us:
Under eye circles and blemishes. The most common areas to put concealer- under eye circles, corners of the mouth, sides of nose, chin and zits. It's important to use the right shade of concealer. Getting concealer that's one shade lighter than your skin tone is the most acceptable. But if you're skilled in using your brush or sponge, you can use a concealer that's the same color as your skin-tone. Anything lighter than those shades can even attract more attention to the area that you want to hide, since it turns out to be like a polka dot from a far.
Cheeks. For the no-makeup makeup look, it's best to use cream blush rather than a powder blush as it looks more natural. Just put on the apples of the cheeks for a flushed look (like when you get embarrassed). Cream blush though is best if you have normal to dry skin since it adds a little bit of moisture to the skin. If you have oily skin, matte powder blush is better. Cheek tints are nice, but you have to put it on before anything else. Remember, liquids have to go on first before the solids. You can't put on the powder first, then the cheek tint after.
Face. You can simply dust a powder foundation all over the face using a powder brush for light coverage.
Lips. Use a natural color of lipstick/ lipgloss if you're aiming for a no-makeup look. Lips should still be seen underneath. For those with lip discoloration, this problem boils down to lack of moisture. As a tip, soak lips with balm before you sleep to keep lips moisturized. Or while you do your prep, you can put on some balm and just blot it when you're ready to do your lips.
Eyes/ Eyebrows. You can opt to put on a very thin eyeliner on top. Eyeshadow is optional. As for the eyebrows, it's important to have a well-groomed pair of brows. The thicker the brows, the younger the face looks. The thinner the eyebrows, the more it ages a woman's face. You can use an eyebrow mascara to keep the hair in place. The thing with the no-makeup look, nothing should be overly drawn. Everything should look natural. I, personally, use M.A.C. Brow Set, as seen in this post. Lastly, curl your lashes and put lots and lots of mascara!!!
Of course, I can't leave without a photo with Ms. Xeng Zulueta. 😀 How I wish I can meet her again soon. Since it's free to dream anyway, I wish to work with her, or at least look at her while she does make-up in shoots and events. 😀 Thank you so much Ms. Xeng for the tips! 😀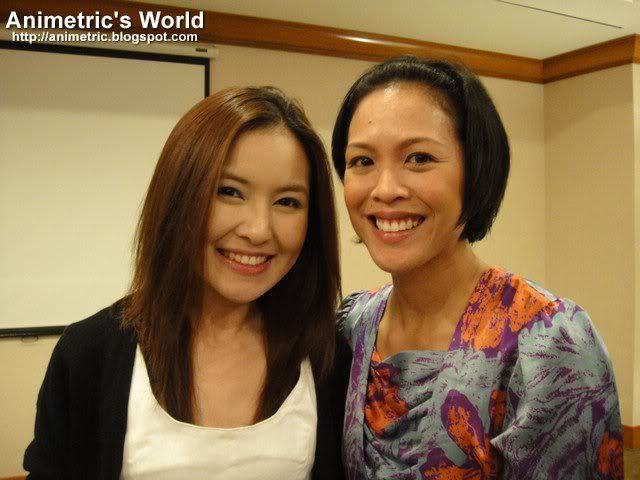 As always, it was one fun night with the beauty bloggers! Thank you so much again to Dove, to Franco and to all those who made this event possible! 😀
And of course, big big thank you to Rowena of Animetric's World for all these photos! She's so kind enough to allow me to grab these pictures. As usual, I was sooo in a hurry that I left my camera inside the car! Geeesh! Thank you again, Rowena! 😀