Love to party? Then, Levi's All Access Card is for you!!! 😀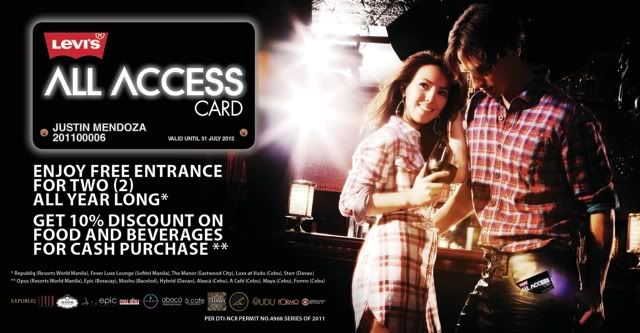 With Levi's All Access Card, you can party all year long whether you are grooving in Manila, chilling in Bacolod rocking in Cebu or shuffling in Davao.
Enjoy free entrance for two for a year at Republiq (Resorts World Manila), Fever Luxe Lounge (Sofitel Manila), The Manor (Eastwood City), Luxx at Vudu (Cebu) and Starr (Davao).
That's not all! You can get 10% discount for cash purchase on food and beverages at Opus (Resorts World Manila), Epic (Boracay), Mushu (Bacolod), Hybrid (Davao), Abaca (Cebu), A Café (Cebu), Maya Restaurant (Cebu) and Formo (Cebu).
Enjoy these privileges like Levi's All Access Card Ambassadors DJ Jessica Mendoza, TV Host and DJ Andi Manzano, Stylist Alyanna Martinez, Azkal's midfielder Misagh Bahadoran and Club DJ/Model Alex Pain.
Now, how can you enjoy these perks too?
Just visit any Levi's Store Nationwide from July 29, 2011 to August 31, 2011 and grab hold of the Levi's All Access card, with a purchase of PHP 3,000.00 worth of Levi's products. If you want one, better hurry until there's time left. 😉