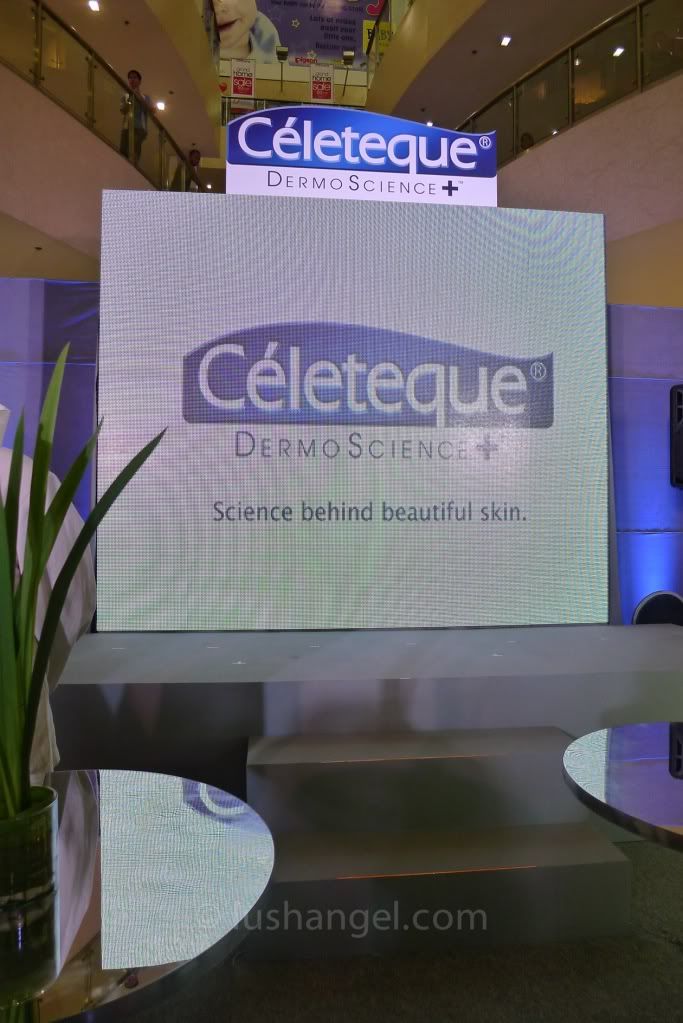 I have always been used to Céleteque having just one product line. To be honest, I can only remember their facial wash since I even recommended it to my friend, Flair Candy, a few years back. This is why when I was invited to UNILAB's launching of Céleteque DermoScience, I was surprised with the range of products displayed on their shelves.
First of all, what is Céleteque DermoScience? What makes it different from the old Céleteque we were all used to? It is a combination of new active ingredients, technologies, and dermatologist-developed solutions to target specific skin conditions. It merges UNILAB's medical expertise with dermatological advances to develop products that are clinically-tested to deliver results.
Now, what's this bunch of products? Let's group them per skin care line. Céleteque DermoScience has 6 product lines for different skin conditions.
HYDRATION – Gently restores the skin's healthy suppleness with moisturizers and vitamins that nourish the skin without the greasy after-feel
Skin Condition: Dry skin can be caused by frequent washing of the face, environmental conditions, sunburn, medication and other factors. Dry skin has a weak capacity to retain water and this slows down the process of cell renewal, making the skin tight, dry and rough. Skin is more vulnerable to environmental aggressions; it becomes less elastic and prone to permanent damage. Your skin needs expert moisturization even for sensitive skin.
Skin Solution: HYDRATION, 90% softer, smoother, moisture-balanced skin in just 2 weeks.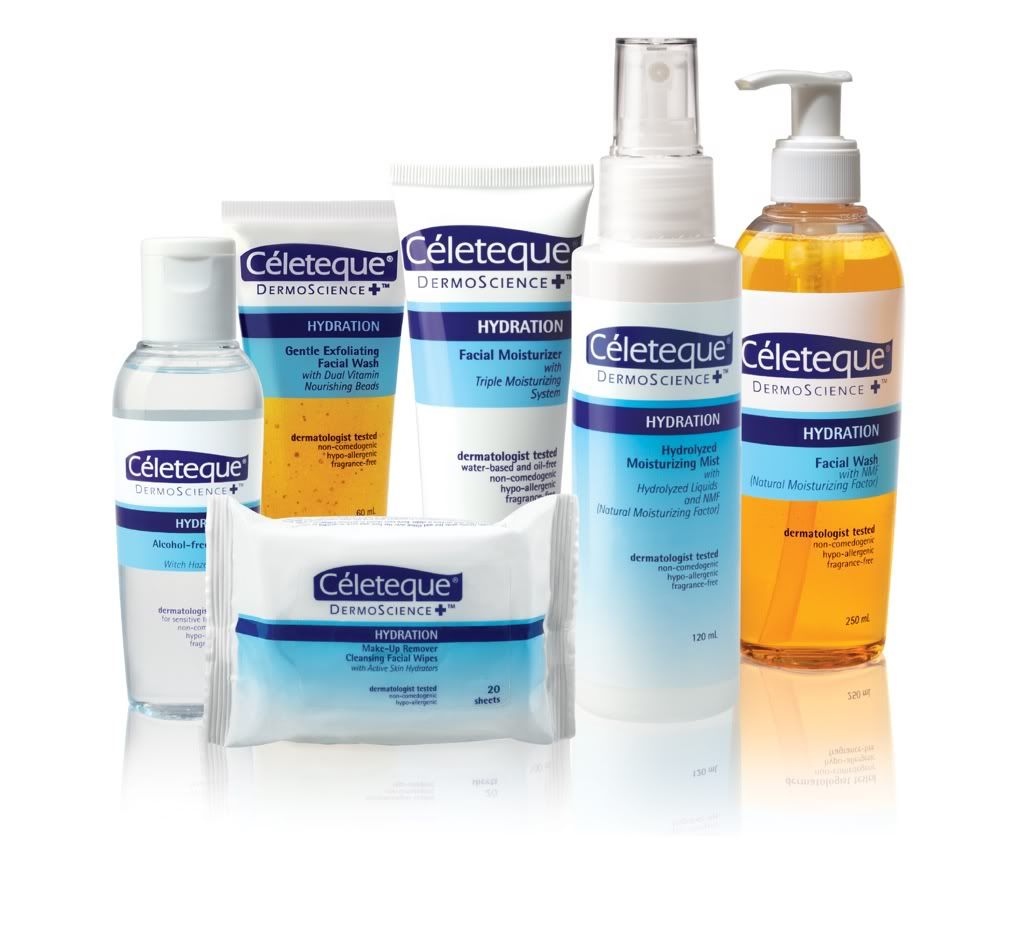 Alcohol-Free Toner
Facial Wash
Exfoliating Facial Wash
Hydrolized Moisturizing Mist
Facial Moisturizer
Make-Up Remover Wipes
BRIGHTENING – Expertly targets melanin concentrations and evens out skin tone with carefully selected active lighteners that uncover a luminescent glow without harmful side effects.
Skin Condition: Your skin's color is the result of a natural dark pigment called melanin. The formation of this pigment determines how dark or light the skin appears. Most whitening products lighten the skin but the result is usually unnatural as it reveals pale and dull white skin instead of a brighter glow. What you need is a gentle but effective lightening to even out your skin tone.
Skin Solution: BRIGHTENING, lightens and brightens skin in as early as 1 week.
Dark Spot Corrector
Tri-benefit Cream
Facial Wash
Eye Tuck Plus Dark Circles Lightener
SUN CARE – Adequately provides daily protection from UVA and UVB rays with broad spectrum coverage and moisturizing agents to help prolong the skin's youthfulness amidst a polluted external environment.
Skin Condition: The sun gives out three types of rays- UVA, UVB and UVC. UVC rays from the sun can't get through the ozone layer but UVA and UVB rays can. UVA can cause wrinkles, and UVB can cause sunburn and skin cancer.
Regular exposure to UV rays can lead to dehydration and premature ageing of the skin, stripping it of essential moisture. You need a potent protection against the harsh tropical sun.
Skin Solution: SUN CARE 2x sun screen protection against UVA and UVB.
Lip Balm with SPF 15
Mattifying Sunblock SPF 30
Facial Moisturizer with SPF 15
After-Sun Soothing Gel
ACNE SOLUTIONS – Effectively controls excess sebum and clarifies unsightly acne by removing build-up of dead skin cells and combating pimple-causing bacteria for smooth, blemish-free skin.
Skin Condition: Characterized by areas of skin with seborrhea (scaly red skin), comedones (blackheads and whiteheads), papules (pinheads), pustules (pimples), nodules (large papules) and possibly scarring. Develops as a result of blockage of follicles due to genetics, hormonal stress, hygiene and diet. You need a high-performance skin clearing product to combat acne and oily skin.
Skin Solution: ACNE SOLUTIONS, clears acne-prone skin in as early as 1 week.
Acne Cleansing Gel
Oil Control Toner
Acne Clearing Facial Moisturizer Gel
Back Acne Spray
Acne Spot Gel
ADVANCED ANTI-AGING – Intelligently erases fine lines and wrinkles by stimulating collagen production with breakthrough peptide and anti-oxidant ingredients for beautifully restored skin elasticity, softness, and smoothness.
Skin Condition: There are, in fact, two distinct types of aging. Aging caused by the genes we inherit is called intrinsic (internal) aging. The other type of aging is known as extrinsic (external) aging and is caused by external factors like sun exposure, smoking, alcohol intake, and poor nutrition. Aging skin becomes thinner, develops fine lines and wrinkles, develops darkened spots called lentigines, becomes drier and susceptible to itching, loses underlying fat, leading to hollowed areas near the eyes and cheeks. This loss of fat also causes tendons and blood vessels to become more noticeable. When you need is a product that is intelligently designed to slow down and diminish the first signs of aging.
Skin Solution: ADVANCED, 92% fine lines reduction in 6 weeks.
Ultra-Hydrating Cleansing Oil
Anti-Wrinkle Collagen Gel
Anti-Wrinkle Facial Moisturizer
Concentrated Break Off Capsules
RESTORATIVE – Intensively lifts and firms loose and sagging skin and lessens the depth of adult wrinkles with more potent peptides and anti-oxidants that result into skin that's younger than one's age.
Skin Condition: The skin degenerates as it ages due to lack of hydration and nutrients. Collagen production, the support tissue of the skin, decreases. The skin loses tone and firmness. Cohesion between the dermis and the epidermis becomes less strong. Wrinkles form on the skin's surface and cannot be removed completely. Your skin needs an effective rescue. Intensive anti-agers that lift and firm up sagging skin for 50 years and older skin.
Skin Solution: RESTORATIVE lifts sagging skin by 2mm in just 2 weeks.
Firming Day Cream
Firming Overnight Cream
Instant Wrinkle Smoothing Cream
Ultra-Lifting Concentrated Serum
Whow, that's a lot of skin care products! But it's good to know that they now have different skin care lines to specifically target different skin conditions. I have always believed, there's no one product that can work for all skin types. In order to have healthy and beautiful skin, skin problems must be properly addressed through the right skin care.
I'm now excited to try their Dark Spot Corrector, Eye Tuck Plus Dark Cirlces Lightener, Back Acne Spray, Acne Spot Corrector Gel and Ultra-Hydrating Cleansing Oil! Time to change my regimen again to try them out! How about you? What do you think is the most interesting? 🙂
Here are more photos with the rest of the lovely beauty bloggers during the Céleteque DermoScience launching event.